Instant Pot Pressure Cooker Deals for Black Friday 2018
We expect to find more great deals on the Instant Pot for Black Friday 2018 in store and online ads! This pressure cooker has quickly become a hit with both amateur and professional chefs, making its way to the top of the list of favorite kitchen gadgets. Because it functions as a pressure cooker, slow cooker, rice cooker, steamer and even a yogurt maker, it's one piece of kitchen equipment that has practically become a must-have item!
We will bring you info about the biggest and best deals and discounts here when the savings are announced online or in an advertisement for Black Friday 2018. We are committed to helping you find the best shopping deals of the year from Amazon Prime Day to Thanksgiving Weekend. So get ready to save in 2018, 2019, 2020 and beyond! Until then, we hope you enjoy learning about what was available over Thanksgiving weekend in 2017:
Here are the Instant Pot Black Friday deals that we have found so far:
Amazon has held sales on the Instant Pot Duo Mini as well as the six and eight quart versions in the past, including on Prime Day. So we anticipate that they will probably bring that sale back for Black Friday or Cyber Monday 2017. On Prime Day, the Duo Mini was sold at $59.99 ($10 off the regular price). The eight-quart Instant Pot DUO80 was $40 off the regular price, or only $90. In the runner up to Black Friday, Amazon sold the Duo Mini 3 Quart at a sale price of just over $52.
America's top retailer posts deals on Kitchen items throughout the month. Because they are constantly changing what is on sale, we can't possibly keep up with them here. We urge you to check on the current price on the Instant Pot at Amazon before buying through another store.
Walmart
5 Qt. Instant Pot – $49 – (AVAILABILITY VARIES BY STORE)
Walmart is going to have a 5 quart capacity Instant Pot Pressure Cooker available as a Special Buy for only $49.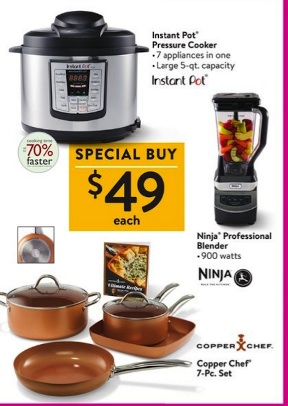 Kohl's – THE DOORBUSTER FOR THE INSTANT POT IS SOLD OUT ONLINE!
Instant Pot Duo60 – $79.99 (plus $15 Kohl's Cash!)
The Kohls ad has the Instant Pot Duo 6-qt 7-in-1 pressure cooker for the price of $79.99 plus you will get $15 in Kohl's Cash with your purchase to be spent later. As a limited time, limited quantity doorbuster, it is available starting at 12:01 AM (CT) on their website and in store at 5 PM on Thanksgiving (Thursday, November 23rd).
Target
Instant Pot – $79.95 – STILL AVAILABLE ONLINE
Target will also have a 6 quart Instant Pot available at $79.95 ($20 off its regular price of $99.95).
JC Penney
Instant Pot Duo60 – $79.99 – GETTING ERROR PAGE – LOOKS LIKE SOLD OUT!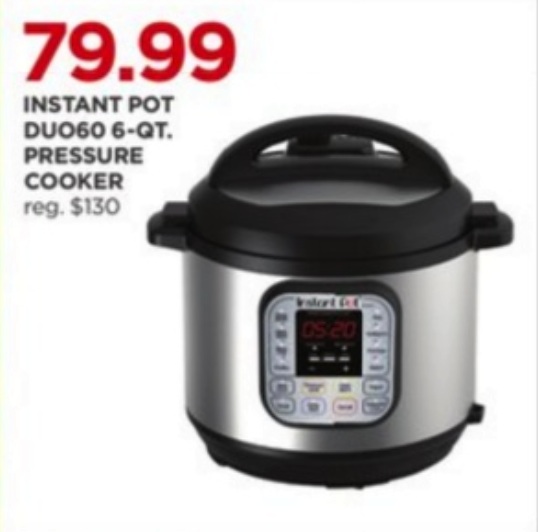 Cyber Monday Deals
We will also post here any deals that we find for Cyber Monday 2017. They usually aren't posted until the end of Thanksgiving weekend, so there are still a few more days until that happens.
Trying to decide which one to buy? Here is a comparison: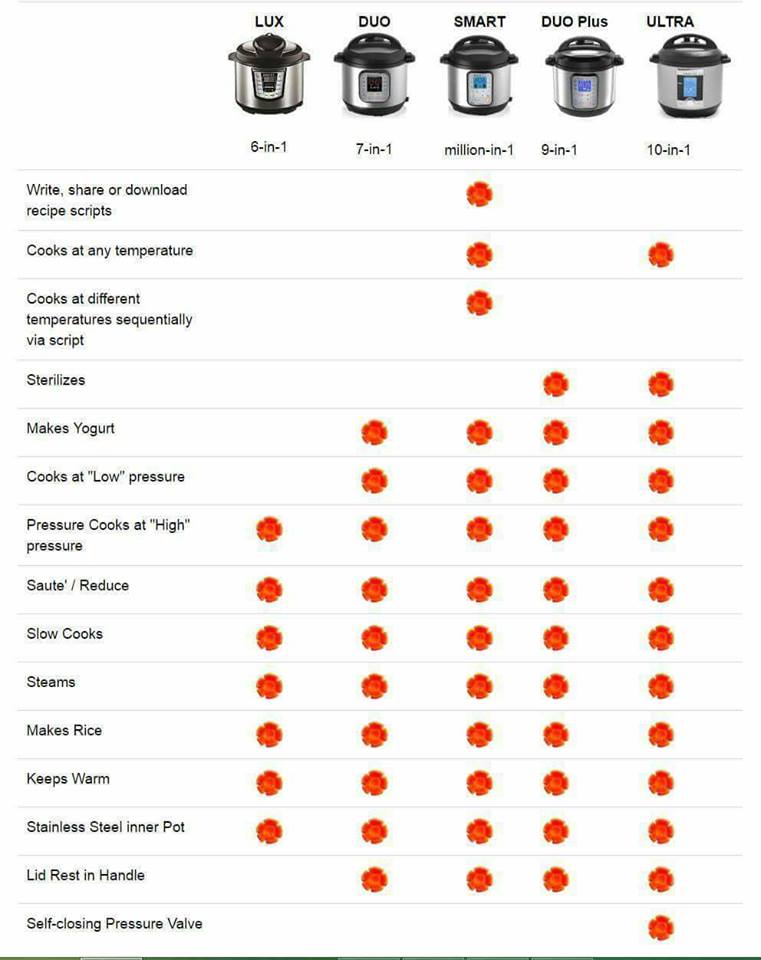 Last Major Update:
We have scoured the leaked and released ads for Black Friday this year to find the lowest prices on the Instant Pot. There are still a few more days before Thanksgiving happens, so we will be adding additional discounts that we find in the meantime. Nevertheless,