Instant Pot Black Friday 2020 – Max, Ultra, Duo & Cyber Monday Deals
We expect to find more great deals on the Instant Pot for Black Friday 2020 and Cyber Monday in store and online ads! This pressure cooker has quickly become a hit with both amateur and professional chefs, making its way to the top of the list of favorite kitchen gadgets. Because it functions as a pressure cooker, slow cooker, rice cooker, steamer and even a yogurt maker, it's one piece of kitchen equipment that has practically become a must-have item!
Choose from between the Max, Ultra and Duo in different sizes ranging from the Duo Mini to the popular 6 quart to the larger 8 Qt version.
2019 Instant Pot Cyber Monday Deals:
Instant Pot Smart Wifi 8 in 1, $89.99 @ Amazon
Instant Pot Vortex Plus 10qt Air Fryer, $69.99 @ Macy's
Instant Pot Duo 80 8qt Pressure Cooker, $69.99 @ Macy's
Instant Pot Duo 60 Plus 6qt, $64.99 @ Amazon
Instant Pot Ultra Mini 3qt, $74.99 @ Amazon
Instant Accu Slim Sous Vide, $54.99 @ Amazon
Instant Pot Accessories
Instant Pot Silicone Starter Kit, $10.95 @ Amazon
Instant Pot Glass Lid, 6qt, $9.50 @ Amazon
Instant Pot Glass Lid, 8qt, $12.99 @ Amazon
Instant Pot Ceramic Inner Pot, 6qt, $14.95 @ Amazon
Instant Pot Silicone Lid for 5-6qt, $7.10 @ Amazon
Instant Pot Sealing Ring, 6qt, $8.95 @ Amazon
Instant Pot Silicone Mini Mitts, $5.99 @ Amazon
Instant Pot Silicone Steamer Set, $17.50 @ Amazon
2019 Instant Pot Black Friday Deals:
Instant Pot Duo Nova 7-in-1 6QT – $67.99 @ Kohls (with 15% off coupon + $15 Kohl's Cash)
Instant Pot DUO NOVA 6QT Pressure Cooker – $79.99 @ JCPenney
Instant Pot 6QT Duo – $49 @ Walmart (save $50)
Instant Pot Duo Nova – $64.99 @ Best Buy (save $35)
Instant Pot Duo Nova $64.95 @ Target (regularly 99.95)
Instant Pot Duo Plus for $69.99 @ Bed Bath & Beyond (Save $50)
Instant Pot 6qt Duo – $69.99 before 1pm @ Macy's, $99.99 after 1pm
Instant Pot Duo 6qt – $64.99 @ Costco (save $25)
Instant Pot Duo Nova 6qt – $69.99 @ Navy Exchange (NEX) (save $25)
Instant Pot Lux 8qt – $49.99 @ Fred Meyer (save $99)
All Instant Brand appliances – 40% off at Fred Meyer
Instant Pot 6QT Vortex Air Fryer – $49 @ Walmart (save $50)
Instant Pot Ace Nova Heated Blender – $67.99 @ Kohls (with 15% off coupon + $15 Kohl's Cash)
Instant Pot Ace 60 Cooking Blender – $49 @ Walmart
Instant Pot Ace Nova Blender for $69.99 @ Best Buy (save $50)
Instant Pot Duo Crisp + Air Fryer for $179.99 @ Macy's with code SCORE (through 12/22/19)
We will bring you info about the biggest and best deals and discounts here when the savings are announced online or in an advertisement for Black Friday 2020. We are committed to helping you find the best shopping deals of the year from Amazon Prime Day to Thanksgiving Weekend. So get ready to save in 2019, 2020 and beyond!
Here is what we are tracking:
Instant Pot Duo Crisp + Air Fryer: The newest Instant Pot works as an air fryer and pressure cooker to combine 11 features in 1. Pressure cook, saute, steam, slow cook, sous vide, warm, air fry, roast, bake, broil, and dehyrate all in one machine, just by switching between a pressure cooking lid and an air fryer lid.
Instant Pot Smart: Connect your Instant Pot to your phone with Wifi or Alexa that allows you better control over the cooking process, so you can monitor pressure and temperature, keep time, and adjust heating intensity and duration to achieve your desired results every time.
Instant Pot Max: This is a newer 6 quart electric pressure cooker available for a regular price of $200. It can reach an internal pressure of 15 pounds per square inch, allowing it to cook faster than other models. It also has other features, including a sous vide setting to permit it to cook with precisely controlled temperatures, a preset mode for canning foods and hands free valve lid for steam release.
Instant Pot Gem: This is the 8-in-1 programmable multicooker with advanced microprocessor technology in the 6 qt size. It is available in stainless steel or black with a weight of 10.27 pounds. Thanks to built-in programs, it cooks your favorite dishes to perfection with the push of a button.
Instant Pot Ultra (6 quart, 8 quart, and mini): This next generation programmable cooker allows the home chef greater customization and control. It allows custom programming, altitude adjustment, and has 16 smart programs to make cooking your favorite dishes easier.
Instant Pot Duo: The main difference between this and the Lux is that the Duo can also cook on a low setting, it can make yogurt, it has a longer keep warm function, and there is a way to hold the lid open so that food/condensation doesn't splatter on the counter. Grab one in the 3 quart (mini), 6 quart or 8 quart size. The DUO Nova is an updated version, with an Easy Seal lid, extra sealing ring, and pressure progress, so you know when the Instant Pot is coming to pressure and how the cooking is progressing.
Instant Pot Lux: This economy series is available in 3 quart as well as 5, 6 and 8 qt. It is designed to be a convenient, dependable and safe cooking option that speeds cook times by 2-6 times.
There are also two new Instant Pot products as well, the Accu Sous Vide Immersion Circulator and the Ace Blender.
Trying to decide which one to buy? Here is a comparison: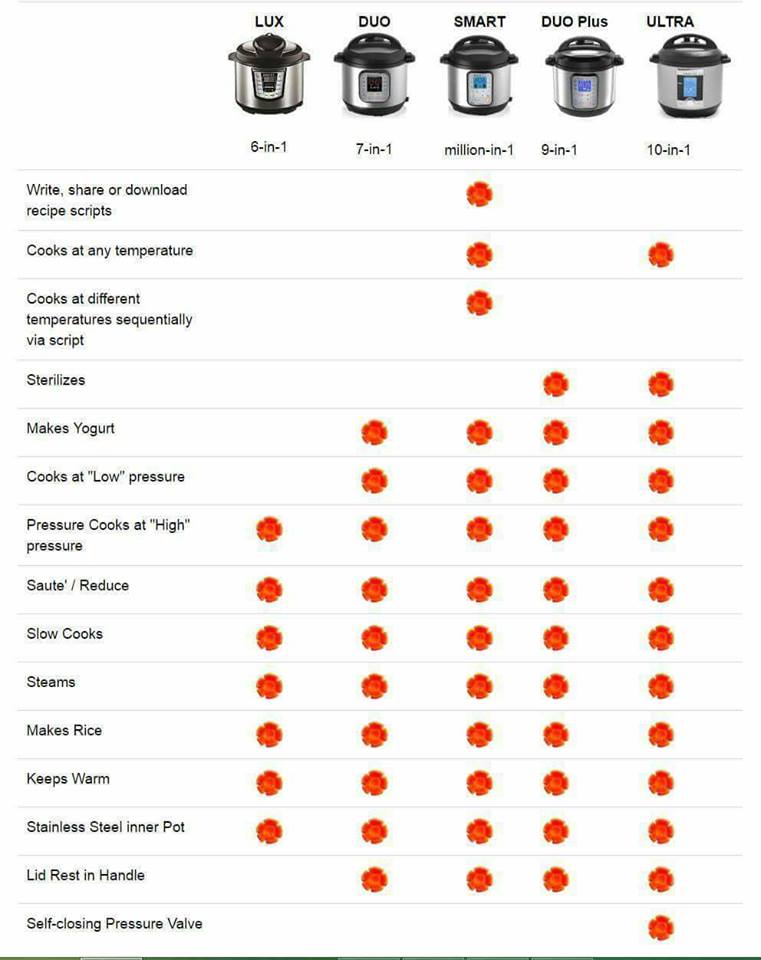 Instant Pot Accessories
Your Instant Pot can be used to make so many delicious meals, but you'll find a few accessories can expand your recipe box. We recommend at a minimum picking up a set of lid sealing rings, because no one wants a cheesecake with a hint of ribs or roast chicken! The seals do absorb a little of the scent, so having an extra set will come in handy, so one can be for savory meals and one for sweet treats. Other handy tools include a springform pan, a metal steamer basket or silicone steamer basket, yogurt cups, glass lid or silicone lid for the insert, a ceramic or replacement stainless steel inner cooking pan, or this adorable steam diverter which can protect your cabinets from steam being released. There are also a ton of recipe books so you can add to the magic coming out of your kitchen and take full advantage of all the settings on your Instant Pot!
Cyber Monday Deals
We will also post here any deals that we find for Cyber Monday 2019. They usually aren't posted until the end of Thanksgiving weekend, so there are still a few more days until that happens.
2018 Deals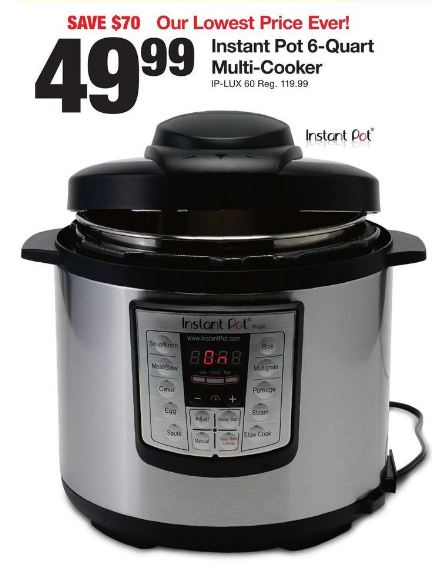 Until then, we hope you enjoy learning about what was available over Thanksgiving weekend in 2017:
Here are the Instant Pot Black Friday deals that we have found in 2017:
Amazon has held sales on the Instant Pot Duo Mini as well as the six and eight quart versions in the past, including on Prime Day. So we anticipate that they will probably bring that sale back for Black Friday or Cyber Monday 2017. On Prime Day, the Duo Mini was sold at $59.99 ($10 off the regular price). The eight-quart Instant Pot DUO80 was $40 off the regular price, or only $90. In the runner up to Black Friday, Amazon sold the Duo Mini 3 Quart at a sale price of just over $52.
America's top retailer posts deals on Kitchen items throughout the month. Because they are constantly changing what is on sale, we can't possibly keep up with them here. We urge you to check on the current price on the Instant Pot at Amazon before buying through another store.
Walmart
5 Qt. Instant Pot – $49 – (AVAILABILITY VARIES BY STORE)
Walmart is going to have a 5 quart capacity Instant Pot Pressure Cooker available as a Special Buy for only $49.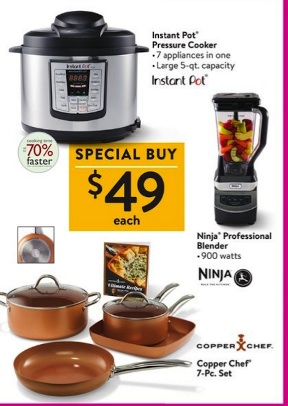 Kohl's – THE DOORBUSTER FOR THE INSTANT POT IS SOLD OUT ONLINE!
Instant Pot Duo60 – $79.99 (plus $15 Kohl's Cash!)
The Kohls ad has the Instant Pot Duo 6-qt 7-in-1 pressure cooker for the price of $79.99 plus you will get $15 in Kohl's Cash with your purchase to be spent later. As a limited time, limited quantity doorbuster, it is available starting at 12:01 AM (CT) on their website and in store at 5 PM on Thanksgiving (Thursday, November 23rd).
Target
Instant Pot – $79.95 – STILL AVAILABLE ONLINE
Target will also have a 6 quart Instant Pot available at $79.95 ($20 off its regular price of $99.95).
JC Penney
Instant Pot Duo60 – $79.99 – GETTING ERROR PAGE – LOOKS LIKE SOLD OUT!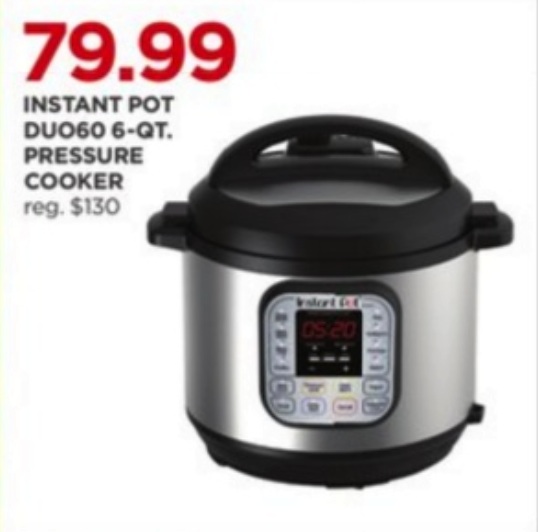 Last Major Update:
We will scoured the leaked and released ads for Black Friday this year to find the lowest prices on the Instant Pot. There are still a few more months before Thanksgiving happens, so we will be adding discounts that we find in the meantime of course!