Best Massage Chair Black Friday Deals, 2023 Store Ads & Cyber Monday Deals
Find the best deals on a luxury massage chair from Osaki, Kahuna, Panasonic or Brookstone for Black Friday and Cyber Monday 2023. Funtober searches the print and online ads for the biggest Black Friday and Cyber Monday discounts every year over Thanksgiving weekend. We have helped thousands of people find great savings during the biggest sale weekend of the year.
2022 Deals:
Find more Black Friday deals right now at Amazon.com.
Past Deals:
2020 Deals: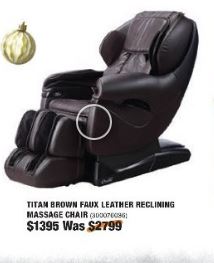 Cyber Monday Deals 2019
Homedics 8 Node Shiatsu Massage Cushion with 20% coupon, $79.99 @ Kohl's
Black Friday Deals for 2019:
Tital Pro Ace II Massage Chair – $1999 @ Newegg (save $3000)
Apex Pro Odyssey Zero Gravity Massage Chair – $599 @ Newegg (save $1900)
Here are a few of the massage chairs that we will be tracking during Black Friday:
Osaki
The Osaki message chair is sold by OTA World and Titan. The Osaki chairs offer a variety of feature rich options, including zero gravity position to minimize pressure on the spine, multiple airbags for support and comfort throughout the massage, multiple massage options with adjustable speed and intensity, and twin rollers. Multiple message techniques including shiatsu, kneading, rolling, swedish, clapping, deep tissue and a combination of the techniques. Heat therapy for soothing relief. Executive chairs including the OS4000, OS-7200 and more.
Kahuna
The Kahuna massage chair has multiple models including the LM6800, SM 7300 and SM9000. The LM6800 has zero gravity and heat therapy features. The SM 9000 is a premium massage chair with 3D massaging and combined action from infared rollers and the airbags. Intensity of the massage is controlled by remote.
Panasonic
The Passanoic Massage chair offers a professional massage from the comfort of your home. Models include the EP30007, The MAJ7K, as well as the EP-MA70, EP-30004 and EP-MA73T and MA73K from the Real Pro ULTRA Prestige and Total Body chair options. EP-1285, EP-MA10 and EP-MA03K from the Urban Collection of massage loungers and chairs.
Brookstone
Brookstone massage chairs include the ReAct Shitasu Massage Chiar, the Rock & Recline Shiatsu Massage Chair, the Renew and Renew 2 Zero-Gravity chair. Brookstone is a chain of retail stores that opened its first location in New Hampshire in 1973. Brookstone is known for its luxury gift ideas, cool gadgets and innovative electronics.
Black Friday Deals
Choose your favorite luxury massage chair to get a shiatsu massage, reclining chair or zero gravity massage chair from Osaki, Kahuna, Panasonic or Brookstone this Thanksgiving weekend. We will post the deals here when we find them for this year.
Cyber Monday Deals
We will post all of the massage chair deals for Cyber Monday 2020 right here. Currently, we have not found any deals but we expect they will start announcing them during the Saturday after Thanksgiving Day.
Return Here Soon
There are still a few more months between now and Black Friday 2020. We will be adding the massage chair deals as they become available. In the meantime, we invite you to check out our Prime Day deals, which will likely happen in July.
Last Major Update:
Current Sales on Amazon: