Kohl's Black Friday Ad Deals 2023 – Vacuum, Fitbit, Xbox & More!
Shop Black Friday 2023 and Cyber Monday at Kohl's for some of its biggest deals of the holiday shopping season on TVs, jewelry, watches, toys – plus earn $15 Kohl's Cash for every $50 you spend, and free shipping on all purchases over $25! Kohl's Cash is one of our favorite reasons to shop at Kohl's on big sale days like Black Friday, because their sale prices are about as good as everyone else's, but the Kohl's Cash makes it even better! We also love that they bump it up to $15 (it's normally $10 for every $50).
We will bring you info about the biggest and best deals and discounts here when the savings are announced online or in an advertisement for Black Friday 2023. We are committed to helping you find the best shopping deals of the year from Amazon Prime Day to Thanksgiving Weekend. So get ready to save in 2020 and beyond!
Kohls Black Friday Ad 2021
2019 Cyber Monday Deals
The 2019 Cyber Monday Ad for Kohls was released on Saturday, with Saturday-only coupons, and doorbusters throughout the weekend. Shop on Monday and earn $15 Kohl's Cash for every $50 you spend, plus earn Yes2You Rewards points for additional Kohl's Cash! They have a 20 percent off coupon for any way you pay, good 11/30-12/4 (online promo code YOUGET20, and find new and extended deals across the store, from homegoods, to clothes and shoes, to jewelry, to toys. Shop right from the ad (below) or browse our pages on all the different deals.
Cyber Monday Ad
Black Friday Deals 2019
Not only are hundreds of items on discount for Black Friday, but Kohl's cash (bumped up to $15 for every $50 spent, or 30% back for a future visit), Yes to You rewards (another 5% cash back) and free shipping on all online orders over $25, make Kohl's a fantastic place to shop. We ourselves definitely earned some pretty nice Kohl's cash today, so we'll be back November 30th to December 9th to use it! Click here to check out all of Kohl's Black Friday deals!
Black Friday Ad
Pre-Thanksgiving Sales 2019
Kohl's is running a sale in the weeks leading up to Black Friday, with 15% off all purchases through November 17th (promo code SAVE15) or 35% if you open a Kohl's charge (20-30% off if you already have a Kohl's charge) plus $10 Kohl's Cash for every $50 you spent (earn by November 19th to use November 20-27).
In addition to these deals at checkout, you can also save an additional 10% off on select Home products (with promo code ENTERTAIN10 through November 17th). There is a sale on women's clothes for up to 40% off select brands, and men's dress shirts (select styles from Apt 9 and Craft and Barrow) are $24.99. Save an extra 20% off jewelry with promo code DIAMOND20 through November 24th, including on some styles that are already on sale up to 65% off, and can be stacked with the 15% off and Kohl's Cash. You can ship to store for free, or enjoy free shipping on orders over $50.
Check back soon for more pre-Black Friday deals!
November 1 Deals – Kohls One Day Sale 2019
Kohls has posted on its website that it is launching a one day sale of early Black Friday deals in-store and online on November 1, 2019. The countdown indicates that it will start at 1 AM Eastern according to our math. The Kohls Black Friday ad for 2019 is also expected to be available on Nov. 1 and we will post it here when it is available.
Kohls did not make public the deals ahead of the launch of the sale online but the landing page linked on its website has categories of kitchen + dining, bed + bath, home decor, floor care, furniture, storage + organization at the top of the page.
The Kohls deals will also include a minimum of $10 of Kohls cash for every $50 spent. The cash is available to spend during a subsequent defined period within the store or online.
Click here to visit the Kohls website here for the deals.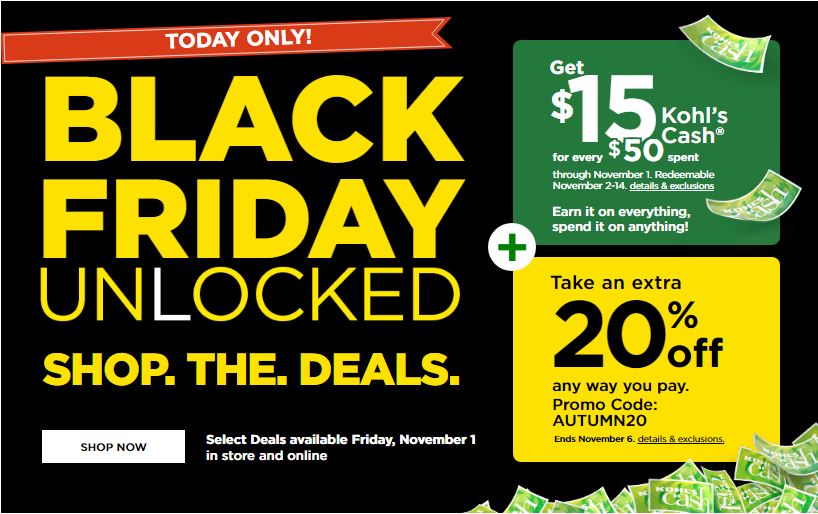 KOHL'S TOP DEALS (2018)
Get 15% off your purchase with a coupon in-store (use the Kohl's app or website on a smart phone, or print off the website before heading out) and online (promo code JOY) and earn $15 Kohl's Cash for every $50 you spend. Free shipping also starts at $50. I got an extra $5 Kohl's Cash for utilizing the free ship-to-store option, which I haven't seen before. I was excited to get some flannel sheets sets for about $20!
Some of the top deals include:
58″ Samsung 4K Smart TV – $549.99 + $165 Kohls Cash = $384.99 (save $515)
Canon EOS Rebel T6 DSLR camera with bag, 18-55mm lens and 75-300mm lens – $399.99 + $120 Kohls Cash = $279.99 (save $470)
Nest Learning Thermostat – $179.99 + $45 Kohls Cash = $134.99 (save $115)
Xbox One S Minecraft Bundle – $199.99 + $60 Kohls Cash = $139.99 (save $160)
Fitbit Versa – $149.99 + $45 Kohls Cash = $105.99 (save $95)
Shark Navigator Lift-Away Deluxe – $99.99 + $15 Kohls Cash = $74.99 (save $135)
Bissell Pet Hair Eraser Bagless Upright Vacuum – $149.99 + $30 Kohls Cash = $119.99 (save $180)
Dyson Ball Animal 2 Upright Bagless Vacuum – $299.99 + $90 Kohls Cash = $209.99 (save $290)
Shark Rotator Powered Lift-Away TruePet Bagless Vacuum Model NV752 – $199.99 + $45 Kohls Cash = $154.99 (save $245)
iRobot Roomba 677 – $249.99 + $60 Kohls Cash = $189.99 (save $280)
Shark ION Robot R75 vacuum – $249.99 + $60 Kohls Cash = $189.99 (save $260)
Ninja Kitchen System with Auto-IQ Boost – $129.99 + $30 Kohls Cash = $99.99 (save $120)
KitchenAid Artisan Stand Mixer KSM150PS (5 qt stainless steel bowl) – $279.99 + $60 Kohls Cash = $219.99 (save $160).
November 19th Online:
Dyson Ball Multi Floor 2 Upright Vacuum – $249.99 + Kohls Cash = $174.99 (save $225)
Dyson V7 Animal Cord-Free Vacuum – $249.99 + Kohls Cash = $174.99 (save $225)
Early Black Friday Sale:
Plus you can shop Kohl's Pre-Black Friday Sale! The same day that the 2018 Black Friday ad was released, Kohls also offered up pre-black Friday deals on hundreds of items, with one day of $15 Kohls Cash on every $50 spent, and the 20% off code below also starts that day. Check out all the deals, but our favorite deals, available 11/1/18 only, are
Use promo code GOSAVE20 through Nov 6 for an additional 20% off your entire order.
Last Major Update:
Cyber Monday Ad
The online deals and discounts for Cyber Monday 2019 have not been released yet. We'll post it as soon as it's available!
Coming Soon
We will post the return policy for this store during Thanksgiving when they become available.
Hours and Doorbusters (2017)
Kohl's has already started offering deal on all sorts of items, but the deals get a little better once Black Friday begins!
You can head to Kohl's a little earlier this year, since it opens at 5pm on Thanksgiving Day (except for Maine and Rhode Island, which open at midnight on Black Friday, and Massachusetts stores (save Woburn, MA) open at 1 a.m. Nov 24th. Woburn, MA store opens at 5 a.m. Nov 24th. There will be in-store doorbusters from their opening time through 1 p.m. Friday the 24th.
If you prefer to do your shopping from the comfort of wherever your computer is, you can start snapping up Black Friday deals at 12:01 a.m. (CT) on Nov. 23rd – and it looks like this year Kohl's is allowing for doorbusters for online shoppers as well! They have also lowered their free shipping threshold this year to $50 for holiday shoppers (it's normally a $75 minimum).
Since you earn Kohl's Cash at a rate of $15 for every $50 spent, and Yes 2 You Rewards at a rate of $5 for every $100 spent, you can really increase your savings at Kohls! Redemption period for Kohl's Cash earned from Nov 20 – 25th is Nov 26th – Dec 6th, with Yes 2 You Rewards being available for use on the 1st of each month (for each $100 spent Nov 1 – 30, $5 will be available Dec 1).
Past Kohl's Black Friday and Cyber Monday Deals (2016/2015)
Kohl's offered its deals online starting the Monday before Thanksgiving. However, it also added in-store only doorbusters throughout the morning Friday to make it "the best black friday ever." These days included a 32-in. LED HDTV for $99.99, a 3-stone 1/4 ct. diamond ring for $69.99 and 50% off select toys in the toy department. The minimum for free shipping was $75, their normal threshold.
Over the course of the week, Kohls offered $15 in Kohl's cash for every $50 spent. Some local stores also opened for shopping starting on Turkey Day at 6 PM Thursday evening – although some states did have later openings, including Maine and Rhode Island (midnight) and Massachusetts (1 am).
Kohl's released a 4 page Cyber Week Spectacular ad because it had "Savings so big, Monday's just not enough." The advertisement flyer included deals and savings on kitchen appliances, electronics such as remote controlled drones, and toys such as the balancing scooter.
About Kohl's
Kohl's is the second largest department store in the United States by retail sales and the largest measured by the number of stores. It opened its first department store in 1962, nearly two decades after Maxwell Kohl opened his first supermarket in Milwaukee. Kohl's has over 1,100 stores operating in 49 states and has traded on the New York Stock Exchange since 1992.
Major Retailers
Amazon
eBay
Kmart
Kohls
Meijer
Overstock
Target
Walmart
Department Stores
Bealls
Belk
Bon-Ton
Boscovs
JC Penney
Lord & Taylor
Macys
Neiman Marcus
Nordstrom
Saks
Sears
TJ Maxx
Club & Discount Stores
BJs
Costco
Dollar General
Dollar Tree
Family Dollar
Five Below
Sams Club
Last Major Update: