Best Drone Black Friday Deals 2023 & Cyber Monday Deals
We're putting together a list of drone deals for Black Friday. We will examine the published and online ads for the best savings from Thanksgiving Day to Cyber Monday 2023 on hobby RC quadcopters to professional photography drones with HD cameras and video recording to First Person View (FPV) fixed-wing drones. If you are looking to buy a drone for Black Friday 2023, you will find your options here. Shop for discounts on drones from DJI, Cheerwing, Parrot, 3DR, Holy Stone, EACHINE, QCopter, TOZO, Force1, UDI, Sky Viper, Hubsan and other options.
Autel Evo Lite+ – The Autel Evo Lite+ is a highly capable and portable drone, designed to cater to both photography enthusiasts and professionals. It features a large 1-inch CMOS sensor, allowing it to capture 50MP photos and 4K video at 30fps, ensuring exceptional image quality, especially in low-light conditions. The drone offers advanced features like 12-bit D-Log color profile, HDR video, and adjustable aperture, providing creators with great flexibility. Its impressive flight time of up to 40 minutes and 7.4-mile transmission range extend its operational capabilities. The Evo Lite+ also includes obstacle avoidance sensors, making it safe and easy to pilot, and its compact design enhances its portability for adventurers and travelers.
Autel Evo Nano+ – The Autel Evo Nano+ is a compact, lightweight drone that stands out in the sub-250g category, offering advanced features in a portable package. It's equipped with a 1/1.28-inch CMOS sensor, capable of capturing 50MP photos and 4K HDR video, ensuring high-quality imaging performance. The drone features three-way obstacle avoidance, a rarity in its size class, enhancing safety during flight. With a flight time of up to 28 minutes and a transmission range of 6.2 miles, the Evo Nano+ is remarkably capable for its size. Its user-friendly controls, along with AI-enhanced features like dynamic tracking, make it suitable for both beginners and seasoned drone enthusiasts seeking a travel-friendly aerial camera.
Ryze Tello – The Ryze Tello is an impressively compact and affordable drone, ideal for beginners and young enthusiasts exploring aerial photography and flying. Powered by DJI technology, it features a 5MP camera that captures 720p HD video, offering a fun introduction to drone imaging. Despite its small size, the Tello boasts impressive stability and a flight time of approximately 13 minutes. Its user-friendly interface includes intuitive smartphone controls and educational programming features, making it a great tool for learning the basics of drone operation and coding. The Tello's lightweight design and safety features make it a safe and accessible choice for first-time flyers and educational purposes.
DJI Drones
DJI Inspire 3 – A cinema camera drone with full frame 8K imaging system. It was released in April 2023 to follow up on the Inspire 2 which was originally released in November 2016.
DJI Mini 4 Pro – This is the most advanced mini camera drone to date at DJI. It integrates powerful imaging capabilities, omnidirectional obstacle sensing, ActiveTrack 360° with the new Trace Mode, and 20km FHD video transmission
DJI Osmo Pocket 3 Creator Combo – A Vlogging Camera with 1" CMOS & 4K/120fps Video, 3-Axis Stabilization, Face/Object Tracking, Fast Focusing, and Mic Included.
DJI Avata Pro-View Combo – The combination of the DJI Goggles 2 and DJI Motion Controller provide an immersive sensory experience with intuitive control by hand and head movements.
DJI Goggles 2 – Lightweight and comfortable micro-OLED displays for immersive flight.
DJI Osmo Action 2 – A drop-proof, dustproof and waterproof (up to 10 meters) durable action camera with a touchscreen.
DJI Air 2S – A drone for creators and aerial photographers on the go with a 1 inch CMOS sensor, automatic functions and a compact body of less than 600g.
2022 Deals:
Find more Black Friday deals right now at Amazon.com.
Past Deals:
DJI Drones – Latest Models for 2022
We took a look at the DJI website to see what they are offering this year (as of August 10, 2022). Here are the products that we saw available:
DJI Mavic 3 – a flagship camera drone with a 4/3 CMOS Hasselblad camera for professional photography
DJI Air 2S – a drone for creators on the go with a compact body and 1-inch CMOS sensor.
DJI Mavic Air 2 – a compact drone with great flight performance and high-end imaging features.
DJI Mini 3 Pro – a portable drone for the prosumer weighing just 249 grams.
DJI Mini 2 – a drone for recording professional level videos and sharing direct to social media.
DJI Mini SE – A solid, lightweight value-oriented drone.
DJI FPV – Take an immersive flight in an FPV drone for users of all skill levels.
DJI Phantom Pro 4 V2.0 – a real beast in flight performance that is 60% quieter than the Phantom 4, as well as other improvements.
Drones for kids
Fortunately for families and parents searching for christmas gifts for the kids, there are plenty of drone options that are lightweight (under the 250g cutoff for registration with the FAA), affordable and easy to use. Checking the sales advertisements for Target, Best Buy, Walmart and others will probably catch a couple kids drone discounts during the Black Friday and Cyber Monday period.
Portable Drones for Travel / Hiking
Looking for a portable drone for travel, hiking or capturing family images and adventure during your next vacation? Try for a drone that is lightweight, foldable, with a solid camera, intelligent flight and has a deal or good value. You probably aren't going to spend your vacation learning how to operate a drone, but if you already have one this is the perfect addition (or Christmas gift for the drone fan in your family).
Drones for Fishing / Underwater
The aerial market for flight has paved the way for a sea change for fisherman who have been stuck casting for years. There are now drones for fishing lure delivery, drones that can land on the water, submergible drones, and even underwater drones. Manufacturers such as Powervision and Swellpro are leading the robotic device market in this area.
What is the best cheap drone?
We took a look at a few of the lists of cheap drones and here is what we came up with: Holy Stone HS175D or HS720E or HS110D, Drocon Ninja DC-014, Ryze Tello, DJI Mini SE or DJI Mavic Mini, Potensic A20, Snaptain A15H
What drone should I get as a beginner?
We scanned the list of the top drones for beginners among the lists of articles that rank in search engines to discover a number of different options for drones to start out. Those options include: DJI Mini (various models), Ryze Tello, Autel Evo Nano, Holy Stone HS100 Navigator, Potensik T25, Beta FPV and Parrot PF728000 Anafi. The foregoing list provides a number of different options to pick your favorite reason to own a drone and find one that works for your interests.
Drones with cameras
We are still working on this section! Come back to check it out later. Thank you for your understanding.
Drone Deals During Black Friday 2023 and Prime Day 2022
Prime Day 2022
Amazon's annual event for Prime members with two days of epic deals (this year July 12-13) had some great drone discounts:
DJI FPV 4K Quadcopter Drone Combo – $999.00 (Regular Price $1,299)
Holy Stone HS720E 4K Quadcopter – $299.99 (Regular Price $339.99)
DJI FPV 4K Quadcopter Drone Combo – $999.00 (Regular Price $1,299)
Black Friday 2023
The top shopping period for sales last year did not disappoint with some of the year's best drone black friday deals:
DJI Mavic Mini Fly More Combo – $100 off at B&H Photo
DJI FPV Drone Combo – $300 off at B&H Photo
DJI Mini 2 Combo – $250 off at Adorama
Parrot ANAFI – $250 off at Amazon
Skydio 2 Starter Kit – $400 off at Skydio website
About Drone Manufacturers:
– Vantop
Vantop entered into the market in 2017 with action cameras and dash cams, and produces the Vivitar Snaptain drones.
– AirSelfie
AirSelfie makes a pocket sized personal photographer for hands-free panoramic, high definition selfie photos and videos. The company is a London based startup that began with a Kickstarter campaign in 2016.
– Vivitar
Vivitar has a portfolio spanning mobile and audio accessories, health and beauty tools, cameras, and specialty products in emerging electronics categories, such as drones. It is a leading supplier of digital still cameras, camcorders and accessories. Vivitar is a division of Sakar International (since 2008), and it is headquartered in Edison, NJ.
– PowerVision
PowerVision produces aerial, water-surface, and underwater robotic devices. It was founded in 2009 and is headquartered in Beijing. PowerVision sells an egg-shaped drone (PowerEgg), underwater drone (PowerRay), water-surface drone (PowerDolphin), intelligent fish-finding drone (PowerSeeker), and a full-platform AI camera (PowerEgg X).
– SwellPro
SwellPro was started in 2013 in order to fix the fragility of consumer drones in unusual environments. It offers drones for fishing, from the SplashDrone4, a multi-functional waterproof flight platform that the company calls the most versatile and powerful waterproof all weather drone, to the Fisherman FD1 for drone fishing made easy. Integrated bait release mechanisms allow for remote and precision release baited hooks via the remote controller.
DJI – The market leader in consumer drone technology with easy-to-fly drones and aerial photography systems.It is a Chinese technology company headquartered in Shenzhen, Guangdong and founded in 2006.
3DR – 3D Robotics was a producer of consumer drones, ready-to-fly quadcopters and fixed wing UAVs based in Berkeley, California.It was founded in 2009.
Parrot – A French manufacturer of wireless products that has purchased a number of startups in the drone industry over the past five years.It's products include the Disco FPV, a smart flying fixed-wing drone, the Bebop 2 drone, mini-drones Rolling Spider and umping Sumo, as well as its first: the Parrot AR.Drone.
Eachine – A manufacturer of quadcopters, FPV equipment and racer drones.
Holy Stone – A Chinese seller of radio control drones, quadcopters and other toys.
UDI – A Radio Control helicopters and vehicles company established in 2010 to provide hobby grade products at an affordable price.It has a series of basic and FPV drones including the Voyager, Discovery, Predator, Kestrel, Lark, Firefly, Peregine and Navigator.UDI is located in the Guangdong Province of China.
Sky Viper – Sky Viper drones are a brand of Skyrocket Toys.Skyrocket is a tech-entertainment company with offices in Hong Kong and Los Angeles.They also make the immersive GPS-enabled battlefield Recoil, a 360 degree VR entertainment system, and a high-tech robot Mebo.
Hubsan X4 – Hubsan is a series of small, lightweight remote controlled quadcopters.It includes first person view (FPV) drones that have a built-in video camera sending a live feed to the user.Hubsan's headquarters are located in the Nanshan District of Shenzhen, China.
Stores will start releasing their deals for Black Friday 2023 starting in late October or early November.We will update this page when the ads are released. On Black Friday, we expect you may be able to find substantial deals on drones. Last year, there were doorbuster sales offering discounts of more than 50% on certain lower priced items and savings on higher priced drones of up to $300. In general, we expect you will find deals offering a total of 30 percent to 40 percent off for the best savings on drones.
2018 Deals:
DJI deals
Mavic 2 Fly More Combo – $379 (save $190)
DJI Mavic Pro Platinum – $999 (save $100)
DJI Mavic Pro Platinum Fly More Combo – $1299 (save $100)
DJI Mavic Air – $699 (save $100)
DJI Spark Controller Combo – $359 (save $40)
Spark Fly More Combo – $459 (save $100)
Tello – $79 (save $20)
Tello Boost Combo – $99 (save $50)
DJI Googles Racing Edition – $449 (save $100)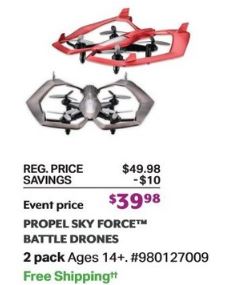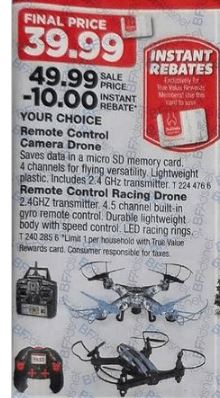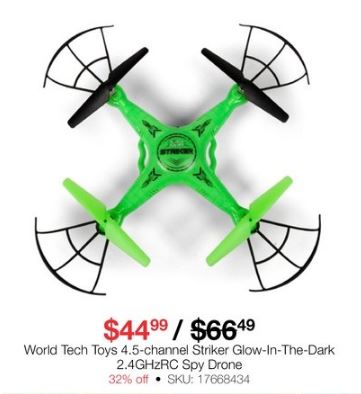 2017 Deals at Kohls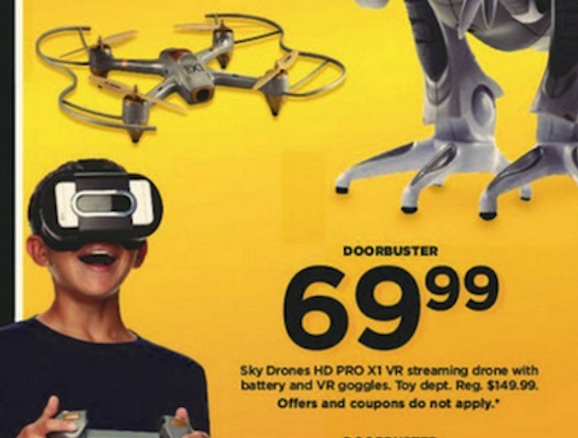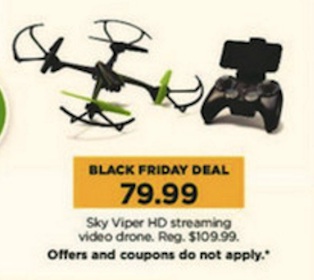 Sears Deals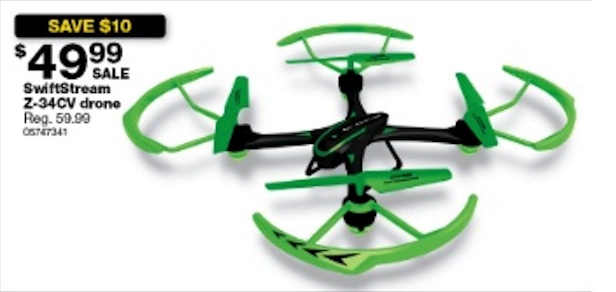 Bass Pro Shops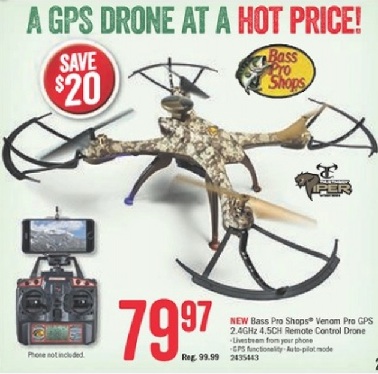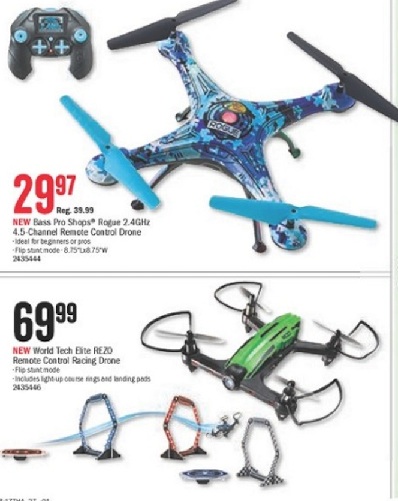 Best Buy Drones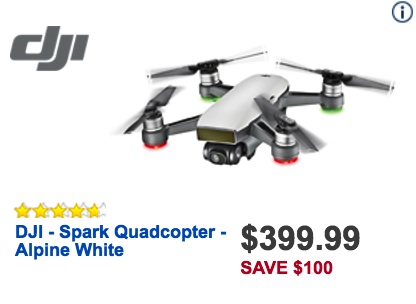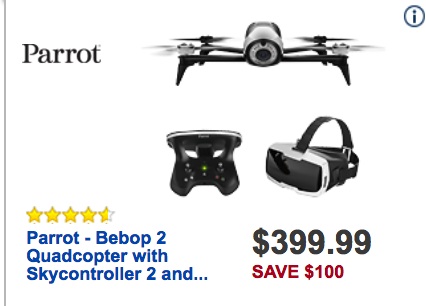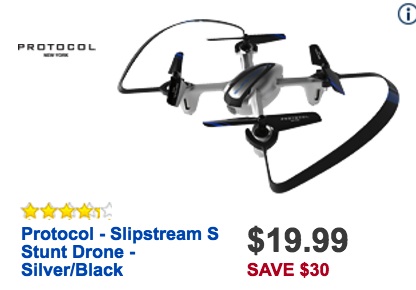 Staples: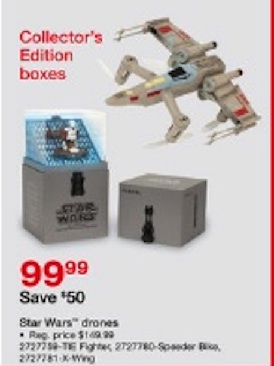 Office Max and Office Depot: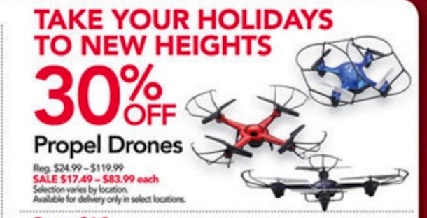 Macys: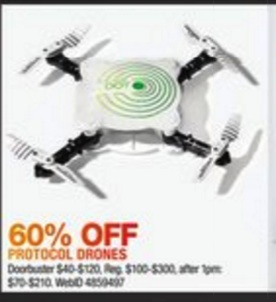 Target: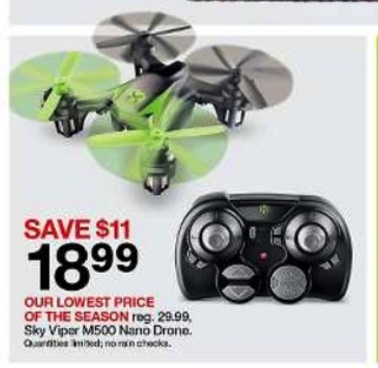 Walmart: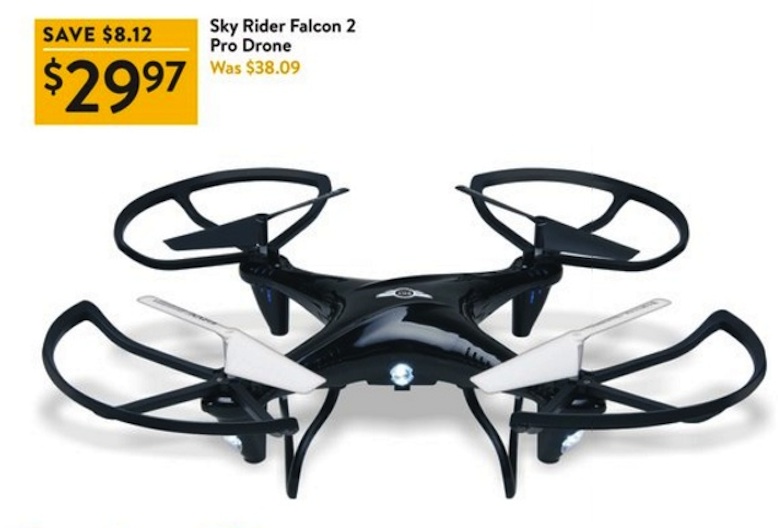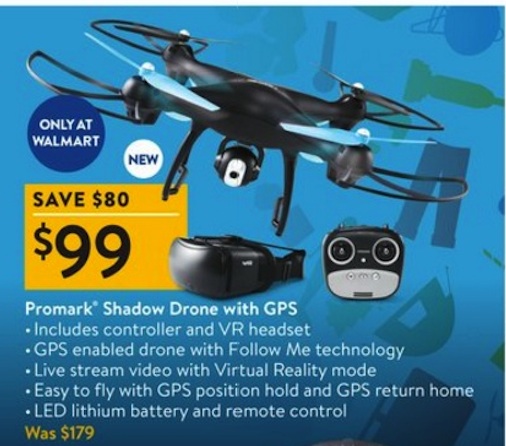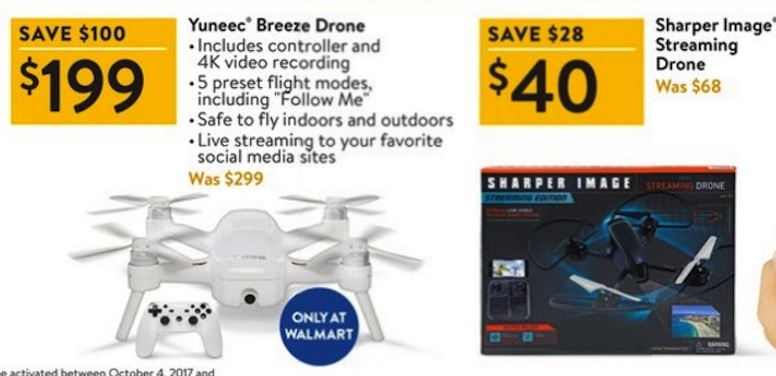 Meijer (Thursday only) Deals: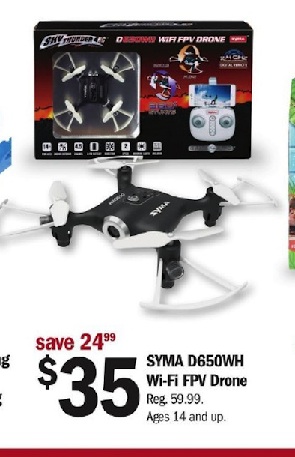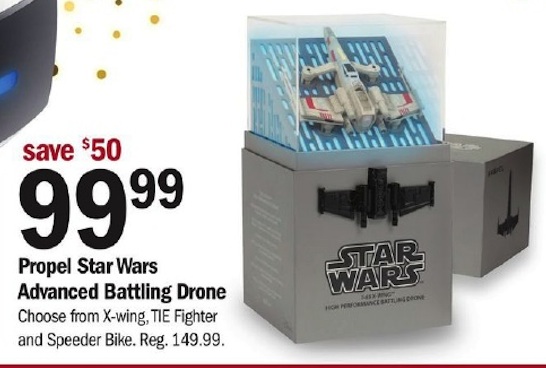 Newegg:

Bonton: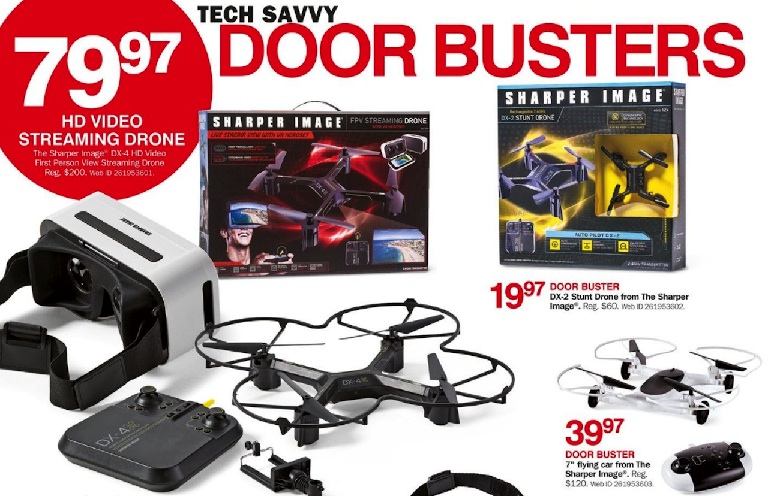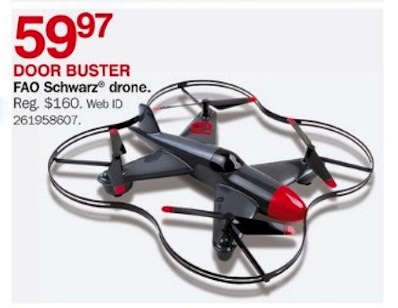 JC Penney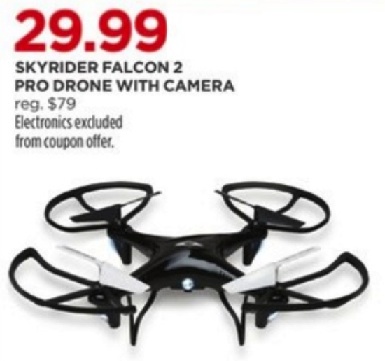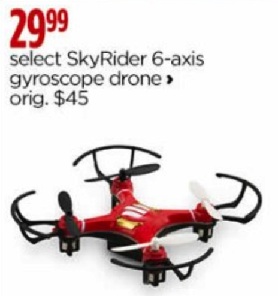 Check back regularly for updates on the best deals from your favorite retailers to kick start the holiday shopping situation.
Last Major Update:
Drone Black Friday 2023 Deals:
Current Sales on Amazon: