Kids Ride On Electric Car Black Friday 2020 Deals
Find the best deals on a children's powered riding car toy during Black Friday 2020. Funtober will collect all of online sales and price discounts in print ads on ride on electric cars between Thanksgiving and Cyber Monday 2020.
2020 Deals
The ride on electric car is a featured item in both the Target and Kohls Black Friday ads.So we will be searching out all of the other savings, price cuts, and offers on these children's vehicles over the Thanksgiving holiday. Here is what we are tracking:
2018 Deals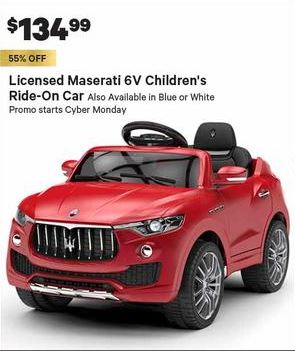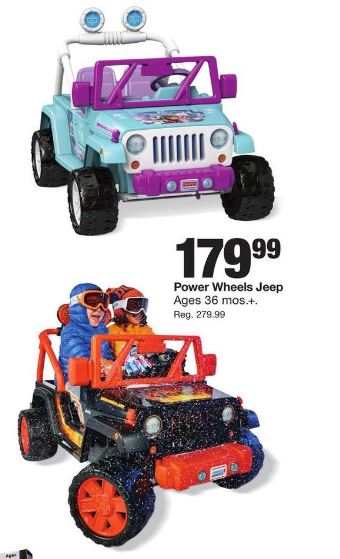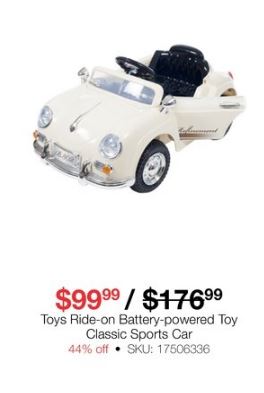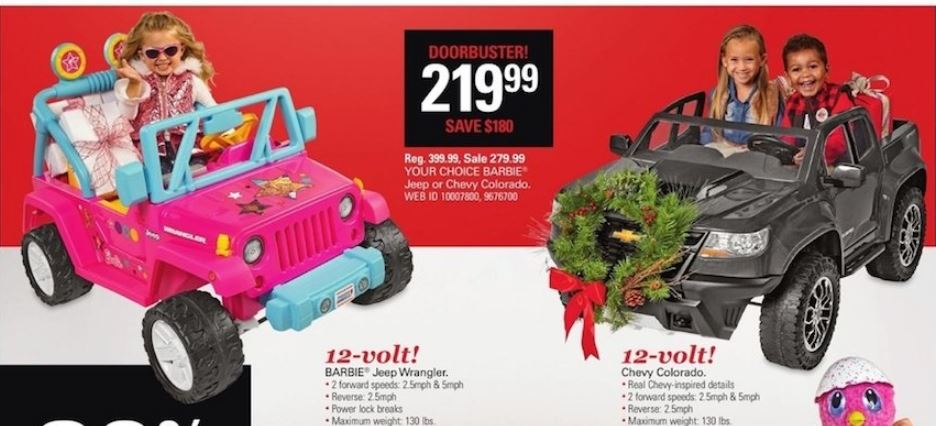 Rollplay Kids' Ride On 6V Mercedes-Benz GL450 SUV –
Rollplay Kids' Ride On 6V Ford Mustang –
Both of these electric ride on cars can go forward at up to 2.5 mph and has reverse. It features two opening doors and rubber traction strips on wheels for no slip cruising. It also makes engine sounds, button horn and has a working radio with mp3 jack. Built for children ages 3 plus up to 77lbs.The 6v battery and charger are included.
Honda 6 Volt Electric Ride On ATV – This ATV can do 2.5 MPH for riders up to 40lbs. It features a button to go and once the rider lets go it stops.
Razor MX350 Dirt Bike Blue – This dirt bike does up to 12mph and is designed for riders up to 140lbs. A fully charged battery will allow 40 minutes of continuous use.Fun to ride and a great way to get experience riding a two wheeler.
Dodge Charger Police Car Pursuit Ride-On – This cruises at speeds up to 5 mph.Features dual opening doors and police sound effects. Includes a 12v battery and wall charger.Kohls is currently offering $40 Kohl's cash back on this one.
No matter what power riding toy you purchase this Black Friday 2019 we are tracking the best offers, sales and deals on this holiday classic. Both Target and Kohls has large line ups of electric ride on cars for kids from 2 through teens.Check back for the latest in store and online deals on electric ride and power riding toys.
Last Major Update:
Last Major Update: