70 – 75 inch TV Black Friday 2019 & Cyber Monday Deals
Find the best deal on a large 70 or 75 inch TV for Black Friday 2019. We search the online ads and print advertisements for the best Black Friday deals on televisions of all sizes. Discover the biggest sales here on these big screen TVs from Thanksgiving Day to Cyber Monday 2019 as we find savings for you at Amazon, Best Buy, Walmart and other top electronics retailers.
If you are looking for a monster TV at a great discount during Thanksgiving 2019, this size offers your best chance to grab a big screen at less than $2,000. You can find them marked down at least $300-500 to reach a price point where you can afford to splurge for the rest of the NFL season as you prepare to watch your favorite sports teams like you are inside the stadium.
Here are a few of the televisions that we will be following during our price and ad checks:
Sony KD70X690E
LG Electronics 70UK6570PUB
Sceptre 75-Inch 4K LED UTV
VIZIO E70-E3 70-Inch 4K UHD
Sony XBR70X830F 70-Inch 4K Ultra HD
Samsung Electronics UN75MU6300 75-Inch 4K Ultra HD
Samsung Electronics UN70KU6300 70-Inch 4K Ultra HD
TCL 75C807 75-Inch 4K Ultra HD
Sharp LC-70LE660 70-Inch Aquos 1080p
Sony XBR75X850F 75-Inch 4K Ultra HD
Be sure to jump on any tv price deals that you see in the 70 to 75 inch range quickly as retailers may have limited quantities. The hottest sales on 4K tvs at this price range are usually reserved for doorbusters and may have either time or quantity limitations.
Amazon Deals on Black Friday (Click Name for More Information):
LG 75-Inch 75SK8070PUA 4K Ultra HD Smart LED TV (2018) – $1696.99 (save $1003)
Samsung UN75NU8000 Flat 75″ TV – $1597.99 (save $600)
Sony XBR75X850F 75-Inch 4K Ultra HD Smart LED TV (2018 Model) – $1798 (save $500)
Sony XBR70X830F 70-Inch 4K Ultra HD Smart LED TV (2018 Model) – $1598 (save $400)
Samsung 75NU7100 Flat 75" 4K UHD 7 Series Smart TV 2018 – $1299.99 (save $95)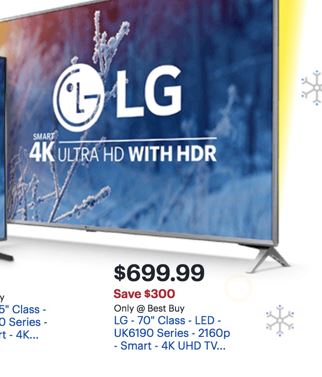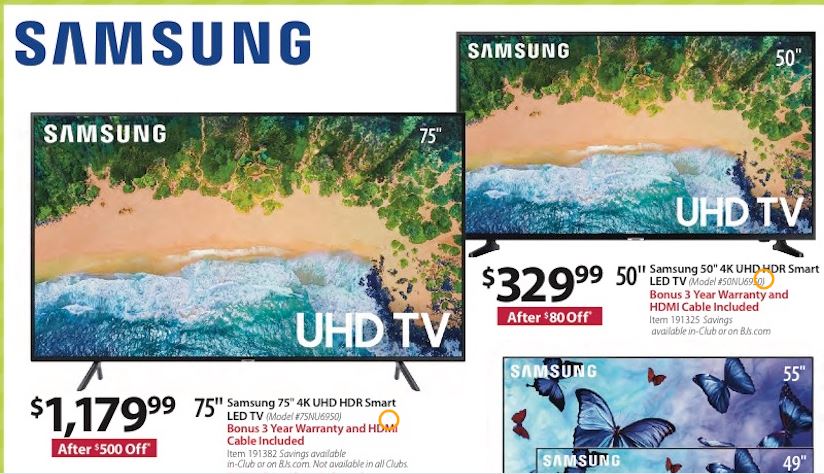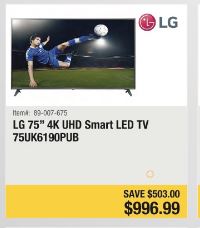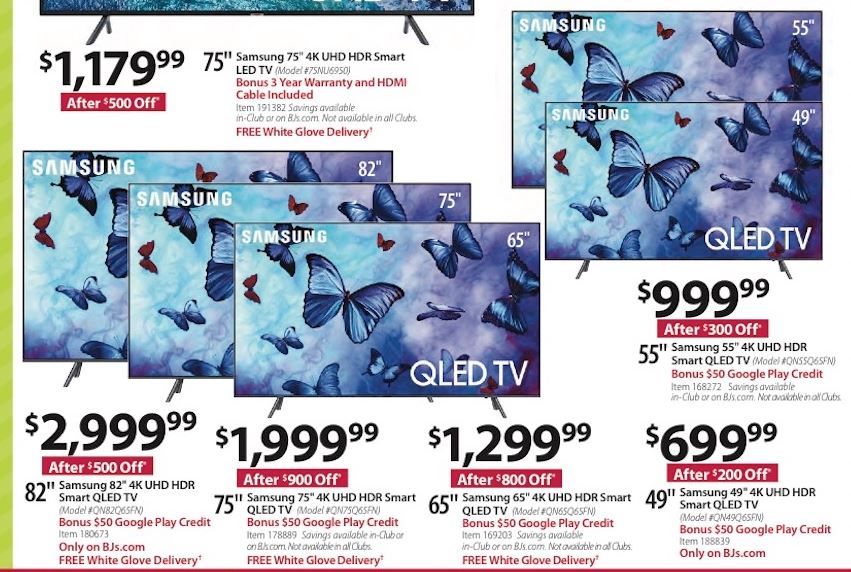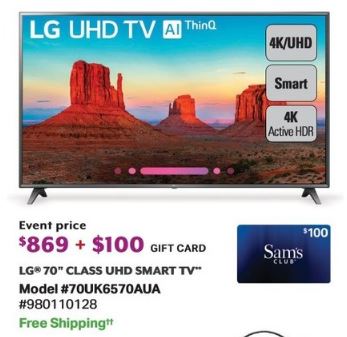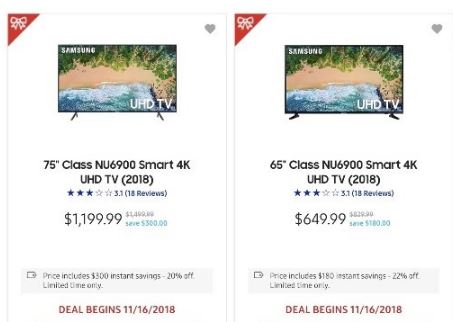 70 Inch vs. 75 Inch: At this size, the extra 5 inches are not as important as the quality of the television. As the size of the tv increases, marginal increases or decreases in the screen size matter less. However, there can be substantial price jumps for the extra screen size.
70 Inch to 75 Inch Black Friday TV Deals for 2019:
There is still some time before the electronics retailers, websites and other stores start announcing their Black Friday deals on Televisions of this size. We anticipate the first deals will begin leaking at the end of October and the major retailers releasing their advertisements in early to mid November.
70 Inch to 75 Inch Cyber Monday TV Deals for 2019:
The first Cyber Monday deals on televisions typically begin leaking on the Saturday after Thanksgiving and the full force of the announcements are made Sunday evening or early Monday morning. If you miss out on the early doorbusters on Thanksgiving Day or Friday morning,
Stay Tuned!
We will be monitoring the ad leaks starting in October and posting the specials in earnest in November. Stop back regularly to see the best Black Friday deals on TVs ranging in sizes from 70 to 75 inches made by the major manufacturers including Samsung, Sony, Vizio, TCL, Sharp, LG and more.
Last Major Update: