Best Blu-Ray Player Cyber Monday Deals after Black Friday 2018
Find the best Black Friday 2018 deals on 4K Ultra, Curved TV and Regular Blu-Ray Players. We will bring you info about the biggest and best deals and discounts here when the savings are announced online or in an advertisement between Thanksgiving Day and Cyber Monday 2018. We are committed to helping you find the best shopping deals of the year from Amazon Prime Day to Thanksgiving Weekend. So get ready to save in 2018, 2019, 2020 and beyond!
Here are the Blu-Ray Player Black Friday deals that we have found so far:
Amazon
Click Here to see the current deals for 4K Blu-ray Players on Amazon.
2018 Deals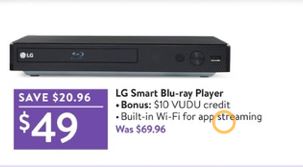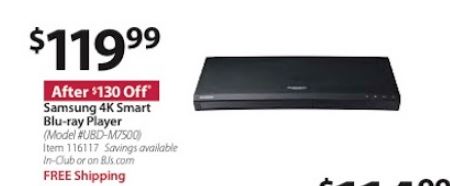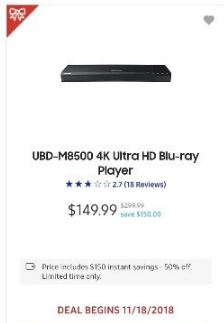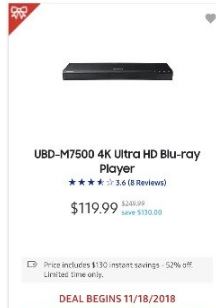 2017 Deals
Best Buy
SAVE $150 – LG UP870 4K Ultra HD 3D Wi-Fi Built-In Blu-Ray Player – $149.99
SAVE $150 – Sony UBP-X800 Streaming 4K Ultra HD 3D Hi-Res Audio Wi-Fi Built-In Blu-ray Player -$149.99
SAVE $122 – Samsung UBD-M7500 Streaming 4K Ultra HD Wired Blu-Ray Player – $127.99
SAVE $100 – LG UP875 4K Ultra HD 3D Blu-ray Player – $99.99
SAVE $52 – Samsung BD-J5700/ZA Streaming Wi-Fi Built-In Blu-ray Player – $47.99
SAVE $40 – Sony BDP-S3700 – Streaming Wi-Fi Built-In Blu-ray Player
Click here to find the Best Buy Blu-ray player deals.
Kohl's
SAVE $120 + $30 in Kohl's Cash – Samsung 4K Blu-ray Player – $129.99
Walmart
SPECIAL BUY – LG 4K Blu-Ray Disc Player – $99
SAVE $10.97 – Sanyo Blu-ray Disc Player – $39
Find the Walmart Blu-ray players for Black Friday here.
Target
SAVE $70 – Sony Wi-Fi Blu-ray Player – $49.99
Jet.com
SAVE $80 – LG 4K Ultra-HD Blu-Ray Player w/ 3D Capability – $99 (valid 11/23/17)
Samsung
SAVE $130 – UBD-M8500 4K Ultra HD Blu-ray Player – $169.99
About our Black Friday and Cyber Monday Coverage
We have searched dozens of leaked and released Black Friday ads to compile the best deals for electronics, kitchen appliances and dozens of other categories. We hope you have found what you are looking for here. As more are announced, we will be adding them here at Funtober through Cyber Monday 2017. Thank you for visiting and Happy Thanksgiving!
Last Major Update: