Google Home Hub, Mini Black Friday Deals 2023 & Cyber Monday Deals
Find the best deals on the Google Home Hub and Home Mini during Black Friday 2023. Funtober is tracking all the best deals, sales, ads, offers and bundles from Thanksgiving Day to Cyber Monday 2023.The Google Hub Home is the brain of a smart, operating all of integrated smart devices from one spot.It offers all of the assistance of Google Assistant with an addition of a screen for a visual interface.
The Google Home Mini is an AI Assistant available anywhere you want it. Get hands free help or use it as a smart speaker. Play music or control smart home gadgets with it.
2019 Black Friday Deals:
Google Home Mini – $19 @ Walmart (save $6)
Google Home Mini – $19.99 @ Best Buy (save $29.01)
Black Friday may be winding down this year, but Cyber Week is heating up with major retailers announcing their savings. We expect big online sales for Cyber Monday 2019 across a wide range of products. Cyber Monday is expected to result in more than $9 billion in sales in a 24 hour period on Monday, December 2nd. Yes – your eyes read that correctly. It is actually in December this year and it is going to be huge! We will be posting the Google Home Hub and Home Mini Cyber Monday deals here as they are announced.
2018 Deals: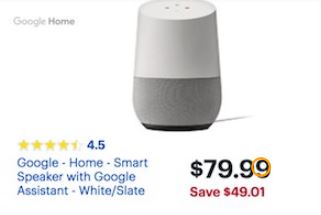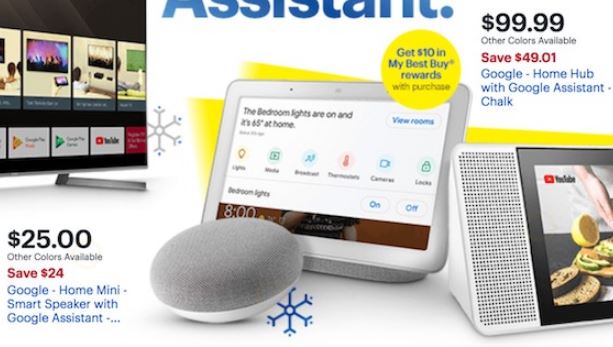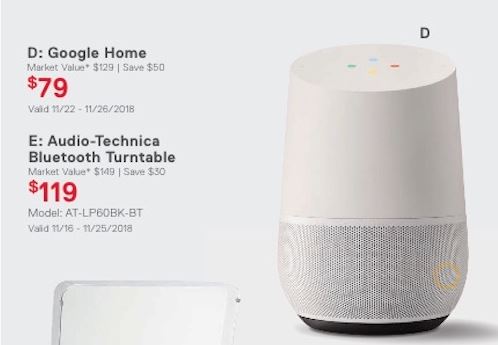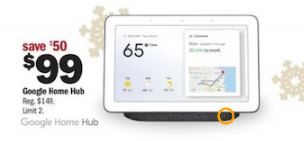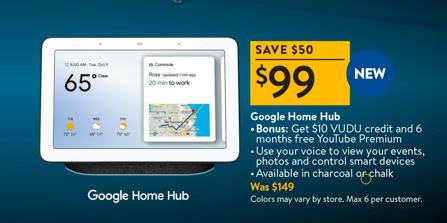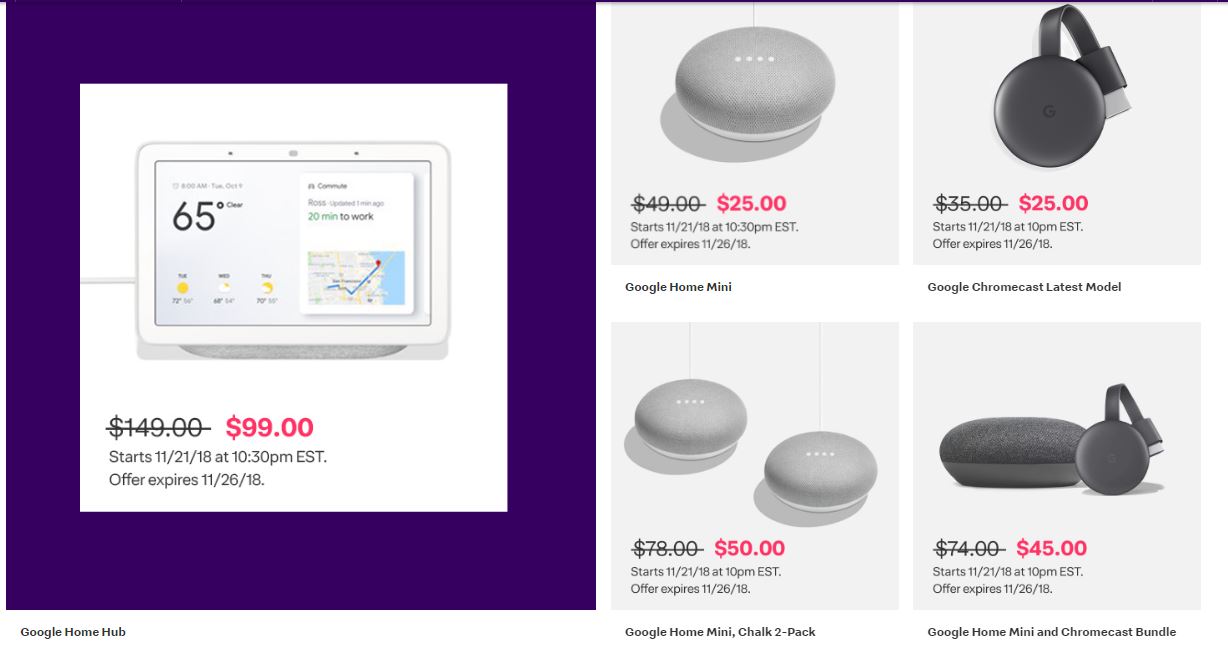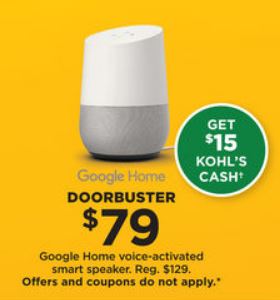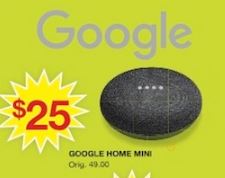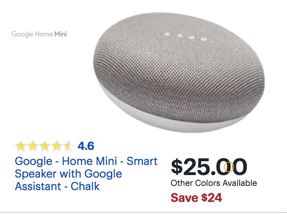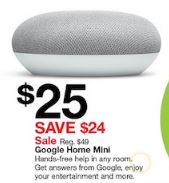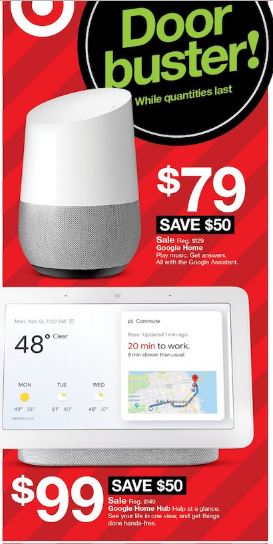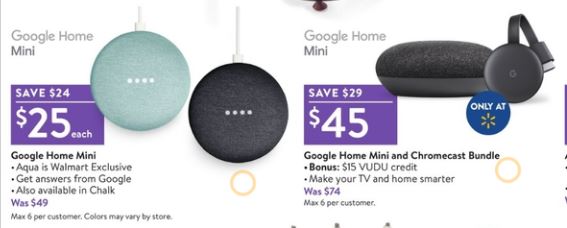 The Google Home Hub features call Home View is dashboard controller for all of your integrated smart home devices.The Home App will allow for mobile control of your smart devices too, such as view your Nest Doorbell and Philips smart lights. The Hub Home has a huge array of built in recipes and a side by side visual cooking tutorial. Google specifically mentions that the Hub Home is designed for the kitchen. Google redesigned a lot of the video interface.The Home Hub voice commands primarily run Google based apps including Google Search, Photos, YouTube, Duo for voice chats, Calendar and Maps. Voice command support will likely support more apps soon, but for now it is partner dependent.
Google has built in a lot of Software functionality, such as Ambient EQ and two Google Photo features. The Ambient EQ automatically adjusts screen brightness for the environment, so as you move around or lighting changes the screen brightness adjusts. Google designed the Hub Ambient EQ to respect the users environment, for example if its bedside in a dark room the display so it will not disrupt your sleep. The Home Hub's new photo feature uses AI to create photo albums of individuals. Simply select and individual and it will compile an album of that person. The Recent Highlights is exactly what it sounds like, select that and the Hub Hom will compile an album of recent moments from your Google Photo account.
The Google Hub has a 7 inch front display and no camera.Google designed this to run your smart device and not for video chat.Google likely intentionally nixed the camera because of all of the security concerns surround its primary competitors, the Facebook Portal and Echo View.
The Home Hub comes in green pink , dark grey and white and currently includes a six month premium YouTube subscription. It is currently available for preorder at $149 and ships October 22nd.
Whether it for your kitchen or a gift the Google Home Hub is a great smart hub and much cheaper than its competitors.We expect there to be some great deals on the Hub for Black Friday 2019 because there is so much competition for the smart home market space. We will make sure to help you get the best prices on the Google Hub Home for Black Friday 2019 and the entire 2019 holiday season. Be sure to check back for updated information!