Samsung Galaxy Tab Black Friday Deals 2023
Find the best deals on Samsung Galaxy tablets including the Tab S6 and the Tab A over Black Friday 2023. Funtober will bring you all of the online price discounts and leaked ad sales on these devices from Thanksgiving Day to Cyber Monday 2023.
2019 Black Friday Deals
2018 Deals
Click Here for the Samsung Galaxy Tab A Deals on Amazon:
Samsung Galaxy Tab A 10.1″ (16GB) – $156.99 (save $115)
Samsung Galaxy Tab A 8″ (32GB) – $149 (save $80)
Samsung Galaxy Tab A 8″ (16GB) – $119.99 (save $60)
Amazon Deals on Tab S Series – Click Here
Samsung Galaxy Tab S4 10.5″ – $547.99 (save $102)
Samsung Galaxy Tab S3 9.7″ – $399.99 (save $150)
Samsung is one of the premier manufacturers of consumer electronics in the world. They make everything from smartphones to televisions in addition to their tablets, chromebooks and other personal computers.
STARTING NOV. 16:
Samsung Galaxy 10.1″ Tab A — $159.99 (save $120) on Dell.com
6GB (WiFi) Tablet with Market Value estimated at $279.99. Deal ends on Nov. 25th.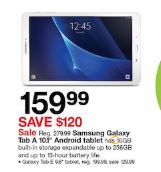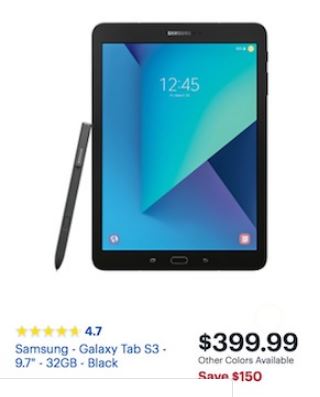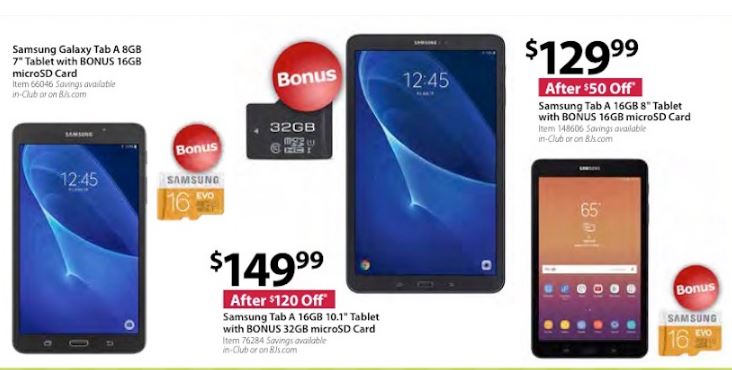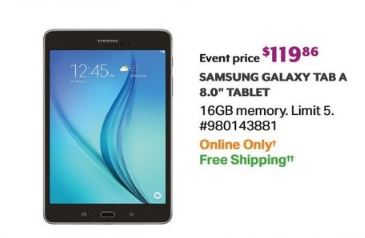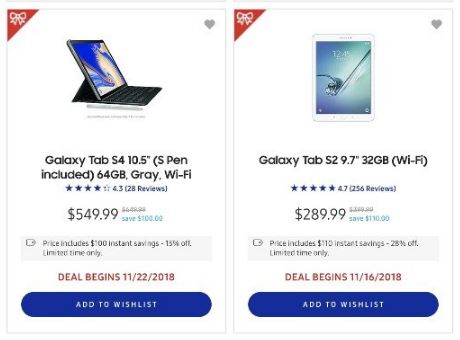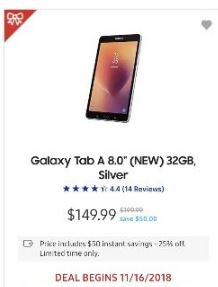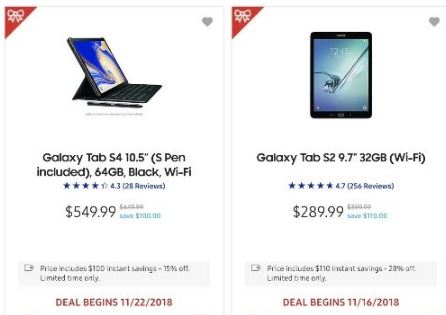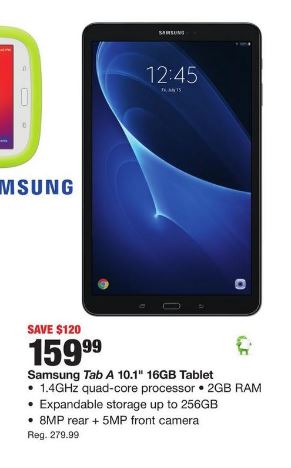 Here are the Samsung tablet computers that we will be closely following prices on over the Thanksgiving weekend:
Galaxy Tab S4: A 10.5 inch tablet with immersive display, Dolby Atmos audio, Samsung DeX and S Pen. Cnet called it a "premium tablet great for entertainment" and Samsung says its perfect for those that need the portability of a tablet with the capabilities of a PC, while ZDNet called it a "tablet built for business". Samsung says it "helps you get more done from wherever you are".
Galaxy Tab A 10.5: The Tab A 10.5 is an alternative to the entry level Apple tablet with more storage capacity and a slightly larger display. Samsung says it "brings high-quality entertainment and family-friendly features". It will be regularly priced at $330, the same price as the entry level 9.7 inch iPad. The Tab A 10.5 also has a 1.8GHz Qualcomm Snapdragon 450, 1920×1200 resolution TFT LCD display, four speakers with Dolby Atmos support, and both front (5 MP) and rear (8 MP) cameras. LTE versions area available from SPrint and Verizon with WiFi versions at Amazon, Walmart and Samsung.
Galaxy Tab A 10.5: The Tab A 10.5 is a larger and updated version of the Tab A 8.0, which originally came out in 2015. The smaller device has an 8 inch display and is regularly priced at $199.
Black Friday 2018 Deals
Find all of the Samsung Galaxy Tablet Black Friday deals here at Funtober as they are announced and are brought to you during Thanksgiving weekend.
Cyber Monday 2018 Deals
We will be posting all of the online sales on the Monday after Thanksgiving here at Funtober when they are available (most likely late Sunday evening or early Monday as retailers try to finish the weekend strong through eCommerce sales.
Last Major Update: