Keurig Black Friday 2020 K-Elite, K-Mini, K200, K50 Coffee Maker & Cyber Monday Deals
Find the best deals on Keurig coffee makers during Black Friday 2020. Find the online sales and price discounts in print ads for the Keurig K-Elite coffee maker, the K-Mini, K200 and K50 between Thanksgiving Day and Cyber Monday 2020. You are in the right place if you are looking for a Keurig Elite Black Friday deal this year!
2019 Cyber Monday Deals
Keurig K-Select, with 20% off coupon, $71.99 @ Kohl's
Dozens of KCup Packs from brands like Victor Allen, Solimo, Hill Bros, Happy Belly, Margaritaville Coffee, Organic Coffee Co, Tazo, Crave Coffee, My Coffee and more
2019 Black Friday Deals:
Keurig K Classic K50 – $59.99 @ Best Buy (save $60)
Keurig K Duo Single Serve & Carafe – $129.99 @ Best Buy (save $40)
The Keurig Elite is on sale at Amazon for Black Friday with a price of just $114.49 (saving of $55 over the regular price of $169.99). This is a single serve K-Cup pod coffee brewer with iced coffee capability. It has a large 75 oz water reservoir to allow you to brew 8 cups before you have to refill. The removable drip tray accommodates travel mugs up to 7.2 inches tall. Quiet brew technology minimizes noise when in use. It also has a maintenance reminder when there has been a build up in calcium deposits and it is time to decale your coffee maker.
2018 Deals:
Click Here to Save $125 on Keurig K-Cafe and 24 count K-Cup Pack on Amazon for CYBER MONDAY.
Here are the deals that we are following for this year over the Thanksgiving holiday: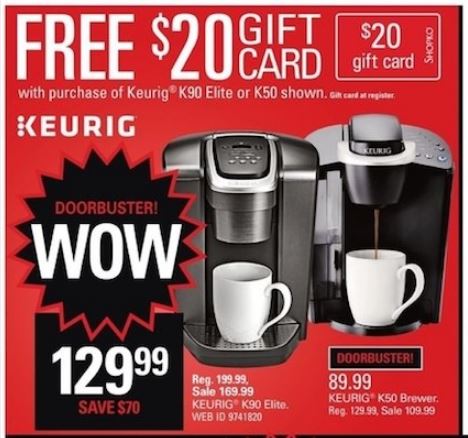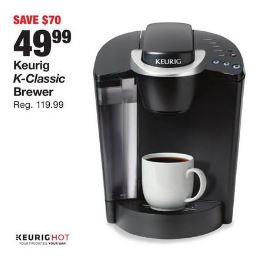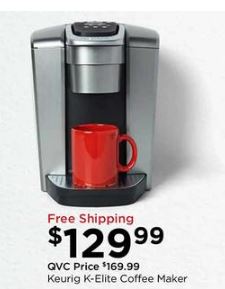 Keurig K-Elite Coffee Maker – $129.99 at Kohls or Best Buy (save $70 including cash back / gift card)
This single serve coffeemaker is the latest model of the popular home and office brewing machine. Kohls includes $30 in Kohls cash, and Best Buy will give you a $30 gift card card for purchasing the K Elite.
K-Mini Single Serve Coffee Maker – $49.99 at Target (save $30)
The K Mini is Keurig's slimmest single serve ever at less than 13 cm wide. Just add water and K-Cup.
K200 Coffee Maker – $69.99 at Best Buy (save $70)
A compact Single Serve K-Cup Pod Coffee Maker available in fun colors for your kitchen.
K50 Brewer – $89.99 at Shopko
A single serve K-Cup Pod with three possible cup sizes and removable 48 oz. water container from the Classic Series. This is on sale for $89.99 at Shopko as part of their Friday doorbusters plus you get a free $20 Shopko gift card. That's $60 in savings off the regular retail price of $129.99.
Keurig Black Friday Deals:
We have posted a number of the ad deals already above. If we find any more this year, we will post them here as well!
Keurig Cyber Monday Deals:
We will post all of the online sales for the Monday after Thanksgiving here when they are available after Thanksgiving.