Ecovacs DEEBOT Black Friday Deals 2023 – Deebot 500, Ozmo 930, 610 & Winbot X
Find the best Black Friday deals on the Ecovacs DEEBOT 500, Ozmo 930 and Winbot from Thanksgiving to Cyber Monday 2023.
Funtober searches for the biggest ad discounts and online sales for vacuum cleaners at the major online and department store retailers including Amazon, Best Buy, Kohls, Macys and more! Whether you are looking for a smart cleaning floor robot or your first robot window cleaner, you can find it here!
2022 Deals:
Amazon.com
. Past Deals:
Ecovacs Cyber Monday Deals 2019
Ecovacs DEEBOT N79S Robotic Vacuum Cleaner – $149.99 @ Amazon
Ecovacs DEEBOT 500 Robotic Vacuum Cleaner – $134.99 @ Amazon
Ecovacs Deebot Black Friday deals
Save up to 41% on Ecovacs N79S @ Amazon
Save up to 36% off Ecovacs Deebot 661 @ Amazon
Ecovacs Deebot 500 – $169.99 (save $160) – DEAL OF THE DAY – 11/24
Ecovacs Deebot 711 – $269.99 (save $290) – DEAL OF THE DAY – 11/24
Ecovacs Deebot OZMO 920 – $599.99 (save $100)
Ecovacs – $269.99 @ Target (save $130)
ECOVACS DEEBOT N79SE – $149.99 @ Best Buy (save $130)
Ecovacs Deebot N79 – $169.99 @ Walmart (save $130)
Ecovacs Deebot N79W – $199.99 @ Walmart (save $50)
Ecovacs Deebot Ozmo 930 – $399.99 @ Best Buy (save $300)
Ecovacs 900 – $351.99 @ Best Buy (save $148)
Ecovacs Deebot 600 – $265.99 (save $114)
Stop back in November 2019 to find out the best Ecovacs deals that are running from the week of Thanksgiving up until Cyber Monday.
Here is a preview of some of the Ecovacs products we will be checking for deals on during Black Friday 2019:
DEEBOT 500
This is the best selling robot vacuum cleaner sold by Ecovacs. The DEEBOT 500 can be controlled with the home app, remote or a smart home system. It has a 520 mL dustbin and runs for up to 110 minutes.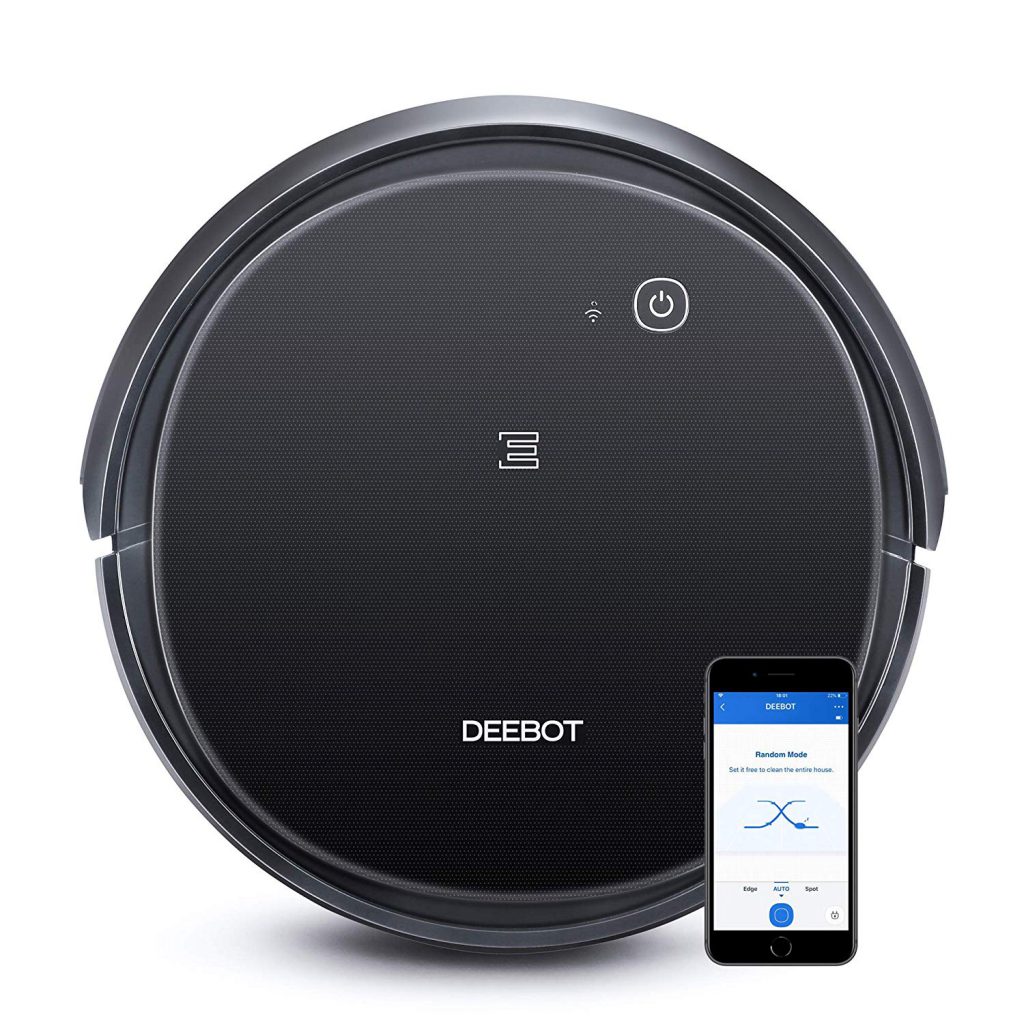 Ecovacs DEEBOT Ozmo 930 and 610
The Deebot Ozmo 930 and the Ozmo 610 are 2-in-1 robots for vacuuming and mopping. If you want your hardwood floors thoroughly cleaned by a smart robot, buy one at a great price this Thanksgiving.
The Deebot Ozmo 610 is ready for floors that have both hard floors and carpet. It is app-controlled and smart charging that works with Amazon Alexa and Google Assistant. Runtime is up to 110 minutes and it has a 450 mL dustbin. If you prefer an advanced laser-guided mapping and navigation system, choose the more advanced Ozmo 930. The 930 also has carpet detection to avoid mopping carpets, or to increase suction for a deep clean when on floors with carpets.
Ecovacs WINBOT X
The Winbot is an smart robot for window cleaning your home. It attaches to the glass and uses its intelligence and edge detection sensors to travel the glass and clean it. It automatically calculates the best path across the entire windows and uses its four stage cleaning process to efficiently clean.
This is the perfect solution to cleaning your windows and returning your home's incredible view to a family favorite. Ecobots calls it the world's first cordless window cleaning robot.
The Winbot X was released in November 2018 which means that retailers could very well be announcing deals on them during Black Friday 2019 in order to try to move some inventory and generate buzz.
Where to Look for Black Friday Vacuum Deals:
Amazon - The nation's top retailer has some of the best discounts on vacuum cleaners and robot vacuums over the Thanksgiving weekend. They may not be able to beat some of the Kohls deals due to the Kohls cash, but you can expect them to be price competitive with everyone else.
Best Buy - As the nation's leading specialty retailer for consumer electronics, the Best Buy Black Friday ad usually has some good sales on vacuum cleaners. They even had a pair of Dyson vacuums on the front page of their advertisement in 2020.
Walmart - In 2020, Walmart split the Walmart Black Friday deals into three ads and each one included vacuum cleaners. There were vacuum sales from Dirt Devil, Hoover and Shark with eufy, iRobot and Shark robot vacuum deals
Kohls - The Kohls Cash rewards available on Kohls Black Friday deals make these some of the best over Thanksgiving weekend. In 2020, the Kohls ad offered vacuum cleaner deals on Shark and Bissell as well as robot vacuums by iRobot and Shark. if Kohls continues to offer $15 in Kohls Cash for every $50 spent over the weekend, then these will probably be some of your best Vacuum black friday deals.
Target - They an extensive selection of home and kitchen appliances in the Target Black Friday ad every year. In 2020, they had vacuum cleaners from Dyson, Hoover, Shark, and Bissell with robot vacuums from Ecovacs, iRobot and Shark. Deal launches were spread out with some listed as "Black Friday Deals NOW" and others without that designation. The ad also indicated that there were more deals at Target.com
Newegg - Newegg is an online retailer focused on consumer electronics and computer hardware with its headquarters in City of Industry, California. It carries a variety of vacuum cleaners on its ecommerce store, and in line with its focus on electronics the Newegg Black Friday ad usually has a couple different robot vacuums for sale.
Macys - This department store has an extensive selection of vacuum cleaners and robot vacuums available for sale online but there is usually a pretty small selection in the Macys Black Friday ad - in 2020 they had one Shark vacuum pictured in its early Black Friday sale and another one pictured in its Thanksgiving weekend sale. However, the ads say that there are hundreds of other discounts available online and we can't imagine that they are not putting other vacuums on sale on the Macys website as well.
Last Major Update: