Apple MacBook Pro & Air Black Friday Deals 2023 & Cyber Monday Deals
Find the best deal on the Apple MacBook Pro and MacBook Air during Black Friday 2023 as we help you find the biggest online sales and advertised price discounts from early November to Cyber Monday 2023.
2022 Deals:
Amazon.com
. Past Deals
2020 Black Friday Deals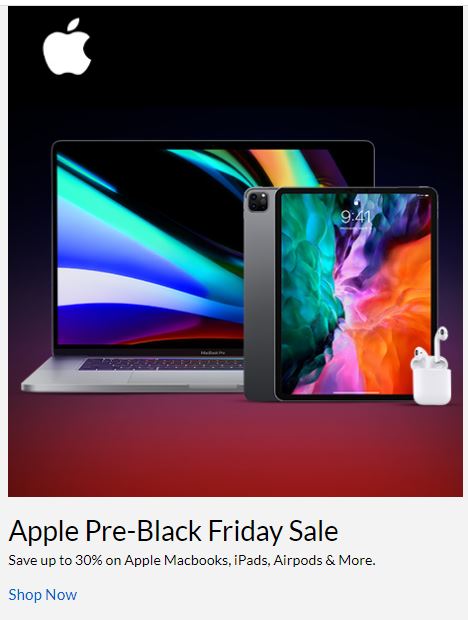 2019 Black Friday Deals:
MacBook Air – Save $200 @ Best Buy
MacBook Pro – Save up to $300 @ Best Buy
MacBook Air
A thinner, lighter laptop with all-day battery life, Retina display and touch ID. The latest version has a butterfly keyboard with Force Touch trackpad. The latest version is built with an Intel Core i5 processor, up to 16GB of memory, and up to 1TB of SSD storage. The regular price of the MacBook Air starts at $1099.
MacBook Pro
The MacBook Pro is Apple's most powerful laptop with cutting edge components for professionals and a higher starting price. The Apple website calls it "faster than ever with high performance processors and memory, advanced graphics, blazing‑fast storage, and more." The MacBook Pro price starts at a regular price of $1299.
2019 Updates
Apple is rumored to be planning a new MacBook Pro with a 16 or 16.5 inch LC screen on the laptop, with 3072×1920 resolution. The expected target manufacturing date in the industry reports were September 2019, which would mean that they are probably looking at a fall hardware launch that coincides with the release of the macOS Catalina system. The new 16 inch MacBook Pro is expected to be a new line of product rather than an upgrade to the 15 inch model. The 13 inch MacBook Pro is reportedly set to receive a spec bump with an option of 32 GB RAM.
2019 MacBook Sales
Best Buy has offered 12-inch MacBooks on sale for up to $500 off. The Best Buy sale includes $100 off the latest MacBook Air and $500 off the 12 inch MacBook with 8GB RAM. The 12″ MacBooks are originally priced between $1299.99 and $1599.99 with sale prices discounted to $799.99 and $1099.99. While these sales won't be around in November since they are a limited time only in August, they do provide an idea of what the Black Friday sales could look like this year.
MacBook Black Friday 2019:
We will post all of the leaked and released ads and sales on the MacBook Air and MacBook Pro here as they become available. Stay tuned as Black Friday approaches!
MacBook Cyber Monday Deals:
Given how popular Apple products are, there should be a handful of discounts on the Apple MacBook laptops available online during Cyber Monday. Unfortunately, we will have to wait until Thanksgiving weekend to find out what those sales are going to be!