iPad Black Friday Deals 2023 – iPad Pro, Air, 10.2 and 9.7 inch & mini Deals
Find the best deal on the iPad Pro, iPad Air, iPad mini and more during Black Friday 2023 as we help you find the biggest online sales and advertised price discounts from early November to Cyber Monday 2023.
2022 Deals:
Find more Black Friday deals right now at
Amazon.com
.
Apple made the tablet computer popular and the iPad remains the gold standard for both Apple lovers and everyone else. If you are searching for a Christmas gift for a loved one, Thanksgiving weekend presents a great time to get a discount on the latest version or to get a low price on an older model. Whether it is Amazon, Walmart, Best Buy or somewhere else, we will find you the best Black Friday deal on the following iPads:
2020 Black Friday Deals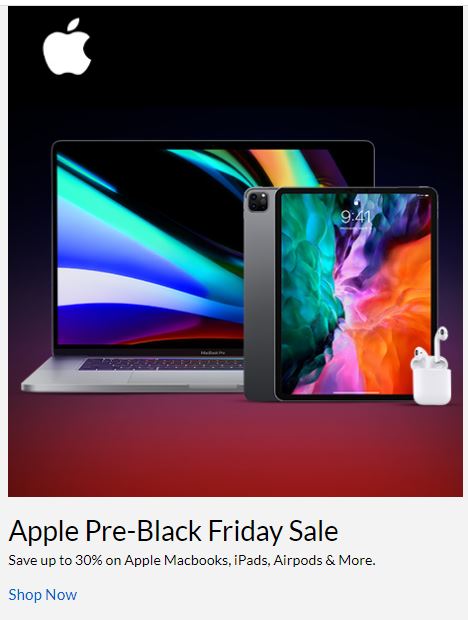 2019 Black Friday Deals:
iPad Pro – $150-250 @ Best Buy
iPad – Save $80 – $100 @ Best Buy
iPad Pro 10.5″ 512GB WiFi – $599 @ Walmart (save $400)
iPad 7th Gen 32GB – $249 @ Walmart (save $80)
iPad Pro Black Friday Deals
The iPad Pro comes in two different sizes – 11 inch and 12.9 inch. The regular price starts at $799 for the 11 inch tablet and $999 for the 12.9 inch model. We will post all of the iPad Pro deals here.
iPad Air Black Friday Deals
iPad Air is an Apple tablet computer with a 10.5 inch Retina display, 1 pound overall weight, and just 6.1 mm thin. Battery life is up to 10 hours. It has Wi‑Fi speeds of up to 866 Mbps and Gigabit‑class LTE cellular connections. It also has a 7 MP camera and for 1080p videos – perfect for Facetime. The smart keyboard gives you the full-size keyboard you need while folding to a slim, lightweight cover when not in use. The starting price of the iPad Air is $499. We will track down and post all of the iPad Air deals here too.
iPad Black Friday 2019
The regular iPad starts at $329 for the 32 GB model and $429 for the 128 GB. The base model only includes WiFi but it can also be upgraded to LTE cellular.
Apple iPad 9.7 Inch
The 9.7 inch iPad was released in 2017 and 2018. The WiFi only, 32 GB version has been on sale for up to $80 off on Amazon this summer, so it is a prime prospect for a big Black Friday deal. The 128 GB model was also on sale at that time but sold out quickly. If we see a sale on this iPad in November, we'll have it here too.
iPad mini Black Friday Deals
Find the best black friday iPad mini deals on this tiny Apple tablet with a 7.9 inch Retina display and an A12 Bionic chip. It's a light .66 pound device that is 6.1 mm thin in conjunction with a portable design that fits easily in a pocket or bag. Up to 10 hours of battery life means it can last all day on a single charge, plus fast WiFi and Gigabit-class LTE. The latest generation is up to three times faster than the iPad Mini 4th generation, and compatible with the Apple Pencil.
2019 iPad 10.2 – This is the lastest entry level iPad with a 10.2 inch screen with a new, bigger screen and a magnetic Smart Connector. It offers a long battery life and approved software, plus the popular app ecosystem from the App Store.
iPad Black Friday 2019:
We will post all of the leaked and released ads and sales on the iPad models here as they become available. Stay tuned as Black Friday approaches!
iPad Cyber Monday Deals:
Given how popular Apple products are, there should be a handful of discounts on the Apple iPad tablets available online during Cyber Monday. Unfortunately, we will have to wait until Thanksgiving weekend to find out what those sales are going to be!