Miter Saw Black Friday Deals 2023 & Cyber Monday Deals
Find the best deals on a miter saw during Black Friday 2023. Funtober will bring you all of the online sales and print ads for tools from hardware stores and online websites between Thanksgiving Day and Cyber Monday 2023.  
The miter saw is one of the pillars of woodworking shop because making angel cuts in modeling, frames, or board is an important part of getting a finished professional look. A miter saw is one of the more expensive tools that a full service woodworking shop needs, so finding a deal can be really helpful. We are follow all the top selling miter saws to find the best sales, deals, price cuts and offers this Black Friday and Cyber Monday 2023.
2022 Deals:
Find more Black Friday deals right now at Amazon.com.
Harbor Freight Deals: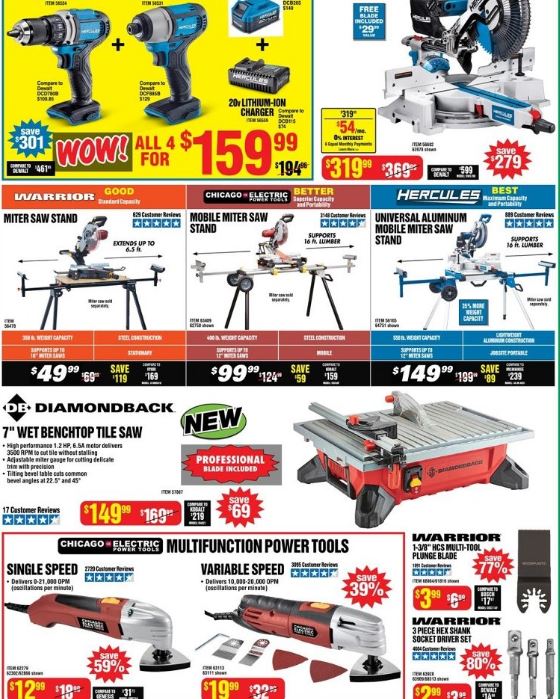 Lowes Deals: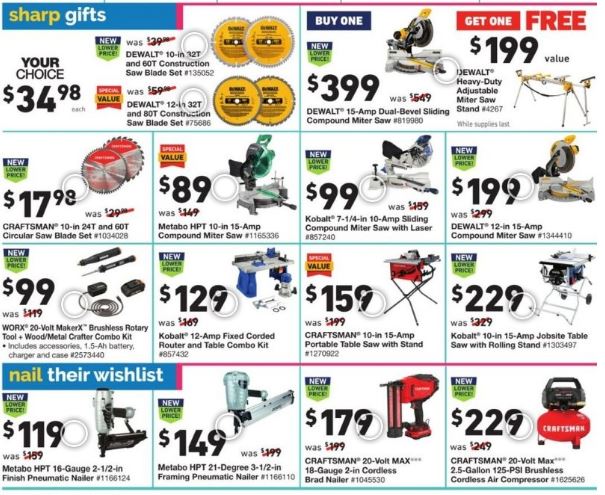 If you're looking to purchase a miter saw this Black Friday 2020 or anytime throughout the holiday season here are a few things to consider. Depending on your cutting needs consider the size and functionality. Miter saws typically come in two standard sizes 10 inch and 12 inch. Both option should have plenty of blade option at your local hardware store, but 10 inch is more popular. The 10 inch models are less costly upfront and to operate over the long run because blades are cheaper. The 12 inch models are best suited for cutting more dense material such as decking and framing.
The next option is compound of slider miter saw. On a compound miter saw the blade pivot left and right to make angled cuts, as well as tilt for beveled cuts. A compound miter saw is best suited to making cuts on thing such as picture frames, modeling and other smaller items. If you are cutting heavier duty stuff such as logs and lumber, then a sliding miter saw may be a better option. A sliding miter saw has all the functionality of a compound miter saw with the addition of a sliding feature to make larger and more complex cuts.
The last option is laser guided cutting. This is a feature that provides a laser line to follow to make extremely precise cuts. This is more common option, but it usually cost extra.
Here is what we are tracking:
DEWALT DW715 15-Amp 12-Inch Single-Bevel Compound Miter Saw – This very popular affordable model features tall sliding fences and the ability to make versatile beveled cuts.
DEWALT DWS709 Slide Compound Miter Saw, 12-Inch Is a little more heavy duty option.DEWALT DCS361B Sliding Miter Saw (Bare),7 1/4in for lighter duty and more portability this battery operated Dewalt is a great option.
Makita LS1019L 10″ Dual-Bevel Sliding Compound Miter Saw with Laser features precision adjustments and is excellent for molding and other precision cuts.
Hitachi C12RSH2 15-Amp 12-Inch Dual Bevel Sliding Compound Miter Saw with Laser Marker. While not the cheapest option, it does have some of the best bells and whistles. There is even an optional stand.
There are lot of option when it comes to picking the right miter saw for the job, but we are doing the homework to find you the best deals and price for Black Friday 2019. Whether is a cordless option or a more heavier duty alternative Dewalt is the name to beat in miter saws. They are both highly recommended and well-reviewed, so competitors are going to try and catch up. Keep your eye out for other brands to try and undercut Dewalt on prcing as Black Friday approaches. Check back for updates on the latest in store and online Black Friday and Cyber Monday 2019 price cuts, sales and deals.
Last Major Update:
Current Sales on Amazon: