Table Saw Black Friday Deals 2023 & Cyber Monday Deals
Find the best deal on a table saw during Black Friday 2023. Funtober will bring you all of the online sales and print ads from hardware stores between Thanksgiving Day and Cyber Monday 2023.
Some of the brands of table saws to keep an eye for price drops include SawStop, Dewalt, Bosch, SKIL, Powermatic and Grizzly. If you are planning some home improvement projects for next year, or are looking for a Christmas gift for the man (or woman) who has everything else in the garage, the table saw black friday deals at Lowes, Home Depot, Harbor Freight, Ace Hardware and Amazon can offer you significant savings over the regular price offered any other time of the year.
2022 Deals:
Find more Black Friday deals right now at Amazon.com.
Past Deals:
Home Depot Deals: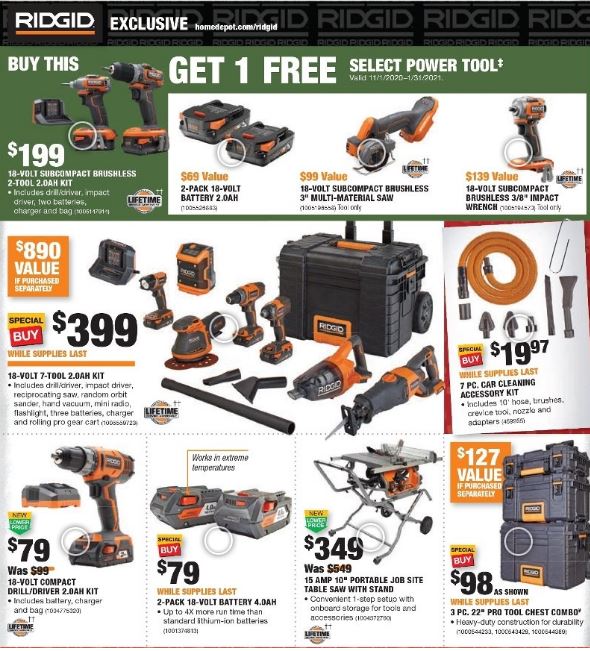 Lowes Deals: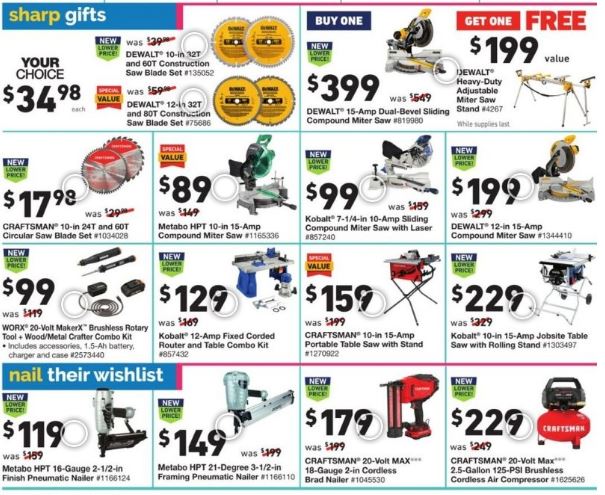 The table saw is often the most expensive and versatile tool in a shop or on a jobsite, you don't have to pay top dollar to find a table saw that will meet all your needs.Black Friday 2020 is a great time to shop for sales, deals and offer on table saws.The good news is we will do the homework for you and bring you the best in store and online sales, deals and prices as they are announcement s are made for Black Friday.
The major considerations when buying a table saw are type, motor, fence/miter gauge options and safety features. Depending on your needs there are several different types of the table saws on the market such as portable (bench top, compact and contractor) and stationary.The portable class are made up if benchtop, compact and the more robust contractor option.Bench top saws are designed for portability and light use. While benchtops are tough they are not designed to withstand the daily abuse a contractor will put them through. Compact table saws offer most of the same functionality as the benchtop, but additional add legs or some type of included stand. The contractor or jobsite saw is built tougher for daily heavy use.The jobsite saws build quality will be more robust and the motor will typically be bigger.
Here what we are tracking so far:
Bosch 10-Inch Portable Jobsite Table Saw GTS1031 with One-Handed Carry Handle is currently priced at $349.This weight balance one handed carry option is built for jobsite use. Feature smart guide and antikickback for smooth precision cutting. For an extra $79 you can get the Bosch GTA500 Folding Stand for 10-Inch Portable Jobsite Table Saw (GTS1031), allowing for easy jobsite placement.
DEWALT DWE7480XA 10 in. Portable Table Saw with Table Saw Stand is currently priced at $429. This Dewalt model has a lot of functionality and is complete jobsite ready option with the stand. It has a rack and pinion fencing system for easy adjustability and accurate cuts. It has a powerful 15 amp motor and is easy to break down and setup.
Bosch 10-Inch Worksite Table Saw 4100-09 with Gravity-Rise Wheeled Stand; Portable Table Saw is currently priced at $549.This is a great jobsite option with 15 amp motor. It also features a large cast aluminum top which provides a lot of work space for portable table saw.
SKIL 3410-02 10-Inch Table Saw with Folding Stand is a more budget friendly option currently priced at $208.This is a great option for a home shop or the do it yourselfer.It has a powerful 15 amp motor and a self-aligning fence.
SawStop PCS175-TGP236 1.75-HP Professional Cabinet S saw Assembly with 36-Inch Professional T-Glide Fence System, Rails and Extension Table is an option for a serious wood working coming in at $2469.This option features all heavy duty build components and powerful motor.The real selling feature is the amazing saw stop safety technology. Table saws are a major culprit for hand and finger injuries, but Saw-Stop has made that a thing of the past.The Saw-Stop blade carries a small electric charge and as soon as it contacts skin, which almost immediately blocks the blade.An injury that previously would have been catastrophic turns into a band aid covered nick.
No matter what your table saw needs we are tracking the best sales and deals for Black Friday 2018.We expect these big ticket items to have significant discounts leading up to Black Friday. Check back for the most up to date in store and online sales, deals and offers on table saws.
Last Major Update: