Power Drill Black Friday Deals 2023 and Tool Ads
Find the best deals on a cordless drill or other power tool during Black Friday 2023. Funtober will find all of the online sales or print ads for power tools for purchase at a major hardware store between Thanksgiving Day and Cyber Monday 2023.
Drilling holes and sinking screws is a basic necessity around a house and there are a lot of power drill options on the market.The power drill and power tool market is in the midst of a battery powered war so there will be excellent deal, sales offers and a lot of tremendous bundle offers for Black Friday 2023. Over the past few years most of the major tool manufacturers have developed their own proprietary batteries so if you want to have interchangeable batteries your locked into their brand.The power drill is probably one of the first power tools that should be added when starting a tool box, so choose wisely.
2022 Deals:
Find more Black Friday deals right now at Amazon.com.
Past Deals: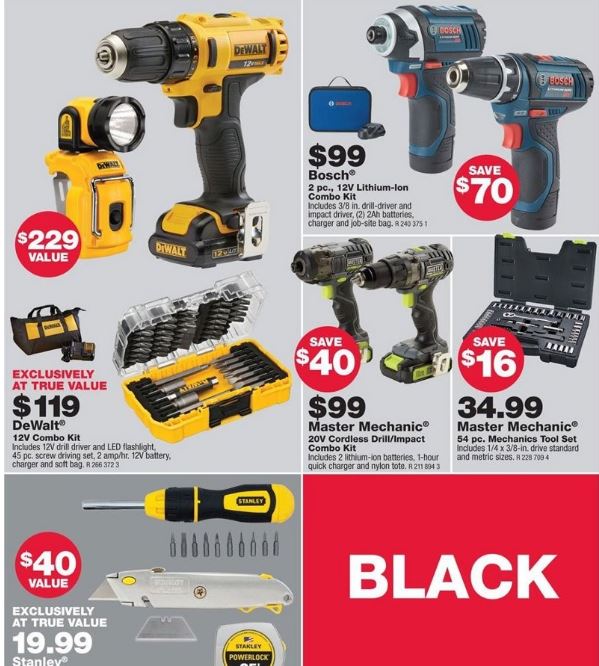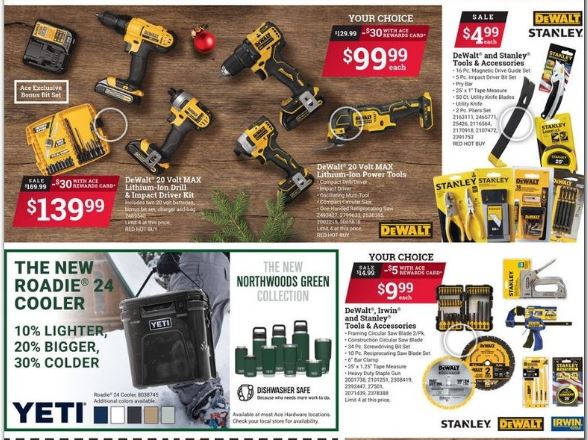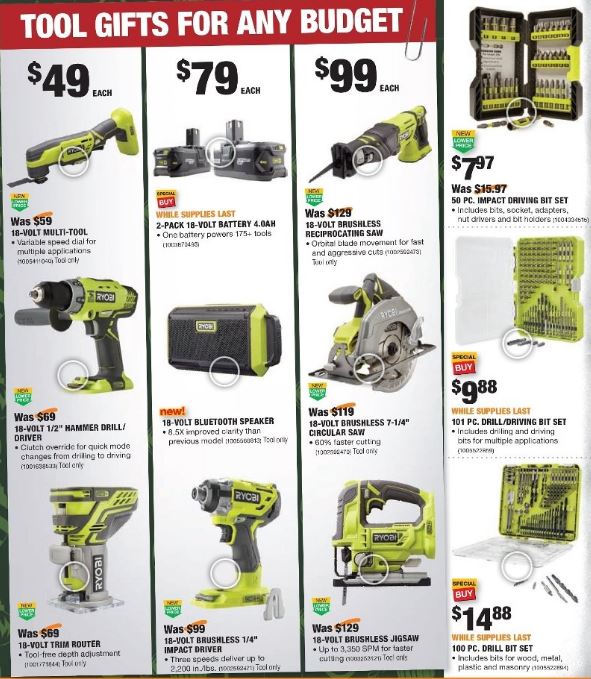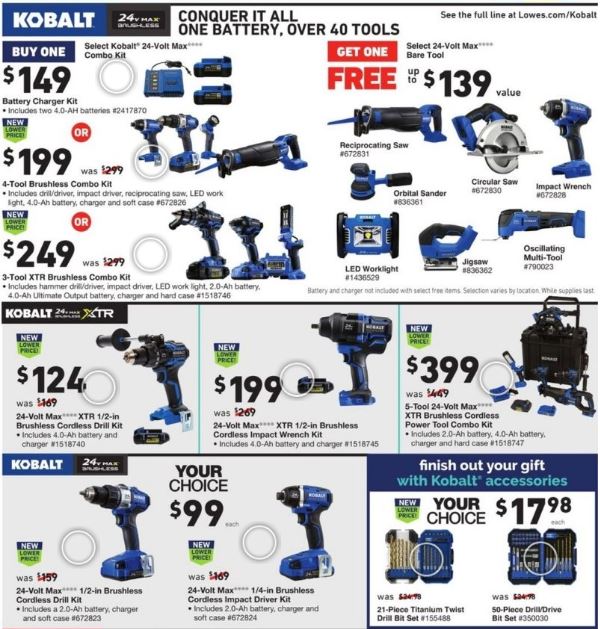 Whether your hanging picture, fixing a chair or a wobbly deck board, every home needs a drill.Here are some things to keep in mind when shopping for a power drill. Before we get to far just keep in mind that drill has become the common word for drill/driver.The same tool can drill holes when fitted with a drill bit and drive screws with the proper attachment. There are two primary types of drill, the regular use cordless drill for indoor and wood use and a hammer drill for use on concrete and brick.The hammer drills are more robust and built tough and come at a premium because of the added functionality.
Besides functionality budget is always a primary consideration. The good thing about drill is they typically aren't very expensive most options coming in well below $125 dollar mark for a typical cordless drill.Hammer drills can be a bit more expensive, but still relatively affordable.
Here is what we are tracking
Cordless Drill/Drivers:
Dewalt – 20-Volt MAX Lithium-Ion Cordless 1/2 in. Drill/Driver Kit with (2) 20-Volt Batteries 1.3Ah, Charger and Tool Bag – This is an extremely well-reviewed bestselling drill/driver. It comes with 2 batteries a charger and carrying case.This keyless chuck multispeed drill does everything a drill should and will not empty your wallet.
BLACK+DECKER LDX120C 20V MAX Lithium Ion Drill / Drive – This is one of the cheapest name brand options on the market. It comes with one battery and a charger.While not as robust or well-reviewed as the Dewalt it comes in at less than half the price, so it's a great option if you only have light drill/driver needs.
Makita -18-Volt LXT Lithium-Ion Cordless Driver Drill and Impact Driver Combo Kit (2-Tool) w/ (2) 2Ah Batteries, Charger, Bag – This combo drill/driver and Impact Driver gives you a lot of added functionality. It includes two batteries and a charger and as carrying case.
Hammer Drills:
DEWALT 20-Volt MAX XR Lithium-Ion Cordless Premium Brushless Hammer Drill with (2) Batteries 5Ah, Charger and Case – Ideal for heavier drilling or hammering needs.This powerful hammer drill uses 20v lithium-ion batteries for long run times. It also has a side handle so you can really torque down that drill bit and make sure it bites.
Ryobi 6.2 Amp Corded 1/2 in. Variable Speed Hammer Drill – This corded option is on the cheaper side for a hammer drill, but will provide constant power.
We expect there to be great deals, sales and offers on drill/drivers and hammer drills for Black Friday and Cyber Monday 2019.The real saving will be on the bundle offers.As tool manufactures are competing to get consumers to buy into their proprietary battery options they are already offering some steep discounts and great prices on bundled tools combo kits.If your budget allows it's a great time to commit to a brand and reap the saving a tool combo kit.The good news if you only looking for a drill is that is a lead in tool, so the biggest discounts and best deals will be on drill/drivers. Also, don't forget to throw some drill bits in the cart before your check out. Check back for the latest in store and online offers, sales as Black Friday closes in.
Last Major Update:
Current Sales on Amazon: