Baby Carriers Black Friday Deals 2023 & Cyber Monday Deals
Find the best deal on a new baby carrier over Black Friday and Cyber Monday 2023 this year. Funtober will gather all of the online and print ads here for carriers and wraps during Black Friday 2020. If you are a current or expecting parent that is looking to buy a baby-wearing aid for a baby or young child, or a grandparent working with a limited budget, Thanksgiving weekend can be a great time to go shopping.
We will bring you info about the biggest and best deals and discounts here when the savings are announced online or in an advertisement for Black Friday 2023. We are committed to helping you find the best shopping deals of the year from Amazon Prime Day to Thanksgiving Weekend. So get ready to save in 2023, 2024 and beyond!
2022 Deals:
Find more Black Friday deals right now at Amazon.com.
Past Deals
2020 Black Friday Deals on Baby Carriers
Check out the types of carriers below to determine which one will fit your needs, and check out the deals we found at:
buybuyBABY – They offer a 20% off any one item coupon that we've combined with their Black Friday deals (on our new stroller), and free shipping on orders over $19. They also offer Afterpay and PayPal for installment payments on most items.
Contours Love 3-in-1 Baby Carrier from $69.99
Contours Cocoon 5-in-1 Baby Carrier for $55.99
Contours Journey GO 5-in-1 Baby Carrier from $97.99
Contours Journey 5-in-1 Baby Carrier for $90.99
Baby wearing gives parents and other caregivers the ability to hold a baby securely while having both hands free for other tasks, making it easy to walk around a zoo, fold laundry while rocking a cranky baby, travel through an airport, and so much more. This allows you to bond and soothe baby, and still get stuff done! There are a plethora of options, from wraps that make one look like a cloth folding master, to snap-and-go options that make baby wearing a…snap. Rings, front and back options, forward facing and chest facing, and even some that make propping baby on your hips a little easier (and make you feel less lopsided). Parents of multiples and littles close in age have also come up with a ton of ways to tandem-wear both children (which we hear is actually easier on your back than holding just one, since the weight is more balanced) using a slew of combinations of two carriers.
The general safety guidelines for using baby carriers can be largely summarized by the acronym TICKS – Tight, In view at all times, Close enough to kiss, Keep chin off the chest, Supported back.
If the options seem overwhelming, you aren't alone! Even once you have it all figured out, the option you think works for you, may not be what works for baby – and what worked for the first baby may not work for the second! The option that is best for you may also be different if you plan on wearing your little one as long as possible, or if you're just looking for an option for those first few newborn months. For this, consider the configurations available for that carrier as well as the weight range it is recommended for, or buy a few carriers throughout the first few years of your child's life, allowing for more flexibility given their neck strength, weight, mood/temperament, and your destination. There are also tons of baby-wearing pros out there at local stores, mom's groups, consignment shops and more waiting to help, with real life examples for you and baby to try out…believe me, we'd do this if we could, but we're a website, not a store! Luckily, most of our affiliates have really great return policies, so don't be afraid to snap up a great Black Friday deal and give it a try!
We recently waded through all these options ourselves, as we welcomed our son in September 2020. We chose a Moby wrap for the newborn days, an Ergo soft-structured carrier for the long term, and we were also gifted an Osprey hiking backpack that we can't wait to get out and use in 2021!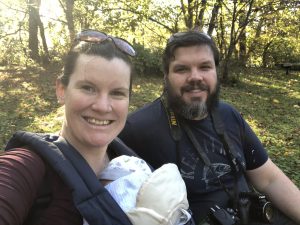 Tonight, I wore our five-week-old in the Moby for a walk around the neighborhood and then while making dinner. It made it so easy to sway and snuggle him while getting things done! I've also been using the Ergo because the Omni can be used from birth (7-45lb) without an additional insert. While we've only used it with baby M in the front, parent-facing position, when he's older we can also use it not only to face out and on our backs, but on the hip as well! The Ergo is definitely a carrier that either parent can comfortably use as well.
Wrap Carriers: These always seem the most impressive baby-wearing devices to me, but when you break down each wrapping move, it makes total sense. These are also the most flexible carriers because they can be worn on the front, the back (some wraps only), the hip, forward facing, chest-facing…with a bit of practice and two littles, they can also work as part of tandem-wearing as well. Because they are fabric, they are often lighter-weight and more breathable than some of the other types of carrier options, and can be easier to clean as well. If you've used another type of carrier before, maybe the deals on wraps this Black Friday will encourage you to give this type a try as well (you got this, mama!)
Ring Slings: This type of carrier is similar to the wrap in that it is a loose fabric, but the major difference is that instead of wrapping the two ends of fabric all around yourself and tucking baby in, you slide the loose end through a set of metal ring positioned at about your shoulder, cinch it just tight enough to tuck baby in by pulling the fabric through the rings, and then tug it tight so they are close and snug to you. A lot of parents find this easier or simpler than a wrap, and with even less fabric wrapped around you, it will probably be more comfortable in warmer weather too! Baby can check out the world from your hip or snuggled up to your front, and you have one or both hands free for other tasks.
Mei Tai: This kind of carrier is a bit of hybrid between a wrap and a soft-structured carrier (SSC). Parents like this because it is very versatile and can be worn by anyone, with any body type. It features a main body where the baby sits, which has two straps on the top and two on the bottom, and they can be tied onto the parent in a variety of ways. First designed and worn in China long ago, this style is also known as meh dai, bei dai, and possibly other names.
Soft-Structured Carriers (Buckle Carrier): These carriers are some of the most popular, featuring straps that go over the parent's shoulders (usually with a strap between the shoulder blades to prevent the straps from slipping) and waist straps that hold your child securely from below, and a body that holds them snugly against you. Extra features include pockets, covers to tuck over their heads on sunny/wet/windy etc days, and more. Some soft-structured carriers (SSC) work on the hip as well as the front and back positions, with both chest-facing and forward facing options when wearing the child on the front. Most buckle carriers allow you to put it on, before sliding baby in and securing them, and this kind of carrier is also great for tandem baby-wearing, either with two SSCs or an SSC and another type of carrier.
Hip Carriers: A newer category of carrier is a hip carrier, which buckles around the waist and allows you to even out the weight load while propping your little one on your hip. While many carriers (ring sling and some SSCs for example) allow you to snap baby on to your hip, these carriers don't snap baby in and do require you to keep a hand on them to keep them safe, but if you're going to be walking with a child on your hip, this can help relieve the pressure and help keep your spinal alignment straight instead of shifting to the side to compensate for the weight. Similarly, versions do exist that assist with "piggy-back" or shoulder carrying of older children.
Framed and Hiking Carriers: Once baby is older and you're ready to set off on longer adventures, a framed carrier may be just what you need! These carriers offer a hard metal frame with a padded seat and shoulder straps. These carriers maintain their shape even after you've taken them off, making it easy to set baby down safely at your feet while you take a rest and enjoy a scenic vista, without worrying they can scamper off, play in the dirt, fall down etc before you set off again. This is also a handy feature when they're sleeping and you've reached a picnic spot or other stopping point. Framed carriers often have covers to protect your little one from the sun and other elements, and storage space under baby, making it easier to pack a little more for your adventure. Some of the biggest names in backpacking packs make a hiking carrier, so you can expect that these will be ergonomically designed, well-made, and packed with features to make your adventures with baby easier to share.
Here are a few of the baby carrier manufacturers and brands that we will be tracking over Black Friday and Cyber Monday. We expect that major online retailers and stores selling baby items will offer a few of them at a great discount.
BabyBjörn: BabyBjörn is a Swedish family-owned business started in 1961 by Björn and his sister-in-law Elsa Jakobson. Today they are located in 50 countries throughout the world. Their headquarters are in Stockholm, where 40 employees work in the areas of product development, sales and design.
Ergobaby: Hawaii-based mom Karin Frost started ErgoBaby in 2002 when she couldn't find a baby wearing solution that worked for her and her son. Her design background helped her develop something that is comfortable for parents and supports babies in their natural sitting position, and today the company, based in Los Angeles, has 30 carriers in five categories, offered by over 700 retailers in 50 countries.
Infantino: Based in San Diego, Infantino sells infant and toddler toys, carriers, transportation devices, playmats and more throughout the United States.
LÍLLÉbaby: LÍLLÉbaby strives to make baby products that bring functional Scandinavian style to parents anywhere. Founded in 2002, they make carriers of several types, plus accessories like rain gear, doll carriers, and more.
TushBaby: The founder of TushBaby and mother of three, Tammy Rant, appeared on the ABC show Shark Tank in early 2019 and walked away with a deal from Shark Lori Grenier, who invested for a 20% stake in the company. TushBaby helps parents carry children on their hips without the back pain that can come with it, or the risk of dropping their kids. TushBaby is a belt worn by the parent that is secured by a strong velcro band around the waist. On one side is a small padded seat on which the child can put their weight and that helps distribute the weight across the parent's hips to take the pressure off of their backs. The band itself is filled with pockets and utility compartments. There is also a hook on which a toy for children to play with can be attached.
MOBY: Since launching in 2003, MOBY (MOther & baBY) has become synonymous with their famous wrap-style carrier. They also produce ring slings, mei tai (meh dai) and SSCs. Headquarters in Chico, California, the wraps are made in Thailand by salaried workers with OE Certified organic cotton.
Baby Tula: Started in 2009, parents Ula and Mike have traveled the world and seen the gorgeous colorful wraps used by mothers around the world, and they wanted to wear one as well when they started their family. Not finding an option that was comfortable, their favorite Ba Noi (Vietnamese for grandmother) made one that fit them perfectly. Soon enough, friends and family, then strangers, were all clamoring for one too, and Baby Tula was born. Offering first ergonomic, soft-structured carriers (SSCs), the Baby Tula brand has grown to include ring slings and wraps, plus blankets and other products.
Baby K'tan: Based in Florida and founded in 2007, Baby K'tan was founded by two couples, the Chesals and Wernicks. Each family was raising a child with special needs, and felt a desire to carry their babies as much as possible for parent-child bonding, so both couples experimented with different baby slings and carriers. Ultimately they developed their own design. Baby K'tan boasts a carrier that is like a sling, carrier and wrap without any rings, buckles or wrapping. It slips on like a T-shirt, with two loops that baby is settled between, and the carrying sack is part of the sash, a separate piece that wraps around the parent and child for added security.
Boba: Elizabeth and Robert Antunovic started Boba in 2007 and sold their first few carriers while they were on a journey around the world with their two oldest children. They still run the company today with the idea that Freedom Together with your kids is possible and important, and their wraps and other carriers enable parents to travel, get things done, and more with their child safely at their side.
Evenflo: They design and manufacture several baby carriers as well as other baby gear such as car seats, strollers, high chairs, safety gates and playards. It traces its roots back to 1920, when they started manufacturing baby feeding products and incorporated as Pyramid Rubber Company in Ravenna, Ohio.
Chicco: A brand of Italian company Artsana that has been manufacturing children's products for over 50 years. They make several infant carriers and a basic framed carrier for older children.
We are eager to post the best Black Friday and Cyber Monday baby carrier deals for babies and young children here on Funtober. We hope you will return later in November to discover the best savings Black Friday deals on carriers.
2019 Cyber Monday Deals
Boba Wrap, Gray, $33.95 @ Amazon
Boba 4Gs Classic Baby Carrier, Slate, $89.25 @ Amazon
Beco Gemini Baby Carrier in Carina Nebula, $107.50 @ Amazon
Beco Gemini Baby Carrier in Cool Mesh Grey, $91.89 @ Amazon
Last Major Update:
Current Sales on Amazon: