Garmin Black Friday Deals 2023 – Smart Watch (Vivoactive 3), GPS Navigators
Find the best deals on a Garmin smart watch, activity tracker or GPS navigator during Black Friday 2023. Funtober will be tracking online sales and leaked print ads to bring you discounts on Garmin products from Thanksgiving Day to Cyber Monday.
2022 Deals:
Find more Black Friday deals right now at Amazon.com.
2020 Black Friday Deals on Garmin
Best Buy has Garmin Instinct Smartwatch for $169.99, both in store and online beginning Sunday, November 22.
2018 Deals:
Click Here for Saturday's Amazon Deal of the Day: Garmin Drive Smart 51 NA LMT-S – $129.99 (save $70)
Here are a few of the Garmin GPS watches, activity trackers and driving navigators that we expect to see price drops over Thanksgiving:
Garmin Vivoactive 3: A smart watch for your active life that makes contactless payments easy. Includes GPS tracking, heart rate sensor and built-in aps.
Garmin Forerunner: A series of watches with GPS targeting road runners and triathletes which is designed to measure distance, speed, heart rate, time, altitude and pace.
Fenix: A rugged smart GPS watch for fitness training and outdoor navigation. The Fenix 5 is the pemium version. The Fenix 3 is a multisport training watch first introduced several years ago.
Vivosmart – A sleek activity tracker with invisible display that notifies you of calls, texts or emails by syncing to a compatible Bluetooth device.
Garmin Drive: The entry level GPS navigator for live traffic alerts, paring information and other driver alerts such as speed cameras and school zones. The DriveSmart is an advanced version with Bluetooth hands-free calling, onscreen smart notifications and built-in WiFi for software and map updates.
Drive Assist: A 5-inch GPS navigator that includes a built-in dash cam.
Garmin DriveLuxe: A premium 5-inch product with real-time information such as live traffic.
Garmin Black Friday Deals: We will post all of the discounts available in stores or on major websites over the Thanksgiving weekend here. Here is what we found in 2018: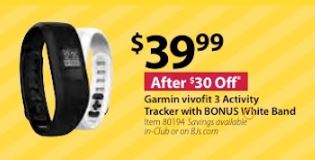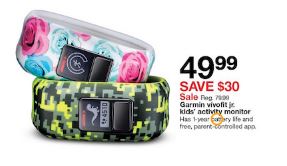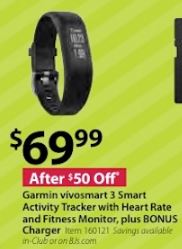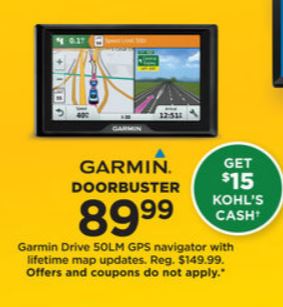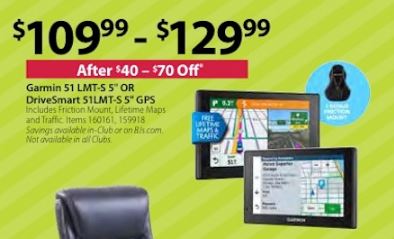 Garmin Cyber Monday Deals: Find the biggest online sales on the Monday after Thanksgiving. We will post them all here when we see them on late Sunday evening or early Monday morning.
About Garmin
Garmin is a multinational technology company with its headquarters in Kansas. The company specializes in GPS technology for autos, sports and other activities, making everything from dog trackers to smart watches.
Last Major Update: