Fitbit Ionic Black Friday Deals 2023 & Cyber Monday Deals
Find the best deals on the Fitbit Ionic during Black Friday 2023. From Thanksgiving Day to Cyber Monday 2023, we will be searching the ads and sale announcements for the biggest price discounts on health and fitness activity trackers.
The Fibit Ionic is a GPS smart watch that offers the wearer fitness guidance, health insights, music storage, apps and more. When it launched at a price of $299.95, it was the most expensive wearable from Fitbit. The Ionic was released in October 2017.
2019 Black Friday Deals:
Fitbit Ionic – $199.99 @ Kohls (save $50 + $60 Kohl's Cash)
In August 2019, it was available on sale on Amazon for $219.92, which was approximately $30 off its current regular price of $249.95. It was also available at Best Buy at $249.99 but with a price match guarantee.
Fitbit Ionic 2
It has been two years since the first generation device was released and there is no clear release date yet for the Ionic 2. The company CEO discussed earlier this year the fact that a refresh would be planned at some point, but no details have been announced subsequently.
Fitbit Ionic Black Friday 2019
We will post all of the sales for the Ionic here when they are available. We expect they will begin being leaked in early November, so stop back then!
Fitbit Ionic Cyber Monday Deals
If you do not pick up your Fitbit earlier in the holiday weekend, stop back here on the Monday after Thanksgiving to find the latest news about the lowest price available.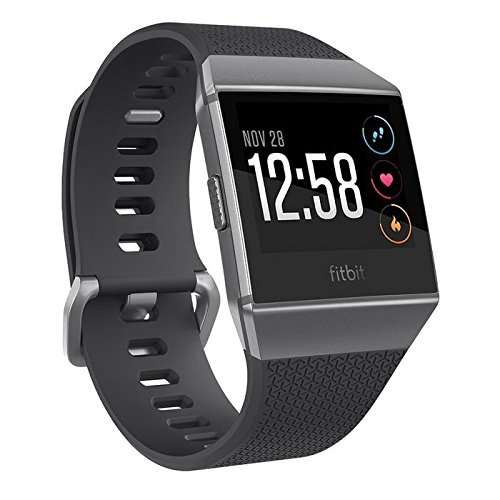 Where to Look for Black Friday Fitness Tracker Deals:
Amazon - The nation's top online ecommerce website has an extensive selection of fitness tracking devices and there are usually Amazon Black Friday deals which are competitive with the deals offered by other ads and stores. If you are willing to accept an older model smart watch or fitness tracker, you can usually get a great deal at Amazon during November.
Kohls - This department store has historically had great deals on Fitbit devices, so be sure to check out the Kohls Black Friday ad. You can also benefit from the Kohls Cash, which has historically offered rewards around the Thanksgiving holiday of $15 with the purchase of every $50, to redeem later at Kohls.
Best Buy - America's top specialty retailer for consumer electronics almost always has a sale on smart watches and athletic tracking devices, including Fitbit deals. In 2020, the Best Buy Black Friday ad had sales on a Samsung Galaxy Watch, Apple Smart Watch, and several Fitbit devices.
Walmart - This top retailer is known for some of the top deals on electronics for Black Friday, and you will also see them pop up from time to time for a Fitbit device or Apple Watch on the Walmart Black Friday ad. In 2020 Walmart had deals on both the Apple Watch 3 and online deals on the Fitbit Versa 2 and inspire 2.
Cell Phone Carriers - We have seen Verizon and AT&T both extend their Black Friday deals beyond cell phones to related accessories such as tablets and smart watches. If you are looking for an Apple Watch or a Samsung Galaxy Watch, your telecommunications carrier can be a good place to check before making a purchase.
Membership Clubs - Sam's Club and Costco both offered deals on Fitbit products on their Black Friday ad in 2020. The member clubs have been offering deals on consumer electronics for some time, including televisions and laptops. So it should not come as a surprise that they could also have a smartwatch or athletic tracker for sale over Thanksgiving.
Fitness Tracker Manufacturers - You can expect that Amazon, Fitbit, Samsung and Garmin will all offer Black Friday deals on their website as they sell fitness trackers and smart watches direct-to-consumer over the Thanksgiving holiday weekend. Don't forget when you see a retailer's ad for a product to also check the manufacturer websites for athletic trackers.
Last Major Update: