Fear Overload - San Leandro, CA
The fun begins September 27th, 2019.  The three haunts at Fear Overload are Night Terrors and The Tooth Collector, plus Live Horror Entertainment.  A high shock attraction with horrifying scenes about San Francisco's grisliest serial killer. You Psychotic takes you into a labyrinth experience through the paranormal. Are you next? Costumes can be worn but leave the face paint and mask at home. Tickets start at $25.99-30.99.  Doors are open at 7:00 pm until 12:00 am on most Friday and Saturday nights or 10:00 pm on other nights. Caution this is a very scary haunt with some of these for very mature audiences only. They are open nearly every day in October.  Runs most nights from September 27th through November 2nd.  Check their web page for schedule.
Visit Website
Get Tickets
Latest Information from Facebook
Online Ratings
Fear Overload Scream Park
173 reviews
Rebecca G.
I got a pair of free tickets from work and went with a group of 5 (that paid for their tickets). I didn't know what to expect, but I was up for the...
Read Full Review
Elaine B.
This haunted house is not a "Park". The haunted house is in an abandoned mall, there are 2 mazes to walk through and maybe take a total of 20 min. Most of...
Read Full Review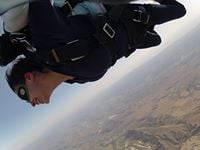 Laura D.
Wow - forgot to review this from when i came last year. Probably because it was so bad i tried to forget i even went.
I love haunted houses and have been...
Read Full Review
Watch a Video
Here is a video from the past that provides information about a prior event. We hope you find it helpful in deciding whether you should attend the event this year.
Update this Information
We are testing out the ability to have event owners update their own listings. If you own or run this haunted attraction, please use the link below to update. Thanks!
Thank you for helping keep our information up to date.
Nearby Haunted Houses
Other California Haunted Houses