This weekend is definitely going to be a busy one for fall festivals. Many communities have their fall festival scheduled for the first Saturday in October, and that's tomorrow because of how the calendar fell this year. It is also Columbus Day weekend, so organizations which normally try to take advantage of the long weekend for some workers will also be holding their events. There are even a few German Oktoberfest celebrations dotting the calendar around the country. And farms should be getting into full swing with their harvest festivals as corn mazes and pumpkin patches will be open.
I haven't looked at the festival calendar around the country specifically for this weekend, but here in the Philadelphia region there are an amazing amount of popular events happening. In Center City on Saturday, Midtown Village will host its popular fall festival. Just north of Manayunk, Roxtoberfest will be taking over Ridge Avenue. And one of the most authentic Oktoberfests on the East Coast will be happening from Friday through Sunday at the Armory Oktoberfest. I am sure there are many others worthy of mention, both here in Philadelphia and around the country.
We were fortunate to get an invite to the Armory Oktoberfest's VIP/Media Preview Party on Wednesday, and they are definitely going all out to make it a great time. The event takes place at The Armory, a 1901 fortress-like building in Center City built for the First Troop Philadelphia City Cavalry, the oldest cavalry unit in continuous service in the United States. It is a massive building that we love, in part because they have housed the Philly Startup Leaders Entrepreneur Expo in the spring for the past two years in a row.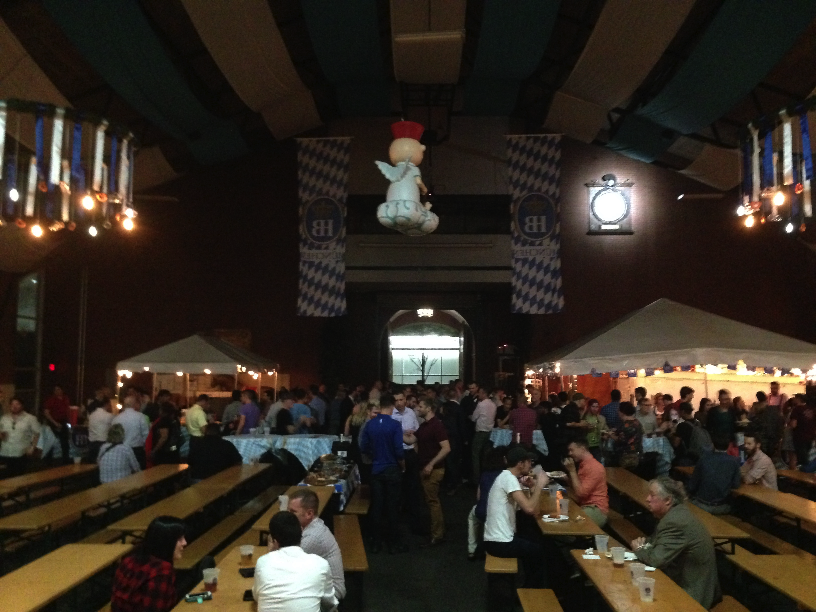 The building has been transformed by the team from Brauhaus Schmitz, a local Philadelphia German restaurant and beer hall, into a massive beer tent with tables and benches, streamers/banners, and entertainment area. On Wednesday night, they had the music going, the beer flowing, and even delicious German food waiting for guests. It should be an even bigger party this weekend!
This is the second year of the event and we heard good things last year. They have been holding an annual Oktoberfest block party at their restaurant in mid-September for some time, so they know how to draw a crowd and host an event. They will also be holding another one later in the month in Brooklyn, NY, if you can't make it to this one due to timing or geography.
At the Armory Oktoberfest, they will be serving up beer from Hofbrauhaus for the weekend. The food will be made by the chef from Brauhaus Schmitz, so you know that it is going to be good. And they are bringing in four bands for the weekend (specific band varies by session), including Alex Meixner, a staple of Oktoberfest events in the northeast. Attendance is expected to be around 1,000 or more per session, so the atmosphere should be perfect for a party.
Tickets are $35 to $85 per person. The General Admission tickets get you in the door with a glass liter mug, the first liter of beer and pay as you go food items. Groups of 4 and 8 can opt for VIP or UBER VIP admission at $65-85 per person with reserved seating and included food.
To buy tickets, click here. For more information, click here.
We unfortunately won't be able to make it as we're headed up to Maine in search of fall foliage. We were hoping that a Columbus Day weekend trip would be late enough in the season to catch the colors when we planned it, but it turns out that we are going to be a little early due to all of the warm weather. We are probably a week or so too early to hit peak color but it is shaping up to be a beautiful weekend so we are going anyway. I wouldn't be surprised if we drive a few hours north of our planned destination at some point to get to peak foliage.
Wherever you are in the country, we hope you have a great (and safe) weekend of festival fun!