The very sexy killer bee costume is perfect for those who know how to sting others. The deadly costume includes a bra top with the word "killer", a yellow and black dress, hat with antenna, bumblebee wings, fingerless gloves, and a toy gun. The killer bee is generally sold for between $50 and $60 online and comes in sizes small, medium, and large.
Although not included, dark sunglasses are often worn with this halloween costume to give it the look of a hired gun. If you are making your own killer bee costume, you can substitute a toy knife, water gun, machine gun ammo, or toy chainsaw for the costume's toy gun.
The costume is a popular one for both store bought and homemade creations. We know how difficult it is to choose a costume based on a picture of a model from the package, so we collected a few photos of the killer bee costume from real people online so that you will have a better idea of what this halloween costume will look like when you wear it to a party.
There is a version of this costume for teenagers that has come to be known as the tween killa bee costume. This killer bee costume for teen girls has the look and feel of a killer bee costume crossed with a mafia girl costume. As you can see from the photo, it is very sharp! The costume generally comes with the dress, wings, top hat with antenna, and cuffs. It is found for sale online between $25 and $40.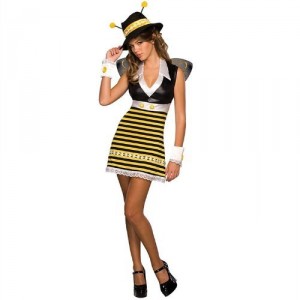 Where does the concept of the killer bee come from? In real life, the killer bee is the colloquial term for an Africanized honey bee that is a hybrid between an African honey bee and certain European honey bees. They were crossed by beekeepers seeking to produce a bee that was better suited to tropical climates.
Killer bees are more aggressive and more willing to attack in large numbers in response to a perceived threat. They have migrated to parts of the Southern United States from South America. The number of people that are harmed each year by killer bees in the United States is low but there is still a great deal of anxiety around killer bees.
For the purposes of Halloween, the killer bee is nearly the perfect mix of scary and sexy. The outfit is true to the roots of Halloween as a day of tricks and fright but blends with its modern day transformation into a day of fun and fantasy. If you check out pictures of halloween parties online, you will see more than a few killer bee costumes!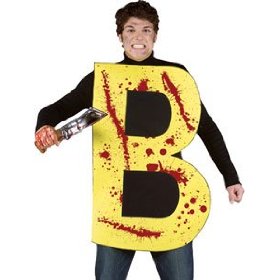 There is a spoof of this halloween costume for men and women that want to be a Killer B. The costume is a large letter "B" worn in front of the body splashed with fake blood and often includes a knife. The killer B costume is generally seen online for sale at a price around $30.
Although there is not a killer bee costume for men that is sold online, I have seen a number of photographs of men who have attempted to pull off this costume. Some have made very impressive attempts. Others have failed miserably. If you can pull it off, it is a great costume.