Ladybug Lingerie For Your Adult Ladybug Costume
If you are buying an adult ladybug costume for Halloween in the hopes of having a man remove the costume later in the evening, why not find something special to wear under your sexy costume as well?
We've just located two items which might be of interest to you this Halloween. Here is the ladybug corset.
We haven't seen this item in person yet, but if you are looking for some clubwear for late October, this might just do the trick if you add a pair of hot jeans and ladybug wings. The other item is definitely for under your costume – a mesh lady bug bra and garter set.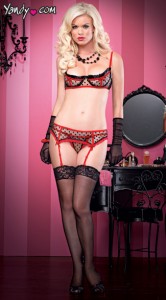 Halloween 2012 Update – This bra and garter set is out of stock. I'll find a new one for you shortly!
We'll be bringing more information about ladybug costumes and accessories – so feel free to subscribe to our rss feed so that you don't miss a post!