Female Football Player Costumes
If you want to score a touchdown with your halloween costume this year, then one of these sexy sports costumes is your best bet.  A female football player costume at Halloween is a great choice because October 31st falls right in the middle of the football season.  If you are looking to attract a guy, these hot outfits will definitely grab his attention and provide him an easy conversation starter.  And if you are just looking for a fun evening out with the ladies, then you will have a blast in a set of sports themed costumes.
When you have decided that you are going to wear a womens football costume, you still have the difficult task of selecting the perfect adult costume to turn yourself into a football cutie.  Do you want the costume to say something fun like "touch down", "tackle me", or "tight end"?  Do you want to replicate your favorite football team's colors with your costume or simply purchase one of their team jerseys to wear?  How sexy and revealing do you want it to be?  Hopefully, we've got a football uniform here that meets all of your requirements.  So let's take a look at the female football player halloween costumes that are being sold: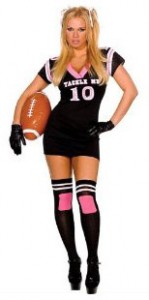 We don't know if there is a better slogan to have on a sexy sports costume then this one – tackle me.  The Tackle Me costume is a 5 piece set made by Dream Girl that includes a knit dress with a football uniform appearance that includes gloves, socks and inflatable football.  Click here to get the price and sizes of this costume.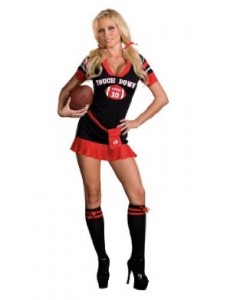 You had better start practicing your celebration dance when you are wearing this Touch Down Football Player Halloween costume.  Everyone will know what your favorite sport is when you are wearing this outfit at the party.  if you are interested in more information about this adult football costume, click here.
If you would like to play football for your favorite team as a tight end (if you don't watch football, that's a player on the offensive line that either blocks defensive players or runs down field as a wide receiver to catch a pass depending on the play call), then one of these sexy football uniforms will let everyone know what position you want to play.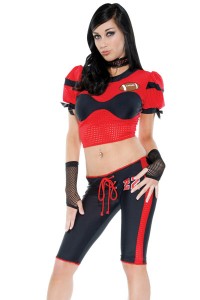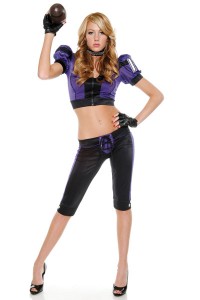 Check out the purple and black football jersey costume here and the red and black touchdown temptress football costume here.
When you have put your days of riding the bench behind you and are ready for the Pro Bowl, then lace yourself up in this star player costume known as the Touchdown Tina halloween costume. Let a guy know that you are looking for a big paycheck if he wants to play with you in this costume!  Get more information about the costume.
Accessories
There are a few things to pair with your costume if you want to truly make the football team.  Carrying a football is a cheap and fun way to interact with handsome guys.  One of the best things to add to your costume is a pair of thigh high striped socks that match your costume. If your costume doesn't come with a pair of shoulder pads, then you may want to consider buying some to make you look like you just stepped off the field.  And if you want to turn yourself into a fierce football player, add some eye black under your eyes.  That's the grease applied by baseball and football stars under their eyes to reduce glare.  When you add this hot look to your sexy costume, it'll be much easier to catch a few balls, hehe!!  Just try it out for yourself.
Other Times You Can Wear This Costume
This costume doubles as a fun outfit for a Saturday or Sunday in the fall, too! He'll never think about the NFL or college football the same way again after you wear this for the half time show.
Fun Costume Ideas
Halloween is much more fun when spent with a group.  So we recognize that may have a friend or two who haven't decided on a costume that you will want to find a costume that complements your sexy football costume.  So here are a few of our best ideas for both your male and female friends.  For couples costume ideas, we recommend that your male friend be either a male cheerleader, if he is sufficiently secure in his manhood, or a blind referee.  Both costumes can be easily purchased and will be fun for him to wear out on the town.  If he won't agree to either of those costumes, then he can always buy a men's football uniform to wear – but we think that won't be nearly as cool as either of our suggestions.
If you are looking for another female costume to pair with your football player outfit, then we suggest that she be either a referee or baseball player.  Of course, if you can come up with enough women for a small football team than by all means grab 5 or more sexy football costumes and you and your girl friends are all set!
Return to women's sports costumes or all costumes.