Our Female Golf Costumes are classy and sexy even if you have never wished to join the LPGA golf tour.  Halloween is your chance to get a short taste of life as a golfer.  Of course, ladies golf has advanced significantly since its early years.  Women's golf attire has taken a turn towards the cute and sexy – which makes it a perfect women's golf costume to wear on Halloween.
If you are interested in a golf costume, check out these women's golfer and caddy halloween costumes.  Just click on an image for more information about it.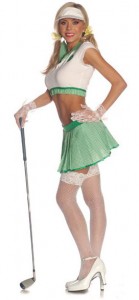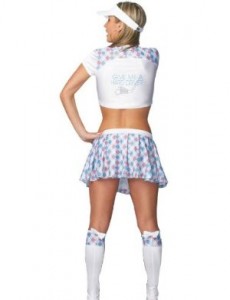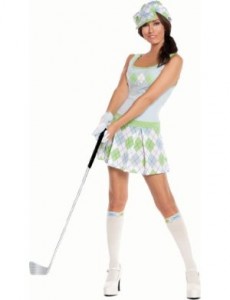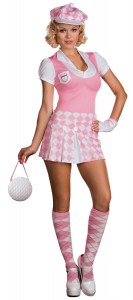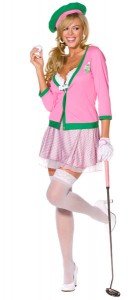 If you are interested in a fun and sexy sports costume, look no further then these female golfer costumes!  All of the boys will be putting a ball on the tee for you in these outfits.  You won't even need to pay a caddy.
One of the best aspects to the ladies golfer costume is that you can dress in either a semi-respectable short skirt and checkered outfit that would be pretty safe for work or a fun and naughty golfer costume with cropped polo that will leave no doubts what you mean when you step up to let the big dog eat it.  It is totally up to you.  With names for sexy golfer costumes like the Golf Tease and the Ho in One Sexy Costume, they are just setting you up for a fun time at your costume party either way.
If you don't like to stand in the limelight, we've got the golf costume for you.  Our sexy caddy costumes are a fun and sexy sports-related costume for those who would prefer not to be an athlete but simply cheer on their success.  Although the usual theme party for college students is golf pros and tennis hoes, we see absolutely no reason that a lady can't be a golf ho if she wishes.  We know that it is more fun to carry around the balls! So get ready, you Caddy Shack Cutie.
Accessories
Every professional golfer needs a golf club to carry around.  While we don't recommend swinging around a real golf club for safety reasons, you can get either a plastic club from a halloween costume shop or buy a wii golf club if you would prefer.  And if you are looking for a ball to hit, try a whiffle ball.  They work great.  If you are looking for something to carry your belongings, there is a golf ball shaped purse that is available.
Paired Costume Ideas
We know that halloween is more fun with another person – so we came up with a few ideas for fun costume pairings.  You can easily be golf partners or, if you prefer different roles, golfer and caddy.  But there are a few more unique possibilities.  One costume that we have seen is a giant golf ball costume that would be fun to pair with a womens golfer costume.  or there is a photo of a person that did a costume featuring a golf ball in his head.  If you want a funny costume pairing, try being Tiger Woods and his golf mistress.
About Women's Golf
You can't wear a costume without having some knowledge of the sport.  If you have played a couple rounds of golf, you are all set.  If you haven't, we recommend that you take a few minutes to learn about eagles, birdies, and double bogeys before you wear one of these adult costumes.  You'll have so much more fun over the course of Halloween. The LPGA has been promoting ladies golf since 1950 and is a great resource to help you with the game.  You'll get ideas for famous players to replicate, such as Michell Wie or Annika Sorenstam.  And you'll have a better appreciation for the halloween costume that you are about to wear.
Return to women's sports costumes or all costumes.