Female Soccer Player Costume
Do you go crazy every four years supporting your country in the world cup?  When you think of football do you think of the sport where the players use their feet rather than their hands?  If you answered yes to either of the prior questions, then you may be worthy of wearing this sexy soccer costume out on Halloween.
We expect that it will take a long time before this halloween costume overtakes either the football or baseball costumes in popularity in the United States.  But frankly, that's a good thing!  You get to enjoy wearing this hot halloween costume without worrying that you will see someone else wearing it every time you turn around.  And if they try to rag on soccer, you can always inform them of which female sports stars get to play with the bigger balls.
So when it comes time to decide on your adult women's sports costume, consider this female soccer player costume.  With the revealing midsection and short shorts, you'll  find it is one fun and sexy halloween costume.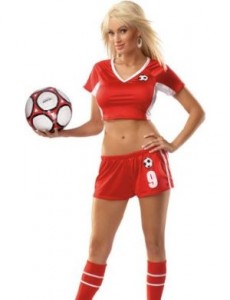 Return to women's sports costumes or all costumes.