7 USA German Themed Towns Really Celebrate Oktoberfest
Here are seven American cities that have gone all out to attract visitors to their German themed towns.  Some have original German buildings and heritage while others chose the theme years ago.  Both types attract millions of visitors to local restaurants, bars, events, and festivals.  Some like Frankenmuth, Michigan are truly a destination adventure 364 days a year.
Video about Michigan's Little Bavaria:

Frankenmuth Named "Michigan's Little Bavaria" Attracts Millions
This small town of less than 5000 people attracts over 3 million visitors every year.  Tourism is the number one industry in this small town.  The look and feel of a Bavarian village comes from the architecture of the downtown buildings and German heritage of the residents.  It features Bronner's Christmas Wonderland, Frankenmuth Bavarian Inn, and Zehnder's.  The Bavarian Inn and Zehnder's are world famous for their family style chicken dinners.  They serve thousands every weekend.  Bronner's is believed to be the world's largest Christmas store.  The town is know for festivals.  The World Expo of Beer, Bavarian Festival, Summer Music Fest, Scarecrow Fest, and Zehnder's Snowfest are but a few that attracts thousands every weekend.  The annual Oktoberfest was the first sanctioned outside Germany.  This year the Oktoberfest takes place September 18-21, 2014.
Visit City of Helen in Georgia to see a German-style Alpine Village
Back in the 1960's, Helen made a decision to transform itself into a tourist attraction with unique architecture fashioned after a German style village.  Through strict zoning all the town downtown building resemble those that might be found in the Alps.  Helen sits at the base of a nearby mountain.  It worked as today it attracts thousands every week to go through its nearly 200 Bavarian themed shops.  Known for its festivals, golf course, mountain adventure, river activities, and amusement park, Helen is a tourist playground.  Every weekend from September 11th through November 2nd, the town throws a fantastic Oktoberfest celebration.
Leavenworth, Washington Brings Bavaria To Pacific Northwest
Another town fashioned as if you were visiting a town in the German Alps.  Leavenworth is all about tourism.  It features German architecture, German styled eateries, a Bavarian Ice Festival, gift shops, and German styled breweries.  This year the Oktoberfest is held on October 3-4, 10-11, 17-18, in 2014.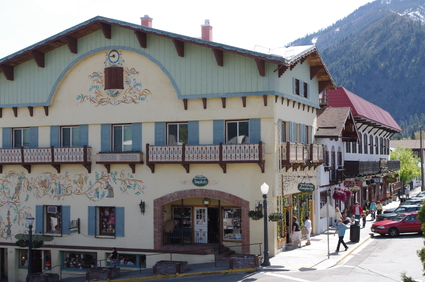 Fredericksburg brings a touch of Germany to Texas.
Originally settled by German immigrants, the town of Fredericksburg has many German styled buildings.  It features a 26 foot Christmas pyramid made in Germany, Bavarian restaurants, art galleries, wine bars, and German themed festivals.  The area has the Hill Country Vineyards for wine lovers.  Given the large German heritage in Texas the Oktoberfest is a huge attractions which runs October 3-5, 2014.
German Old World buildings create Bavarian ambiance in Mount Angel
Oregon has its own version of a German village complete with a Benedictine Abbey, German styled buildings, and traditional Oktoberfest.  Mount Angel is an easy half hour drive from Salem.  The Oktoberfest this year is scheduled for September 11-14, 2014.  See the wiener dog races, Oregon Marathon, car show, live music in 5 locations, dancing, and their traditional Biergarten and Weingarten.
Welcome to Hermann, Missouri and German Heritage
Originally a German settlement, the town of Hermann kind of grew up around the original German styled buildings.  Today the town's heritage is everywhere.  Downtown is a picture book German village.  The area has biking, golf, a zip line, German food, and of course festivals.  Oktoberfest runs the last 4 weekends in October, 2014.
Dance your lederhosen off in New Ulm, Minnesota 2014
Located 90 miles southwest of Minneapolis is the City of New Ulm originally settled by approximate 350 German-Bohemian families.  Center of the town features a Glockenspiel in Schoniau Park.  The giant clock tower stands 45 feet tall.  There are lots of themed building and shops.  With 13,000 residents the town resembles most U.S. cities however it does have a large section of original heritage.  It is know to be the polka capital of the nation.  Also present is the Minnesota Music Hall of Fame.  In 1860 the August Schell Brewing Company was formed which today is the second oldest brewery in America.  Of course the town is famous for its Oktoberfest.  This year the event runs October 3-4 and 10-11, 2014.
More American themed cities across the country.
Vail, Colorado has a wonderful Oktoberfest that runs September 6-7 and 13-14, 2014.  However the town is really modeled after a village in the Swiss Alps.  New Glarus, Wisconsin is another Swiss themed town that has an Oktoberfest running September 26-28, 2014.  Solvang, California is a quaint Danish themed town that has celebrated Danish Days in September for 78 years.  This years event runs September 19-21, 2014.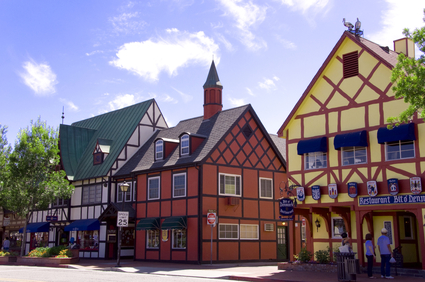 All of these towns are fully displayed to give tourists all the look and feel of their heritage villages.  All are open 365 days a year and not just during their annual Oktoberfest events.