Halloween Pumpkins | Fun Festivals, Carving, Recipes, Facts, and History
World Championship Pumpkin Chunkin October 24-26, 2014
Have you ever seen a pumpkin shot from an air cannon?  Check out this video about the guys who take shooting a pumpkin seriously.

The World Championships will be held this year at the Dover International Speedway.  This is a big time contest with entries in adult and teen categories.  Bring your air cannon, catapult, centrifugal, human power, or torsion machine.  The big air cannons send the pumpkins well over 4000 feet.  The three day  event includes pumpkin cooking contests, chili contest, and beauty pageants.  John Ellsworth and his buddies started this contest back in 1986 for fun over twenty years ago.  Last year over 20,000 people watched the event live.  Annually it is picked up by the Discovery Channel stations and played on television Thanksgiving night.  Live or on TV it is exciting to watch all the contraptions.  Today the big cannons can cost over $200,000.  I put the link to the World Championship Pumpkin Chunkin website on our Funtober Favorites page.
Fun Facts About Halloween Pumpkins
Before Columbus, pumpkins were not a native fruit in Europe.  Jack O'Lanterns were carved from turnips or gourds.  Pumpkins were native to Central America for over 5000 years before being brought back to Europe by the French explorer Jacques Cartier.  Pumpkins are a fruit and really a member of the squash family which includes melons, cucumbers, gourds and more.  The Irish are credited with bringing pumpkin carving to America.  Pumpkin flowers and seeds are edible.  It generally takes 80-120 days for a pumpkin to go from seed to grown fruit.  Most pumpkins in the United States are ripened and used in October.  Funtober has more information on pumpkins here.
World Record Breaking Pumpkin Weighs In At 2032 Pounds
Tim Mathison grew this giant pumpkin in 2013 to set a world record at 2032 pounds.  In 1993 the world record size was 893 pounds.  Modern farming and agriculture techniques have more than double pumpkin sizes in the last 20 years.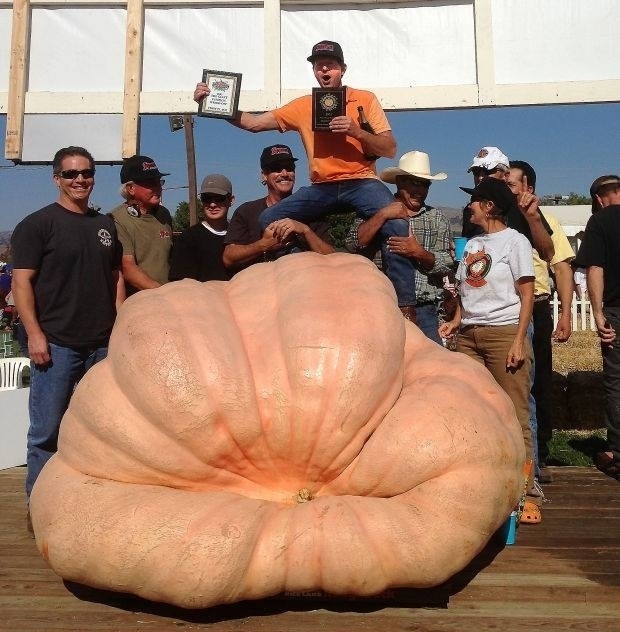 If you want to grow giant pumpkins you need to start with great genetic seeds developed over years for size.  Next add the right soil.  The really big pumpkins are usually started as seeds in a greenhouse and transplanted outdoors to give them more time to grow.  You will need to keep various mixtures of fertilization.  Allow the vine to grow before pollination.  Then lots of water and pruning.  Once the patch is developed then cut the ends and bury them into the ground.  The fruit in season can grow as much as 30-50 pounds in one day.  If lucky with the proper temperature and right amount of shading you might get a 100-200 pound pumpkin.  It usually takes years of farming to gain the skills needed to grow the really giant pumpkins.  Check out Big Pumpkins or Pumpkinnook for more information.
The Purple Pumpkin Blog by Michelle Ordever
Find this wonderful blog listed on our Funtober Favorites webpage.  Michelle is a web designer and partner in a party planning business.  She lives in Essex, United Kingdom.  Her blog has fantastic recipes, crafts, reviews and travel articles.  She is one of the top bloggers in England.  I love the trip reports she wrote on her travels to Disney World.
Circleville Pumpkin Show "The Greatest Free Show On Earth"
The small town of Circleville, Ohio is located just south of Columbus.  It has a population of 12,000 which has over 400,000 visitors to their annual downtown pumpkin festival.  This year the Circleville Pumpkin Show runs October 15th – 18th, 2014.  The four day event features seven different pumpkin parades with 50 bands and 40 floats.  There are over 300 food and craft vendors with 30 plus amusement carnival rides.  Expect to find lots of band music, stage acts, pageants, pumpkin pie eating, and even hog calling contests.  This is one spectacular event that started back in 1903.