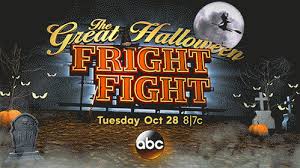 Haunted Overload Wins The Great Halloween Fright Fight
ABC TV premiered their Halloween special called The Great Halloween Fright Fight last night October 28th, 2014. The winner of the $50,000 grand prize was Haunted Overload from Lee, New Hampshire. The reality show special featured six family haunted attractions from around the country who competed based on creativity and scary fun with a neighborhood home haunt.
Produced by Freemantle Media North America, six attractions were chosen from open invitations around the country. The final six made it onto The Great Halloween Fright Fight televised show last night. FMNA also produces "American Idol", "The Price is Right", "Ice Road Truckers", "Storage Wars", and a host of other broadcasts.
If you watched the show you saw some awesome Halloween displays and fantastic bloody, scary, and colorful frights. All the contestants put on over the top events for the two hosts, Sabrina Soto and Michael Moloney, who toured each attraction with camera's rolling.
The six haunts that made it onto the show were:
1. Hollywood Haunter in Glendale, California.
2. Haunted Overload in Lee, New Hampshire.
3. Terror at Tee Lake in Lewiston, Michigan
4. The Pirate Ship in Celebration, Florida.
5. Mitchell's Spider Invasion in Pensacola, Florida.
6. Haunt for the Hungry in Wharton, New Jersey.
Haunted Overload walked away with the win and $50,000. Fitting for a walk through haunted trail with 3 levels of fear. If you saw the show then you were amazed with the 20 to 40 foot colorful displays and over the top scares. More than a few chain saws and scary actors really bring the fear to life. They feature a day haunt, a Fright Nite Lite haunt, and their intense fright Haunted Overload.
All six attractions put on a great show for the hosts. Each attraction could have won.
The shows premise was based on their wildly successful contest called "The Great Christmas Light Fright" which runs in December.
I thoroughly enjoyed the show but was a little surprised to see some of the contestants. Haunted Overload is part of the Demeritt Hill Farm. Ticket prices are $22 and up for this attraction. Clearly this attraction and others would fall into our commercial haunted house classification. As such there are some tremendous haunts around the country that ABC might have considered that are on the Funtober Top 100 List for haunted attractions. However even though it blurred the lines between a home and commercial haunt the show was a great success. The one hour show drew fans from across the country who missed the action in the early innings of game six of the baseball World Series.
I hope they make this an annual event. The most remarkable thing was the amazing creativity of the people who put on these great haunts. They are regular people who devote a year's worth of work to make each October a great successful Halloween event.