Haunted House Jobs for 2016
Haunted Houses need scare actors, special FX makeup artists, costume designers, wardrobe assistants and customer service professionals. If you are interested in working at a haunted attraction this fall 2016, this is where we'll post the haunted house jobs.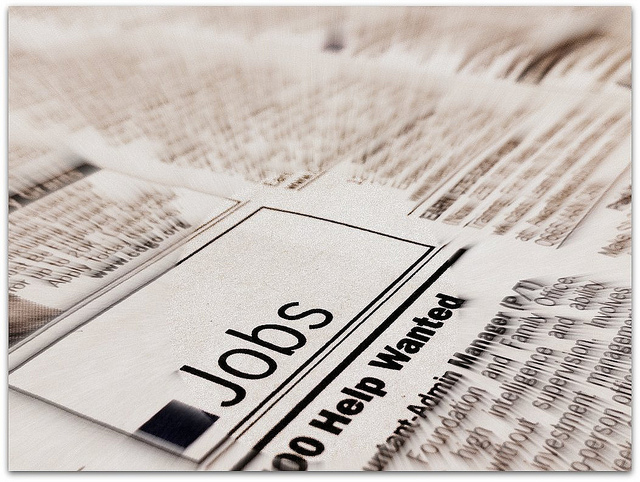 Some jobs that you can expect to find posted:
Scare Actors: Haunted houses need performers skilled at impersonating ghastly creatures and scaring the daylights out of guests. You'll need to be reliable (the house doesn't happen without you!), enthusiastic and comfortable working as part of a team to provide a good experience.
Special FX Makeup Artists: It takes a team of people to get scare actors into costume. The makeup artists are an important aspect of this process, spending hours every day to transform employees into monsters.
Other: A variety of other roles are available at haunted houses, including greeters, security, cashiers, customer service professionals, marketing help, costume designers, building crew, and wardrobe assistants.
Deadlines
Most haunted houses evaluate staffing needs for the upcoming season, accept applications, conduct interviews and begin training new staff between July and September. The timeline for hiring varies by haunted house, so be sure to be mindful about upcoming deadlines at haunted houses near you.
We will once again be posting jobs for haunted attractions across the country.
2016 Job Postings:
Coming soon!
2014 Postings:
Alabama
Haunted Hollow – 12568 Lee Road 279, Valley, AL.
Monsters Wanted Informaton.
Warehouse 31 – 3150 Lee Street, Pelham, Alabama 35124
Help Wanted
Arizona
The Crypt – 1445 W. Southern Ave., Mesa, AZ 85202.
Employment Application and Information:
Arkansas
Magic Springs – 1701 E. Grand Avenue, Hot Springs, Arkansas 71901.
Jobs at Magic Springs
California
House of Blackbeard – 1000 Main Street, Vallejo, California 94590
Employment Information
Great America Halloween Haunt4701 Great America Parkway, Santa Clara
Jobs Information
Haunted Hollywood Sports – 9030 Somerset Blvd., Bellflower, CA 90706
Help Wanted at Giant Sports
The Queen Mary's Dark Harbor – 1126 Queens Highway, Long Beach, CA
Help Wanted
Colorado
The 13th Floor – 4120 Brighton Blvd., Denver, CO 80216
Apply for Work
The Frightmare Compound – 10798 Yukon Street, Westiminster, CO 80021
Employment and Help Wanted
Connecticut
The Haunted Graveyard at Lake Compounce – 822 Lake Ave, Bristol, CT
Employment Join the Scare Team Information
Iowa
Circle of Ash– 412 7th Avenue SE, Cedar Rapids, Iowa
Volunteer Opportunities
Gateway of Chaos – 61317 315th Street, Malvern, Iowa
Volunteer Opportunities
Kentucky
Asylum 99 Haunted Hospital – 99 Hillview Dr., Scottsville, KY
Cashing Call August 9th
Louisiana
The 13th Gate – 832 Saint Phillip Street, Baton Rouge, LA
Employment and Auditions
Evil Visions – 501 Desiard, Monroe, LA
Dare to Scare Jobs
Maine
Fright at the Fort – Knox State Park, Prospect ME
Volunteers Wanted
Massachusetts
Barrett's Haunted Mansion – 1235 Bedford Street Route 18, Abington, MA
Volunteers Wanted
Michigan
Darksyde Acres – 11375 Rowe Road, Jonesville, Michigan
Volunteers Wanted
Minnesota
Trail of Terror – 3525 145th Street West, Shakopee, MN
Join the Terror Squad
Missouri
Worlds of Fun – 4545 Worlds of Fun Avenue, Kansas City, MO
Jobs & Employment
The Darkness – 1525 South 8th Street, Saint Louis, MO
Monsters Wanted Jobs
Creepyworld – 1400 S. Old Highway 141, Fenton, MO
Monsters Wanted Jobs
Lemp Brewery – 3500 Lemp Avenue, St. Louis, MO
Monsters Wanted Jobs
Montana
Sartorie Farm – Billings, MT
Help Wanted
Nebraska
Roca Berry Farm – 16531 S. 38th Street, Roca, NE
Seasonal Jobs
Scary Acres – 17272 Giles Road, Omaha, Nebraska
Actors & Volunteer Jobs
Nevada
Haunted Harvest – 333 S. Valley Blvd., Las Vegas, Nevada
Application for Springs Preserve
New Hampshire
Jiminy Peak & Cranmore Mountain – 1 Skimobile Rd., North Conway, NH
Work at the Resort Jobs: The Ghoullog
New York
Bayville Scream Park – 8 Bayville Ave., Long Island, New York
Employment
Headless Horseman Hayrides – 445 Broadway, Route 9W, Ulster Park, NY
Haunted House Jobs
North Carolina
The Haunted Forest at Panic Point – 2808 Cedar Creek Road, Youngsville, NC
Application and Information for 2014. (85 Actors Wanted)
Woods of Terror – 5601 N. Church Street, Greensboro, North Carolina 27455
Application and Information for 2014.
Spooky Woods Haunted Attraction – 1615 Kersey Valley Road, Archdale, NC 27263
Actors Wanted and Information here for 2014.
Ohio
Walking Dead Mansion Haunted House – 625 E Jenkins Avenue, Columbus, OH 43207
Volunteer Actors Help Wanted
Hauntville – 1579 West River Road, Elyria, Ohio 44035
Monsters Wanted Open Interviews Sept 11, 12, 13
The Factory of Terror, 4125 Mahoning Road, Canton, Ohio 44705
Help Wanted – Work at the Factor of Terror
Ohio State Reformatory's Haunted Prison Experience, 100 Reformatory Road, Mansfield, OH 44905.
Employment Opportunities
Oregon
Circus of Screams – 9512 Highway 62, Eagle Point, OR 97524
Dying for Volunteers
Pennsylvania
Camp Spookynaw – 740 Saginaw Rd., Oxford, PA
Scare Jobs at the Camp
Eastern State Penitentiary – 2027 Fairmount Avenue, Philadelphia, PA 19130
Jobs that pay at Terror Behind the Walls
Reaper's Revenge – 460 Green Grove Road, Olyphant, PA 18447
Join the Crew employment
Castle Blood – 11 Eastgate Ave., Monessen, PA
Work at Castle Blood
Fright Farm – 2043 Springhill Furnace Road, Smithfield, PA 15478
Field of Screams – 191 College Avenue, Mountville, PA 17554
Apply to Work Here
Rhode Island
Haunted Hill – 4092 Diamond Hill Road, Cumberland, RI 02864
Volunteers Wanted
South Carolina
Treedines Haunted Farm, 1506 Durham Road, Piedmont, SC 29673
Volunteers Wanted
Tennessee
Ruby Falls Haunted Cavern – 1720 S. Scenic Highway, Chattanooga, TN
Monsters Wanted for 2014
Devil's Dungeon – 510 Davidson Street, Nashville, TN 37213
Apply for position 2014.
Texas
Terror Dome – 16020 East FRWY, Houston, TX 77530
Jobs with Terror Dome
Moxley Manor Haunted House, 510 Harwood Road, Bedford, TX 76021
Scream Team Members Wanted
Zombie Manor, 7501 US Highway 287, Arlington, TX 76001
Join the Zombie Camp
Hangman's House of Horrors, 4400 Blue Mound Road, Fort Worth, TX 76106
Volunteers Wanted
Screams, 2511 FM 66, Waxahachie, TX 75167
Employment Help Wanted
Utah
Nightmare on 13th – 300 West 1300 South, Salt Lake City, Utah
Employment
Vermont
Nightmare Vermont – 2 Picard Circle, South Burlington, VT 05403
Open Auditions
Virginia
Cox Farms Fields of Fear – 15621 Braddock Rd., Centreville, VA.
Working at Cox Farms Fall Festival and Fields of Fear
Contacts for Wisconsin Jobs:
Wisconsin Feargrounds – Waukesha
Mars Haunted House – Milwaukee
Meadowbrook – West Bend
Screaming Acres – Stoughton
Burial Chamber – Neenah
Town of Tormented Souls – Glenwood City
9/16/2013 – Pottstown (PA) Mason's Lodge is looking for haunted house actors according to the Pottstown Mercury. Must attend training on September 24, 2013.
8/5/2013 – A number of Six Flag locations including Magic Mountain and Great Adventure are hiring for their Halloween attractions. Look for more info on .
8/5/2013 – All Saints Lunatic Asylum in Apple Valley, CA is hoping open auditions on August 16th and 18th. Get the details!
8/4/2013 – Sandyland Acres Haunted Hayride is holding auditions on August 11th. More details on their facebook page.
8/3/2013 – Hubb's Corn Maze in Clinton, NC is hiring for its haunted attraction. Apply!
8/1/2013 – New Halloween Festival in Olde Town Arvada, Colorado from Colorado Fear Fest is seeking actors/scaractors and event staff to help with line and crowd control.
8/1/2013 – Dark Harvest in Plainfield, IL is holding an open casting call for their new haunted house on August 9th. Get the Details!
7/31/2013 – City of the Dead Haunted House in Henderson, Colorado is holding zombie actor tryouts on August 24th. Learn more!
7/31/2013 – Abandoned Haunted House in Mount Pleasant, Wisconsin is hiring. Apply!
7/30/2013 – Fright Dome in Las Vegas is hiring. Interviews start August 17th. Get the Details!
7/29/2013 – King's Island in Ohio is accepting applications for its halloween haunt. Apply on their website.
7/26/2013 – Fear Factory in Salt Lake City is still looking for scare actors according to this KSL TV article.
Be sure to check out our agritainment and ghost tour guide jobs for information about other fall jobs.
Haunted House Employers
We would love to have your jobs posted here. Fill out the comment form below with information about your haunted attraction, open positions, employment requirements, deadlines and preferred application method. We will post your information here and our visitors will be in touch. There is no cost to you.