Imagine my surprise to wake up and find that Maysville, Kentucky has already had their Oktoberfest event. I checked Funtober and found 11 Oktoberfest in August events. Seems while this German harvest festival and wedding celebration started in October in 1810 it keeps creeping closer to summer each year. Even Munich moved their event to September years ago to take advantage of the better weather. Now I found 8 states with 11 events that are held in August. Most of these are huge Oktoberfest events with thousands of attendees. So if you are in Colorado, Illinois, Maryland, Ohio, New Jersey, New York, Pennsylvania, or Utah it is time to get your lederhosen out. Here are some fun Oktoberfest events for August. Find our complete list of Oktoberfest USA events at Funtober.
Colorado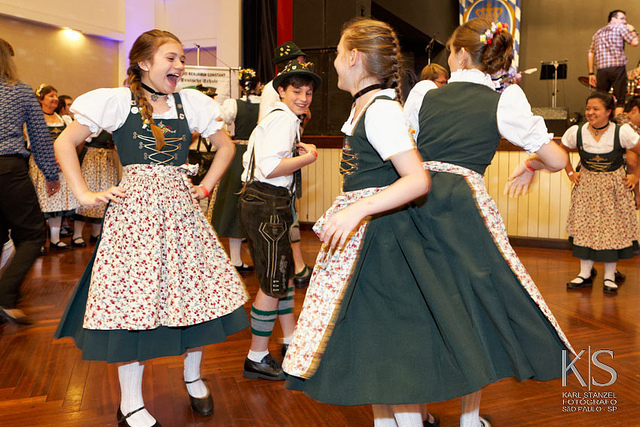 Beaver Creek Oktoberfest
– Beaver Creek, CO – August 30-31, 2014
Enjoy these Bavarian festivities over Labor Day weekend. Enter the daily costume contest to win prizes and listen to the live oompah music. Get a workout at the Oktoberfest Shuffle, which is their non-competitive walk, hike or run over a 5K or 10K course on the trails of Beaver Creek Mountain. Admission to the event is free. Foot stompin' oom-pah-pah music is provided by the Helmut Fricker Band and the Trachtenapelle Band (from Austria). Get you set of Spiegelau bee glasses at the tasting seminar for $30.
Oktoberfest – Morrison, CO – August 23-24, 2014
The T.E.V. Edelweiss Club puts on their authentic Oktoberfest event in August. Admission is $7. This year they feature a traveling display from the "German American Heritage Museum". Opening ceremonies are at 11:30 am on Saturday with music and dancing starting at noon. They feature kids games, face painting, folk dancing, German food, and lots of beer choices.
Illinois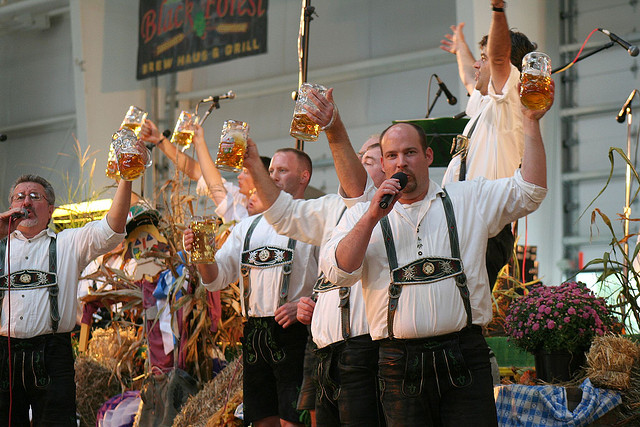 Oktoberfest in August
– Buffalo Grove, IL – August 15-17, 2014
Hosted by Schwaben Verein of Chicago, this event has been going on for more than 137 years. Entry fee is a $10 donation with children 12 years of age and younger free. Parking and entertainment is free. Food drink and amusement game tickets may be purchased. German buffet is $14 on Saturday and Sunday. Party tent provides rain or shine fun. There will be domestic and German beer, bratwurst, singers and dancers. Arcade games and rides for kids. Location: Schwaben Center, 301 N. Weiland Road, Buffalo Grove, Illinois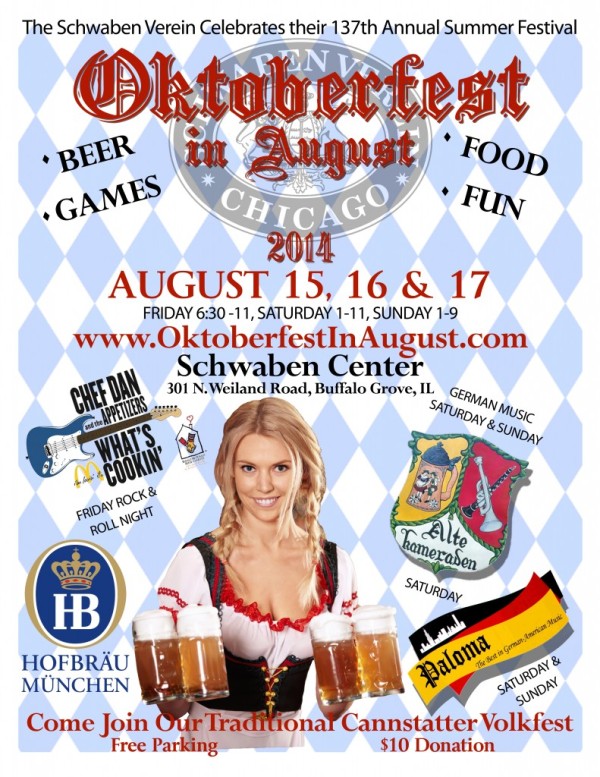 Kentucky
Maysville Oktoberfest – Maysville, KY – August 8-9, 2014
Held on the second Friday and Saturday of August annually in the the historic downtown area of Maysville. Why so early? Because if they had it in September, it would compete with the huge festival in Cincinnati. So they kick off the season instead. They have a ceremonial keg tapping, live music and dancing. Consume German food, beer, wine and schnapps. Watch the parade, log sawing, tug of war and weiner dog races. Your kids will like the puppet show and carnival rides.
Ohio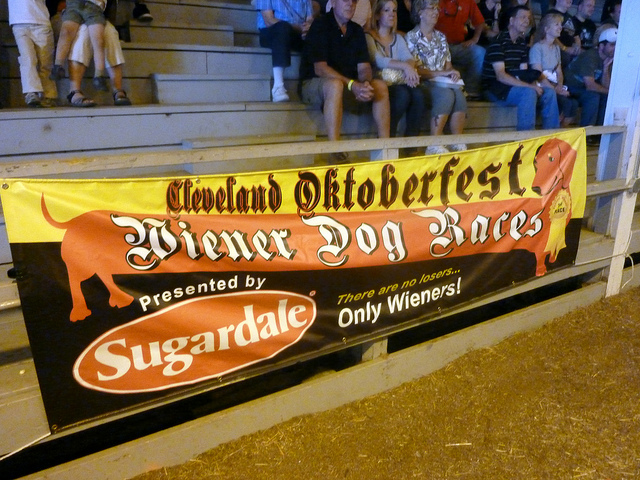 Germania Society Oktoberfest – Cincinnati, OH – August 22-24, 2014
Food options will include rotisserie grilled chicken, schwenkbraten, sauerkraut balls, schnitzel, brats giant pretzels, Black Forest Cake and more. They will have 60 German and domestic beers on tap including Warsteiner. German wine, schnapps and Jagermiester also available. The 2014 Burgermeister is Brian Thomas from the 55 KRC morning show. Grand Raffle featured prize is a tour of Germany for two (or $5000 in cash). Location: Germania Park, 3529 West Kemper Road, Cincinnati, Ohio 45251
Cleveland Oktoberfest – Cleveland, OH – August 29 – September 1, 2014
This Cleveland Ohio Oktoberfest happens annually over Labor Day weekend. They are celebrating their 10th anniversary in 2014. Paulaner and Hacker-Pschorr beer will be served in addition to several other beers in the International Beer Garden Free parking with the option for paid VIP parking. Celebrity keg tapping. Oktoberfest Microbrew Competition and wiener dog races. Glockenspiel routines on the hour. The finals of the Miss Oktoberfest contest and the masskrugstemmen (one arm stein holding) contest. 5K Beer Run on September 1st. Vendors in the Bavarian Shopping Village will offer for sale beer steins, German merchandise and other items. Children's activity area includes inflatables, hay rides, arts & crafts, sand castle building, gingerbread house classes and The Frisch Marionette Company (a puppet show that has been featured in People Magazine and on Showtime). Admission to the festival is $10 per person with children under 12 receiving free admission. Location: Cuyahoga County Fairgrounds, 164 Eastland Rd Berea, OH 44017
Maryland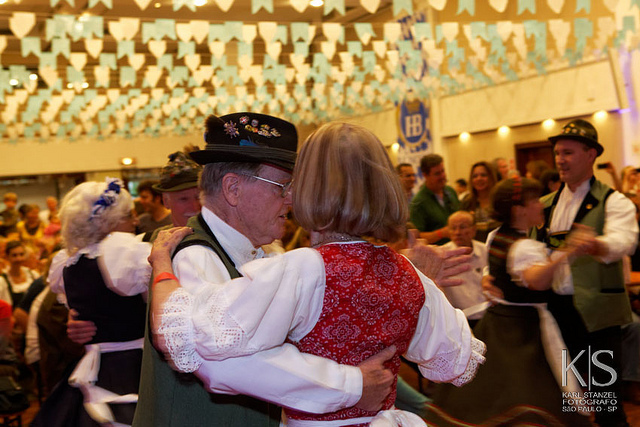 Augustoberfest
– Hagerstown, MD – August 23-24, 2014
This annual Oktoberfest pays tribute to the area's rich German heritage and supports exchange students from its sister city in Wiesel, Germany. Tickets are $5. The event kicks off Saturday at 8 am with a 5Km and 10Km Fit Walk. Activities last all day until 10 pm. The children's area opens at noon with a Punch and Judy show, a magic show, arts, crafts, and storytelling. For adult the hospitality tent opens at 11 am. Music is provided by the Heidi and Heimat Echo, and Die Schlauberger bands. On Sunday the huge German Car Show starts at 10:30 am. Also don't miss the German Brunch from 11 am until 2 pm.
New Jersey
Oktoberfest in August – North Bergen – August 16-17, 2014
Celebrate the 140th Plattduetsche Volksfest Vereen with their annual Oktoberfest in August event at Schuetzen Park. Enjoy German foods, children's games, a little miss beauty pageant, and their famous beer stein holding competition. Music fun is provided by the Austrian Boys and the Bavarian Dancers. Tickets are $10. The fest starts at 12:00 pm.
New York
Great Syracuse Oktoberfest – Syracuse, New York – August 16-17, 2014
The 54th year for this Central New York Oktoberfest. German food, entertainment and tents from the German American Society of Central New York. Magic show and balloons for children. Free admission and parking. Location: Long Branch Park, Liverpool, NY
Cheektowaga German Heritage Festival – Cheektowaga, NY – Aug 30-31, 2014
A two day festival to celebrate German culture. Live music by Bergholz Blaskapelle, The Ausländers, The German-American Musicians and The Frankfurters. They will sell German food and beer. Kinder Park Family Fun area for children to enjoy and shopping in the Vendor Marketplatz. Sponsored by the Federation of German-American Societies.
Pennsylvania
Cannstatter Volksfest-Verein – August 30 to Sept 1, 2014
The popular Labor Day weekend Oktoberfest in Philadelphia that kicks off the German celebrations here. At 142 years this is the oldest German Volksfest in the U.S. Always fun it features great German food, prizes, vendors, rides for the kids, dancing, and popular music. Tickets are $6 for one day or $11 for a 3 day pass.
Utah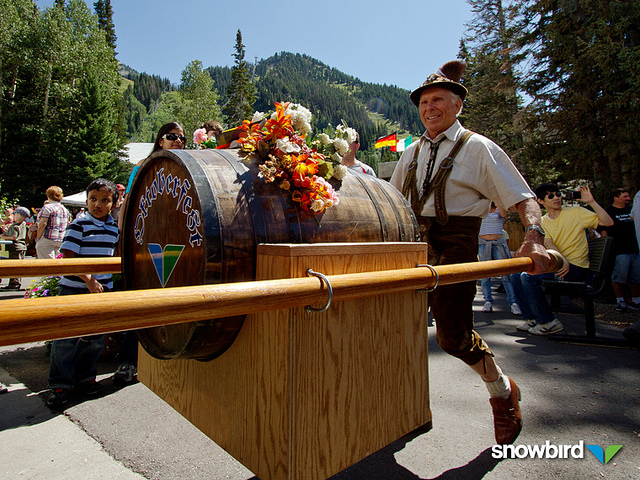 Snowbird Oktoberfest
– Snowbird, Utah – Saturday and Sunday, Aug. 16 – Oct. 12, 2014
The Snowbird Ski Resort (located southeast of Salt Lake City) hosts Utah's most popular German festival. Over 60,000 attend this annual Utah Oktoberfest which started in 1973. Get a taste of Bavaria with authentic food, live German music and yodelers. Local breweries will also be featured. Arts and crafts from local and regional artists will be offered for sale in Der Marktplatz. A ceremonial one litre beer stein is available for collectors. Last year, it kicked off the celebration with a 3K Lederhosen race on the opening day. There was also a Grand Oktoberfest on Labor Day weekend with procession, ceremonial keg tapping and best costume contest to crown Miss and Mister Oktoberfest. Visitors generally consume some 6,000 pounds of weisswurst and bratwurst, 4,500 pounds of chicken and 2,000 Granny Smith apples are eaten in the delicious apple strudel. Free admission.
Thanks for reading as we continue our Fall Things To Do As We Countdown To Halloween Day 79 blog series. Keep coming back for more information updated daily.