September always seems to fly by here at Funtober. In September, we're usually putting the last minute touches on our fall festival information and racing against the clock to get the haunted houses, pumpkin patches and costumes updated for another Halloween. We would love to attend more Oktoberfests every year, but there simply isn't enough time over the three weeks when they are at their peak.
This is our sixth year working on Funtober, and every year has presented its own joys and challenges. We decided that we were going to venture out of our local area this year on a couple of long weekend trips to see some of the best parts of fall around the country. Next weekend, we're heading up to Maine to see some of the famed New England fall foliage. It has been a bit of a strange month of weather, but we're hopeful that we'll be in for quite a scenic drive as we get into New England. Even if we miss the leaves at their peak, we still think it will be a drive to be remembered.
As part of our effort to see more of the best activities in fall ourselves, we were fortunate to make it to Oktoberfest Zinzinnati two weeks ago. Oktoberfest Zinzinnati is the nation's largest Oktoberfest, held every year in Cincinnati, Ohio on the opening weekend of the Munich Oktoberfest. Approximately 650,000 people celebrate the marriage of Crown Prince Ludwig (later King Ludwig I) and Princess Therese of Saxony-Hildburghausen every year there.
We started our adventure out of the Philadelphia area after work on Friday. The Cincinnati Oktoberfest runs from Friday through Sunday, but due to our travel plans we were only able to make it there for Saturday. There were unfortunately a lot of scheduled activities on Friday and Sunday that we couldn't make it to see, but we didn't mind since Saturday was the same day as the Munich keg tapping. We couldn't make it to Munich, so Cincinnati was a good second choice.
On Friday, we missed the Running of the Wieners where one dachshund is named the King of the Wiener Dogs. We also missed the Gemeutlichkeit (Goodwill Games) with the beer stein race and beer barrel roll.
The ten hour drive to Cincinnati was a little bit too much to do in one day given our late start, but we had plenty of time to finish up in the morning since the opening ceremony on Saturday started at 11 AM. We stopped for the night just outside of Columbus, and then proceeded to Cincinnati after breakfast at a Waffle House.
We arrived into Cincinnati a few minutes before 11, excited to check out the Oktoberfest offerings. We found parking for $10 at a garage in the downtown area a few blocks from the festival, and followed the other early arrivals with German party gear toward the river. We weaved our way past the other participants and down the line of vendors to the Opening Ceremony.
After the tapping of the keg, The Opening Ceremony played both the German and American national anthems, honored a few different participants, and recognized the many German heritage clubs in the area.
As the ceremony finished up, we made our way toward the beer vendors. We settled on the classic Sam Adams Oktoberfest. The large souvenir cup and beer was $12, with refills only $8, so we got one to take home. We were able to refill the cup at any of the beer vendors, so it ended up being a great deal.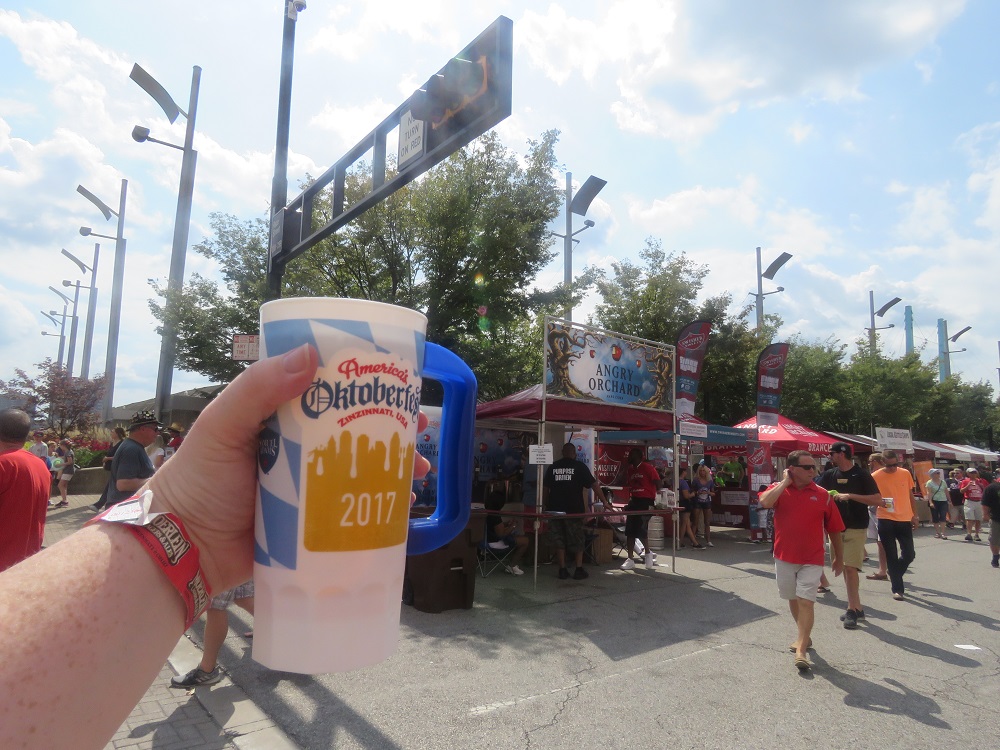 We wandered around the rest of the festival with our beer. It was a beautiful Saturday, a smidgen too hot when out walking around in the sun's rays though. So we found some shade on the sidewalk provided by a few trees and listened to one of the musical acts perform.
We already had our souvenir cup, but the other souvenir options called to us. We bypassed the many shirts and hats for the official pin of the festival. There were plenty of people wearing Oktoberfest hats, trachten, and shirts from past years.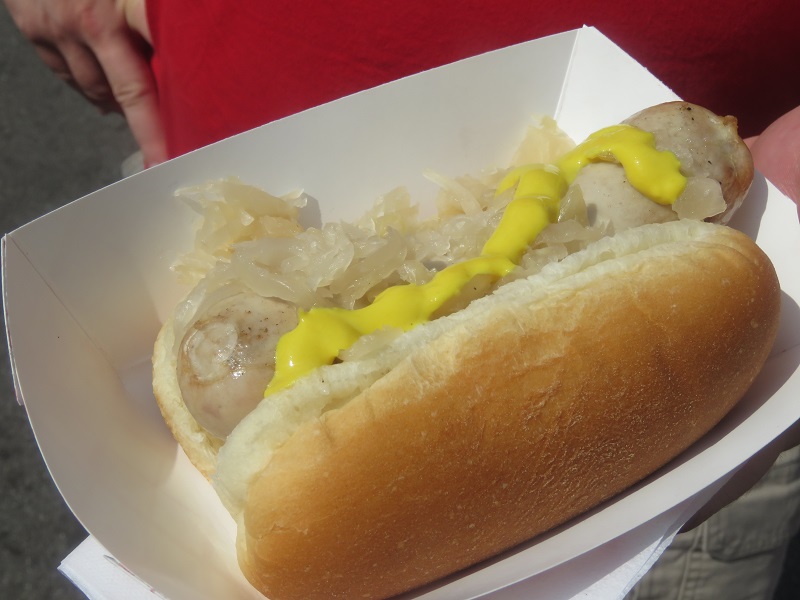 Since we had a drink and a brat, we decided to walk around Downtown Cincinnati and explore. We eventually made our way past the Cincinnati Reds stadium to the Ohio River, where there was a pretty park area. We sat on the swinging benches along the river for a while, watched a baby play in the fountain, and enjoyed an hour or so of relaxation amidst an otherwise busy weekend.
Our desire to explore temporarily quenched, we made our way back to the crowds of the Oktoberfest to explore the available pumpkin food products. We made a complete lap around the festival tracking down the pumpkin strudel vendor that we had spied earlier. In the interim, we grabbed a curry wurst to try something new.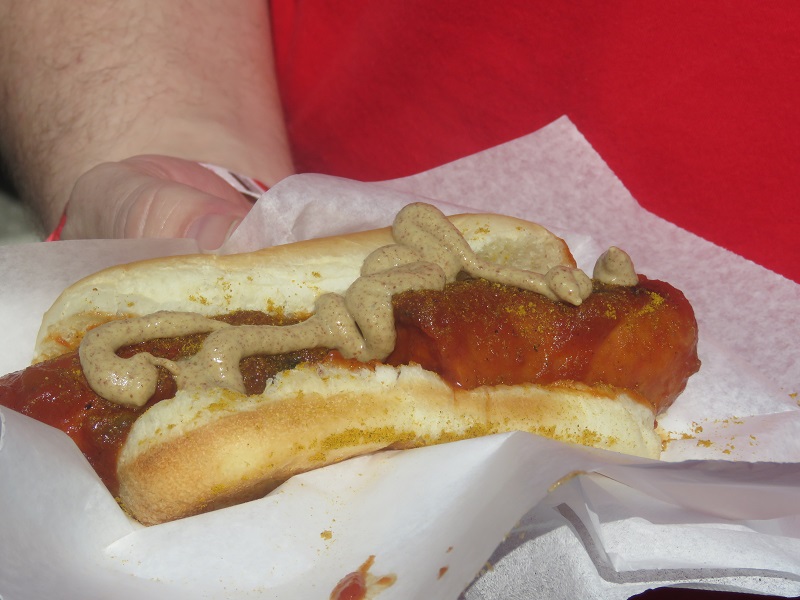 Just when we were about to give up on our search for the strudel, we realized that we skipped a small portion of the vendors before and sure enough, it was there.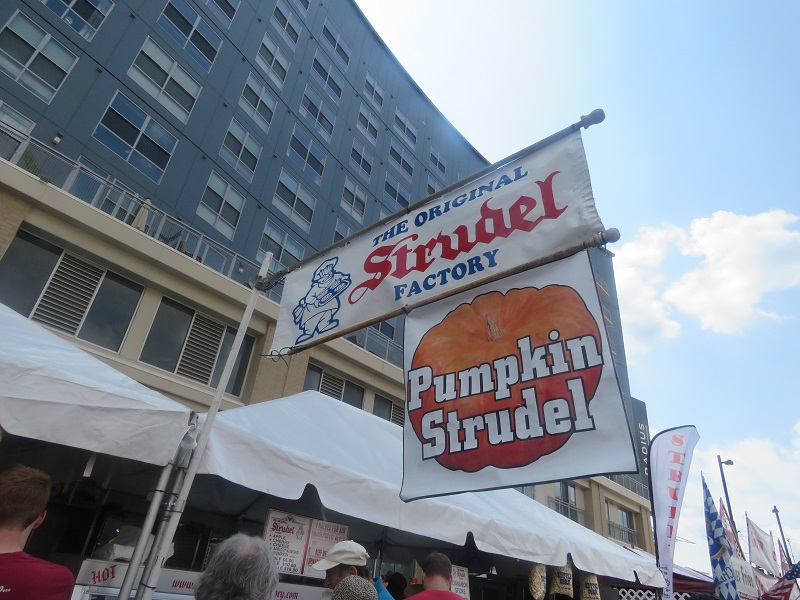 We surprisingly found a tv with the Michigan football game. There were a lot of Ohio State fans in the crowd, and more than one person commented as they walked by and we were watching the game. But we were winning (currently 4-0), so it didn't really faze us. Go Blue!
We also had our first pumpkin funnel cake. As fall festival fans, we love funnel cake. So the addition of pumpkin to it intrigued us. It turned out to be a pumpkin roll that was dipped in funnel batter and deep fried in the funnel cake oil. It was a unique cross of a funnel cake and a cinnamon roll with a great pumpkin taste, so we were pleased and gobbled it up. It didn't have the size of a funnel cake, but that was the only thing it was lacking and we found it delicious.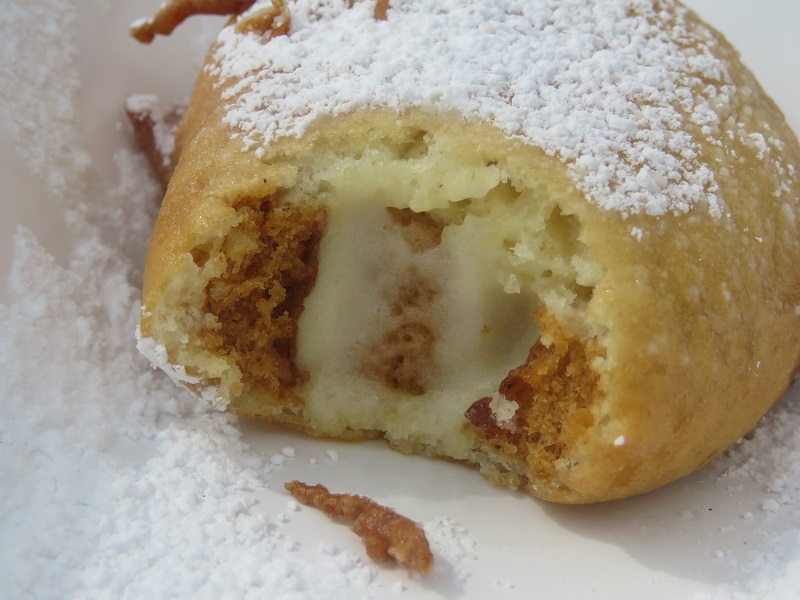 We had plans to finish up our weekend at Mammoth Cave National Park, which is only a few hours away, so we ended the party a little early for a Saturday. The streets were pretty packed with people waiting for the Cincinnati Reds game that evening, but there was enough space in the festival area to accommodate everyone. There were just a few times where we wished that there was better traffic flow around some of the longer vendor lines.
The Sunday schedule for Oktoberfest Zinzinnati included the World's Largest Chicken Dance and the World Brat Eating Championship. Oktoberfest Zinzinnati previously set the record for the largest chicken dance with around 48,000 people, and every year they invite people to help them try to break the record. It generally attracts more than 30,000 people every year.
The one thing that the event was missing was the "wow" factor that we have seen at other events drawing a national crowd (sometimes unexpectedly). They didn't have the Ferris wheel, other festival rides and games that you would expect if you were trying to create a great family-friendly experience. They had a solid beer selection, diverse food offerings, and plenty of space to accommodate everyone, but this is a pretty standard feature at most great street festivals in large cities. It just didn't have the same type of buzz as we saw at the Harry Potter festival in Chestnut Hill last year, which attracted people from all over the East Coast. Most of the people that we saw at Oktoberfest Zinzinnati were from Ohio or Kentucky, although we did see a handful of shirts from outside the region from time to time.
We're finishing up our Oktoberfest season (this is the last weekend of the Munich Oktoberfest as it ends on Tuesday) with an event next week in Philadelphia called the Armory Oktoberfest. It is held at the Armory in Center City and put on by Brahaus Schmitz, a local German restaurant here in Philadelphia. They hold a street festival for Oktoberfest outside of their building on the opening day of the Munich Oktoberfest, but this is their paid ticket event. They transform the inside of the giant building into an Oktoberfest tent filled with authentic tables and benches, lofted stage for entertainment, and Bavarian blue & white. Authentic food and Hofbrauhaus beer will be served. We are going to be at their preview night, so we will let you know what to expect. Stay tuned!