Why do nearly 12 million people visit Niagara Falls each year? Many more experience the festivals, concerts, and activities throughout Western New York. Since this is one of my favorite things to do in the fall I thought we would take a look at what makes Niagara Falls such a wonderful fall weekend travel trip. Check out this video on what it is like on the Hurricane Deck at Cave of the Winds.
Niagara Falls Things To Do Adventures in September – October
Niagara Falls spans both the American and Canadian borders. I recommend getting your passport, enhanced driver license, or special permit set up in advance. Yes, you will want to visit the Canadian side of the falls.
Some Basic Niagara Falls Information.
The falls were formed about 12,000 years ago. French explorer Father Louis Hennepin is credited with "discovering" Niagara Falls in 1678. Between 50-75% of the water is diverted for electric power. Still during peak season nearly 700,000 gallons of water per second flows over Niagara Falls. Water flows from Lake Erie, Lake Huron, Lake Michigan and Lake Superior down the Niagara River over the falls then continues down the Niagara River into Lake Ontario continuing into the St. Lawrence River and ending up in the Atlantic Ocean. There are three waterfalls named Horseshoe Falls, Bridal Veil Falls, and the American Falls. Hydroelectric power generating stations supply 25% of all the electric power for New York and Ontario. Over 20% of the United States drinking water flows over the falls.
The average depth of the water below the falls is 170 feet. Once in 1848 ice dammed the river and nearly stopped the water flow. In 1969, construction blocked the river while erosion damage to the falls was checked. Otherwise water continues to flow over the falls as it does not freeze during even the harshest of Buffalo's winters. Fish actually go over the falls with most surviving the crash into the white foam below. Superman, Niagara, and Bruce Almighty are but a few of the many Hollywood movies that have used Niagara Falls as a backdrop to their story lines.
Cave of the Winds – 24 Buffalo Avenue, Niagara Falls, NY 14303.
Guided tours began on the American side in 1841 which once actually went behind Bridal Veil Falls. Since 1924 the tour goes in front on the falls onto a carefully constructed series of walkways and platforms. Hurricane Deck actually takes you within a few meters of the falls. Even with the supplied rain gear you will be thoroughly soaked as winds and water can reach well over 60 mph on the deck. The platforms are removed in November and reconstructed each fall to avoid winter damage. Tickets for the tour are $12 for adults from May 9 – November 1, 2014. Location: 24 Buffalo Avenue, Niagara Falls, NY 14303.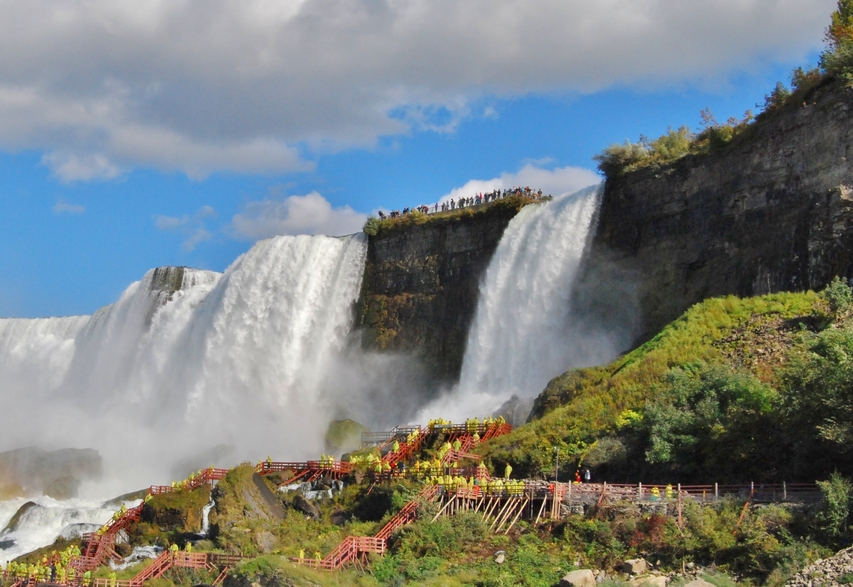 Maid of the Mist and Hornblower Voyage to the Falls Boat Tour.
Imagine riding a boat into the heart of the raging Horseshoe Falls. Located on the American side at 1 Prospect St., Niagara Falls, NY is the popular Maid of the Mist boat tour which has operated tours since 1846. Boat tours from the Canadian side are run by Hornblower Niagara Cruises located at 5920 Niagara Parkway, Niagara Falls, ON. Both tours operate from May 9th to October 31st, 2014. Depending on the date, there are tour options regularly scheduled throughout the day and night. These are the most exciting tours you can take as the boats get extremely close to the base of the falls. You can expect to get wet. You will remember this boat ride. Prices run just under $20 depending on if you are paying in U.S. or Canadian dollars.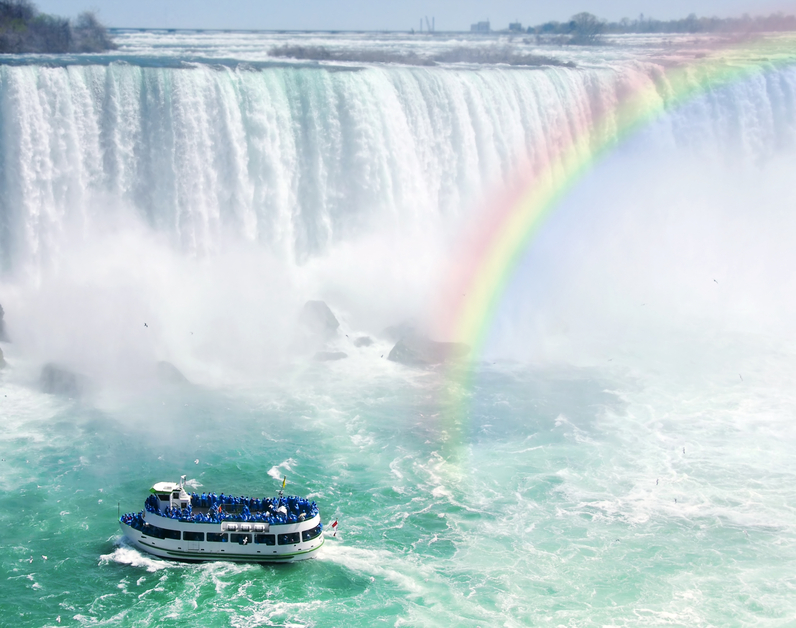 Rainbow Air Helicopter Tours – 454 Main Street, Niagara Falls, NY 14301.
Take a breathtaking helicopter ride over Goat Island, the three Niagara Falls, and past Clifton Hill and Queen Victoria Park. Rainbow Air has operated these tours for 19 years.
Castellani Art Museum – 5795 Lewiston Rd., Niagara University, NY 14109.
Goat Island – Niagara Falls State Park, Niagara Falls, NY 14303.
Observation Deck New York Power Authority – 5777 Lewiston Rd., Lewiston, NY.
Niagara Official Visitors Center – 10 Rainbow Boulevard, Niagara Falls, NY 14303.
Skylon Tower – 5200 Robinson Street, Niagara Falls, ON.
An unbelievable view of the falls from the Canadian side. A great tourist spot and revolving restaurant.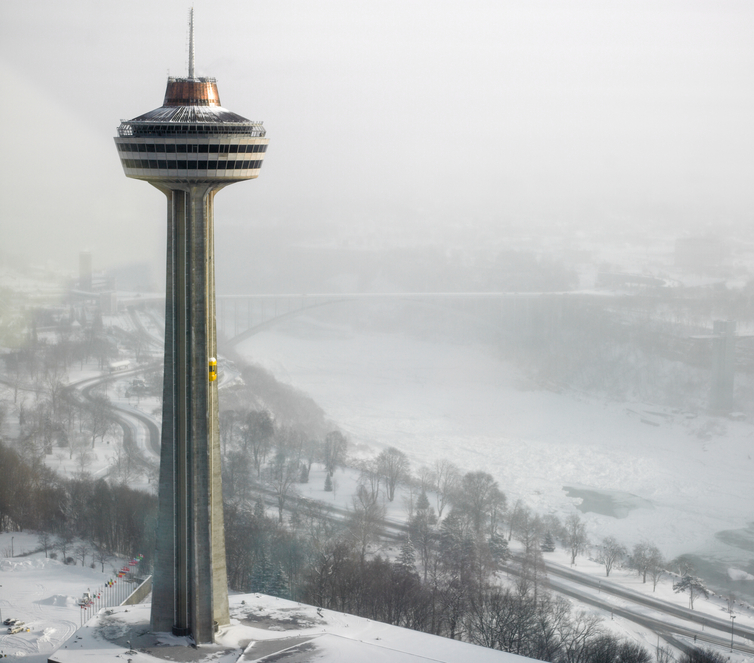 Fallsview Boulevard – Niagara Falls, Ontario, Canada
The is the center of the Canadian side falls attractions. Visit the Skylon Tower, Imax Niagara theater, Daredevil Museum, Marineland, Fallsview Chapel, and a host of nearby tours all from Fallsview Boulevard.
Fireworks
The falls is illuminated with nightly fireworks between May 16 – November 30, 2014.
Incline Railway
Ride down from Fallsview Boulevard between May 16 – December 31, 2014.
More Niagara Falls Area Water Attractions
Niagara Jet Adventures – 555 Waterstreet, Youngstown, NY 14174.
Ride the specially designed jet boat for a thrilling ride down the swift waters of the Niagara river gorge.
Whirlpool Jet Boat Tours – 115 South Water Street, Lewiston, NY 14092.
Travel the lower Niagara River in an open air jet boat. Feet the power of the river.
Lockport Locks & Erie Canal Cruises – 210 Market St., Lockport, NY 14094.
Fall cruises last approximately two hours in the Fall between September 2 – October 13, 2014. The locks and canal allow boats to travers the 571 foot difference in levels between the Hudson and Niagara Rivers. You will experience some of the 35 locks on the man made 363 mile Grand Ole Eric Canal.
Niagara Falls and Buffalo Area Land Attractions.
Old Fort Niagara – 4 Scott Avenue, Youngstown, NY 14174.
Aquarium of Niagara – 701 Whirlpool Street, Niagara Falls, NY 14301.
Adventure Speedway – 3939 Niagara Falls Boulevard, North Tonawanda, NY.
Buffalo Zoo – 300 Parkside Avenue, Buffalo, NY 14124.
Corning Museum of Glass – One Museum Way, Corning, NY 14830.
More Canadian Side Attractions
Butterfly Conservatory – 2565 Niagara Parkway, Niagara Falls, ON.
Cliffton Hill – Niagara Falls, ON. (Restaurants and Attractions)
More Niagara Falls 2014 Events and Festivals
Niagara Wine Festival – September 18-28, 2014.
Grande Parade – September 27, 2014.