Visit New York City this fall and catch the Today Show concert series at Rockefeller Plaza. Now in its 19th year the concert outside the Today Show window is bigger and better than ever. See Maroon 5 on September 1, 2014 or see Usher on September 5th.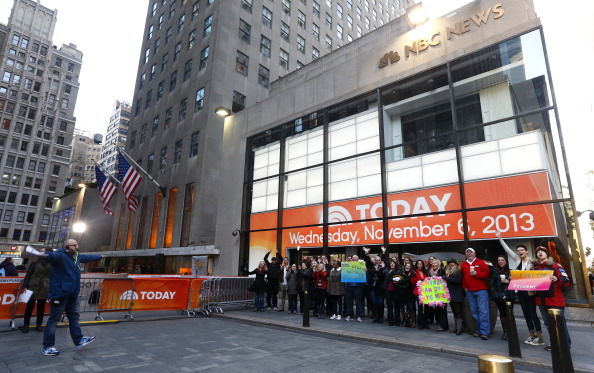 Join Matt Lauer, Al Roker, Savannah Guthrie, Natalie Morales, Tamron Hall, Dylan Dryer, Willie Geist, and Carson Daly as they welcome Usher and Maroon 5 to the Toyota Concert Series. The Today Show has been running since 1952 on NBC. It is located in Studio 1A near their headquarters GE Building at 30 Rockefeller Plaza, New York, New York 10112.
Maroon 5 and Usher Coming To Today Show in September
General admission for the concerts are on a first come first served basis. NBC recommends you arrive by 5 am. As many as 18,000 people have crowded into the small street plaza for a concert. You can register for a Fan Pass lottery for special concert admission. In any case this is a standing room only concert that begins sometime in the Today show 8 a.m. programming. Sometimes the musicians will rehearse before their official show. It ends somewhere around 9 a.m..
Usher
The talented singer, dancer, songwriter, actor, and philanthropist Usher has sold over 23 million records. His albums include My Way, 8701, Confessions, Here I Stand, and Raymond v. Raymond. He now appears as a coach on The Voice, a popular American tv show. He has appeared before the Today Show a number of times before large concert audiences.
Maroon 5
The band is comprised of Adam Levine, Jesse Carmichael, Mickey Madden, James Valentine, and Matt Flynn. Maroon 5 is a popular pop rock band that formed in 1994. They have produced hit records since 1997. Worldwide the band has sold over 27 million albums. Adam Levine is a regular coach on The Voice. They also have appeared often on the Today Show concert series over the years.
If you are in New York this fall consider going over to the Rockefeller Plaza complex to watch the Today Show. You can go any morning this fall. If you choose September 1st or 5th you might get to see Usher or Marron 5.
Funtober continues with our blog series Fall Things To Do As We Countdown To Halloween Day 169. Check here for more concerts and festival information.