Aquariums provide insight into our oceans, education, and conservation. Plan a visit to any of these aquariums that are open all year. These are a few of the best aquariums available for visitors this fall.

5 Amazing Aquariums
Discovery Cove – 6000 Discovery Cove Way, Orlando, Florida 32821
Become one of the 1300 daily visitors to Discover Cove. The theme attraction in Orlando, Florida is one of the great Aquariums in the world. All guests must pre-register in advance as the unique experience does sell out. Swim with the dolphins, rays, and tropical fish. Help feed the hand held exotic birds. Spend the day at Discovery Cove beginning with a fresh breakfast. Discovery Cove is open from 8:30 a.m. to 5:30 p.m.. The attraction is part of SeaWorld Parks and Entertainment. Dolphin Lagoon adventure allows you to swim with the dolphins. See the sharks at The Grand Reef. Wear dive gear at the SeaVenture underwater experience. Check out over 250 exotic birds at Explorers Aviary. One day tickets are generally between $300-$400. This includes up to a 14 day pass to Sea World.
Georgia Aquarium – 225 Baker Street NW, Atlanta, Georgia 30313
A major part of the revitalization of downtown Atlanta is the Georgia Aquarium. Another of the world's great aquarium is open 365 days a year. It features a 10 million gallon pool and more than 60 exhibits. Major exhibits include the Dolphin Tales Show, Cold Water Quest, Ocean Voyager, River Scout, and Tropical Diver. Adult ticket prices are $34.95. Of course the biggest attraction is the hundreds of aquatic life.
Monterey Bay Aquarium – 886 Cannery Row, Monterey, CA 93940
Pick a day in September or October and spend it at the Monterey Bay Aquarium in Monterey, California. After 30 year, the attraction has over 550 species that fill 34 major galleries. The aquarium is a window to the wonders of the ocean. Initial construction costs totaling over $55 million were provided by David and Lucile Packard of Hewlett-Packard fame. Adult ticket prices are $39.95. The aquarium is usually open 10 am – 6 pm. More than 1.8 million people visit the aquarium each year.
New England Aquarium – One Central Wharf, Boston, MA
Annually more than 1.3 million people visit the New England Aquarium. It is open most Monday-Thursday days during the September 1 – October 29, 2014 period this fall. Adult tickets are priced at $24.95 for the basic aquarium experience. Additional tickets are needed for the IMAX Theater and Whale Watch. The aquarium has been located in Boston for over 50 years. It features a giant ocean tank, the Yawkey Coral Reef Center, the Blue Planet Action Center, Edge of the Sea, Gulf of Maine, Seadragons, and Pacific Reef Community. It redefines what it means to be an aquarium with interactive displays, educational programs, and conservation initiatives.
Tennessee Aquarium – One Broad Street, Chattanooga, TN 37402
The aquarium opened in downtown Chattanooga in 1992. The Tennessee Aquarium operates an IMAX 3D Theater, It features both fresh and salt water aquatic exhibits, a butterfly garden, turtle and reptile displays, penguins, and more birds you will see in Ranger Rick's Backyard Safari. The basic adult ticket is $26.95 plus additional options are available for the IMAX theater and the River Gorge Explorer package. The aquarium is open daily from 10 am – 6 pm.
More Aquariums to Visit in September and October
Ripley's Aquarium – Myrtle Beach, SC
Sea World California
Sea World Texas
Sea World Florida
The Seas with Nemo (EPCOT) – Orlando, Florida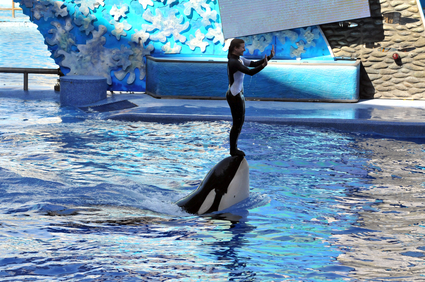 Funtober continues with our blog series Fall Things To Do As We Countdown To Halloween Day 171. Find more concerts and festivals at Funtober.