Are you thinking of taking a Disney vacation this fall? The age old question, at least since 1971, is which Disney theme park is better. It is hard for me to believe that anyone who has visited either park has had a bad time. So here we are going to explore some of the differences between the two parks.

What Is Your Favorite Disney Theme Park?
Disneyland Was Walt Disney's Dream Come True
Walt Disney was involved in every detail involving the construction of the original Disneyland which opened in 1955. In the video at the end of this post you will see Walt himself riding a bicycle to get around the construction site. He dropped the theme park into a half square mile piece of land in Anaheim near Los Angeles. On opening day there were still major sections of the park under construction. It wasn't perfect but it was the most fascinating entertainment park people had experienced up to that point. He used his weekly Disney television program to showcase all the adventures happening at Disneyland. The whole country wanted to go to California to see the park. About 16 million people still visit Disneyland each year.
Disney World Was Walt's Vision of The Future
Most people do not realize that Walt Disney died well before the Orlando, Florida park was completed. His brother Roy Disney was the driving force in completing the Disney World experience that opened in 1971. Disney acquired 30,000 acres of land, some of it swamp land, in the middle of the state. This land for the most part was undeveloped. The California park was less than 500 acres. It was never intended to be a copy of Disneyland. Here Disney had the advantage of space. Also the advantage of 16 years experience in operating a theme park. Disney World now has over 50 million visitors each year.
Can You Really Compare Disneyland and Disney World?
In part because of the size differences I do not think any comparison is fair. Both parks provide a unique level of entertainment. Both appeal to slightly different audiences. A Florida vacation typically involves several days including many times a 3, 4, or 5 day visit to Disney World. California typically involves returning locals who come to the park several times a year. There are nearly 20 million Californians who live within a couple hour drive of Disneyland. In Florida, there is just about 1 million people who live within a two hour drive and many of those are Disney employees.
Let's Compare The Magic Kingdom Experience At Disney World and Disneyland
Most of us think about the Magic Kingdom experience when we think of Disney. Both places use approximately 100 acres of land as the inside the park area. Florida is slightly larger by about 20 percent. Both places have similar ticket prices and hours for the Magic Kingdom attraction. They do sell their tickets, fast line passes, and combination tickets differently.
Use of the Disney Monorails
At Disneyland the monorail is an attraction. Once inside the park you can use the monorail to go to Downtown Disney which is shopping inside the park. At Disney World, the monorail is used between the various hotels, other Disney parks like EPCOT, and the parking areas to bring people to the entrance of the Magic Kingdom. You don't need a ticket to ride from the parking area to the entrance. It is a much longer ride.
Pirates of the Caribbean Ride
In California the ride is longer with more in depth details about the story line. Most people will agree that the California version is slightly better. This holds true for several similar rides between the two parks.
Lincoln Animation Versus the Hall of Presidents
The attractions are both animated and similar with no clear winner.
Space Mountain
Again the California Space Mountain is a longer ride. Also important is the theme change to Ghost Galaxy during the September and October period. This changeover provides a slightly different fun adventure for returning Disney regulars.
No Country Bear Jamboree in Critter Country
California does not have the popular Country Bear attraction. Instead they have a Splash Mountain and Winnie the Pooh in Critter Country. In Frontierland they have a Billy Hill and the Alili Babas animated group.
You will find both parks have It's A Small World. Again, California has a slightly longer version of essentially the same ride. Also California has a very impressive façade marking the attraction. In Florida, the attraction tends to blend in with several nearby other attractions. Both are excellent rides and remain very popular.
In California you will find the Matterhorn Bobsled ride inside the Magic Kingdom. In Florida a similar ride takes place in another park. You will find some actual roller coaster rides in California. In Florida, Space Mountain Splash Mountain, and the Big Thunder Mountain Railroads are the only roller coaster rides in the park. These same rides also exist at the California park.
Both parks have a similar railroad ride, Jungle Cruise ride, Riverboat ride, Peter Pan's Flight, and Enchanted Tiki Room experience.
California also adds a ToonTown experience with Roger Rabbit and Goofy's Playhouse attractions. Both parks have a Buzz Lightyear feature with Califonia's Astro Blaster being far superior. Some years ago the 20,000 Leagues Under The Sea changed to a Finding Nemo ride.
Haunted Mansion is very similar. In California the "stretch" room actually goes to a basement area which leads under the park's walls to another building outside the park for most of the attraction. California also does a holiday overlay on Haunted Mansion during the fall and Christmas seasons. It is an interesting change and again changes things up a bit for regular local visitors.
How Do We Compare the Fall Seasons at Disney World and Disneyland
At Disney World, the featured event is Mickey's Not So Scary Halloween Party (MNSSHP). It runs at night beginning at 7 pm on 26 nights during the fall. The daytime Magic Kingdom attraction changes very little. In California, they re-decorate most areas of the park to match their Halloween Time at the Disneyland Resort theme. This is their day and night event on most days during the fall. They also add in a Mickey's Halloween Party for 13 evenings during which the party starts at 6 pm or 7 pm. Both parties require a separate hard ticket to event this special event.
Main Street USA is completely re-decorated and re-lighted for the Halloween Time event. While the decorations are superior in California the Mickey's parade parts of the party event favors Florida. In fact the parades have little in common. Florida is hands down the better experience including a headless horseman ride twice a night. Many believe the regular Halloween Time Disney parade is better than the Mickey party parade.
Both parks have fireworks in the evenings. Both have amazing fireworks displays. Disneyland has the advantage of using a zip line to bring Tinkerbell or Jack Skellington's dog reindeer "Zero" across the castle on a zip line. The lighting and fireworks in California are wonderful. However there is something about the Florida fireworks that can't be matched in California. The castle in Florida is nearly twice as tall and twice the size of the castle in California. It is clearly the centerpiece of the park and an amazing piece of architecture.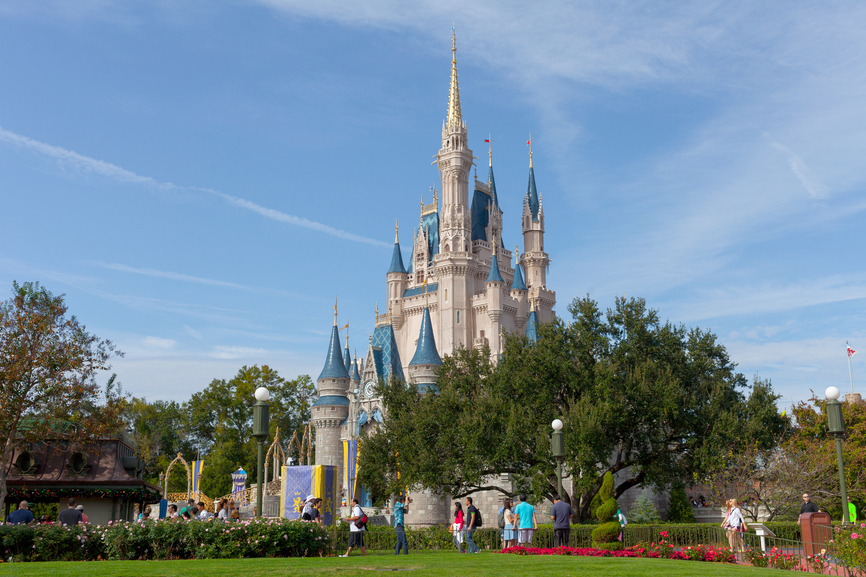 In California you are likely to see more characters and employees walking the grounds on their way to their assignments. This is actually a fault of the park since a cowboy in Tommorowland puts them somewhat out of character for the guests. In Florida, they build an underground infrastructure which allows employees to walk underground to work assignments. Maintenance and trash work generally happens underground and out of the normal site of park guests.
Disneyland or Disney World – Which Park Do I Prefer?
I throw my hands up and call it a draw. If I am going for several days then Disney World clearly has far more to offer. However you will pay separate for each of their 4 theme parks. If you try to do Disney World in one day you will find you miss so much and leave somewhat frustrated.
Disneyland for a one day experience probably has a better Magic Kingdom experience for me as an adult. However for a small child, the castle in Florida is certainly impressive. Mickey's Not So Scary Halloween Party has a little more to offer on both the parade and entertainment dances. Snow White and the Seven Dwarfs might be the most sought after photos and autographs in Florida. They are nearly non-existent at Mickey's Halloween Party. I prefer the Halloween Time to the regular park in Florida. I prefer the Florida party nights to what California offers.
So folks, it is a toss up for me. How about your opinion? Let me know your thoughts.
I also found this video that shows much of the construction work in 1954 on Disneyland including some rare footage of Walt Disney working on the project. I found this absolutely fascinating. Hope you enjoy this video.

Funtober continues with our blog series Fall Things To Do As We Countdown To Halloween Day 176.