Does it rain near you? Of course, it rains in the fall which makes going to a fall festival, a corn maze, or pumpkin patch in October a little questionable on rainy days. Even sitting in a pouring rain in September at Ohio Stadium watching my beloved OSU Buckeyes is not my favorite fall activity. So here is a suggestion to expand your cultural interests. Visit a free art museum in your area. Now do not get me wrong, I am talking about visiting some of the best art museums in the world which just happen to have "free admission" days or "pay what you want" days.
Now I am not someone who knows about the art of the European masters. I can barely recognize Andy Warhol's works. But I have visited a number of museums in New York, Philadelphia, Chicago, and Detroit and found works of art that I never knew existed. It isn't just art, but national treasures, ancient history, and works passed down through the ages that make art so rare, expensive, and inspiring.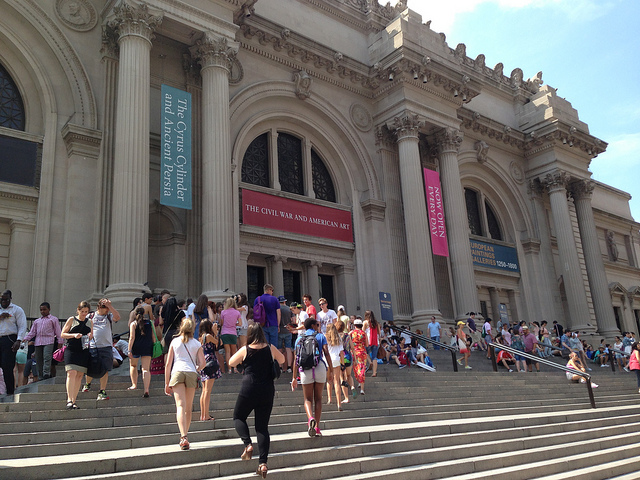 Popular Artists
Here are a few artists that you should get to know: Rembrandt, Michelangelo, Salvador Dali, Thomas Eakins, Diego Rivera, Botticelli, Raphael, Cezanne, Bauguin, Rubens, Rodin, Verbeeck, Edgar Degas, Francisco Goya, Dale Chihuly, Renoir, Manet, Andy Warhol, Henri Matisse. Alexander Calder, Vincent Van Gogh, Claude Monet, and Pablo Picasso.
Free Corporate and Community Sponsored Museum Admissions
A number of companies have programs that offer free or pay what you can general admission programs to popular art museums.
Bank of America has a "Museums on Us" program on these dates this fall. Cardholders can get general admission entry for free on these dates. Check their website for complete details and participating museums.
August 2-3. 2014
September 6-7, 2014
October 4-5, 2014
November 1-2, 2014
Target Corporation has both free and reduced price museum admission events. The dates and detail vary by museums so visit their website for details. Just because they had a little problem with their credit card security last fall does not mean they are not trying to support their local communities. My brother worked for Target for 25 years.
National Endowment for the Arts offers free admission to 2000 participating Blue Star Museums across America. Blue Star Museums offer free admission to active duty military service personnel and their families up through Labor Day. The family can visit free even if the actual active member is not with them. See the details at the website.
Community Sponsored Free Museums
A few popular museums that are always free to residents.
Detroit, MI – Detroit Institute of Arts (show local library card)
Los Angeles, CA – J. Paul Getty Museum
Washington, DC – National Gallery of Art
Washington, DC – Freer Gallery of Art
A Few Examples of Popular Museums That Participate in Free Programs such "Museums on Us"
Atlanta, GA – High Museum of Art
Baltimore, MD – The American Visionary Art Museum
Boston, MA – Museum of Fine Arts
Chicago, IL – Art Institute of Chicago
Chicago, IL – Museum of Contemporary Art
Miami, FL – Museum of Contemporary Art
New York, NY – Whitney Museum of American Art
New York, NY – The Metropolitan Museum of Art
Orlando, FL – Orlando Museum of Art
Palm Springs, CA – Palm Springs Art Museum
Philadelphia, PA – Philadelphia Museum of Art
Phoenix, AZ – Phoenix Art Museum
Pittsburgh, PA – Carnegie Museum of Art
Sacramento, CA – Crocker Art Museum
Sacramento, CA – The California Museum
St. Louis, MO – Contemporary Art Museum of St. Louis
San Diego – The San Diego Museum of Art
Seattle, WA – Seattle Art Museum
Tampa, FL – Tampa Museum of Art
Tucson, AZ – Tuscon Museum of Art and Historic Block
Wilmington, DE – Delaware Art Museum
More popular museums with limited days free admission:
Chicago, IL – Art Institute of Chicago
Chicago, IL – Museum of Contemporary Art
Los Angeles, CA – Los Angeles County Museum of Art
Los Angeles, CA – USC Fisher Museum of Art
Philadelphia, PA – The Barnes Foundation
We continue at Funtober on our countdown to Halloween. This is day 100. Find more events such as these as we continue our search for more fun things to do this fall. Do not miss any of our posts on the Funtober blog.