Pumpkin Cocktails and Shots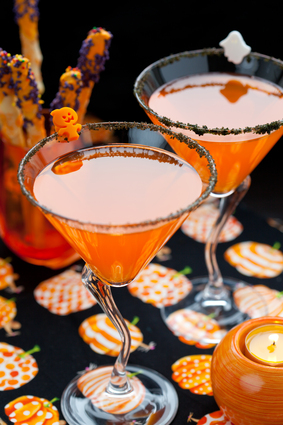 These pumpkin cocktails will make you long for fall the rest of the year. Serve at your Halloween party, after Thanksgiving dinner, or anytime you are having a gathering with friends. Some of the more popular pumpkin drinks that you should try are the pumpkin martini, pumpkin margarita, and pumpkin pie shots.
But we'll start here with a few different drinks to put you in the mood and perhaps inspire you to try something different. If you know what you are looking for, just skip below to find it.
8 Pumpkin Cocktails with a Punch – Curbly
Five Pumpkin Cocktails – Broward-Palm Beach New Times
Best Pumpkin Drinks – Noche Latina
Chocolate Pumpkin Cocktails – Dying for Chocolate
7 Great Pumpkin Cocktail Recipes for Halloween – Serious Eats
Pumpkin Martini
The pumpkin pie martini is a classic fall drink that takes the best flavors of autumn and combines them into a tasty alcoholic beverage. Here's thirteen recipes for making this delicious cocktail:
Pumpkin Pie Martini – Rachael Ray Magazine
Pumpkin Pie Martini – Absolut
Pumpkin Pie Martini – Cary Citizen
Pumpkin Pie Martini – Slash Food
Pumpkin Pie Martini – Food Network
Pumpkin Pie Martini – We are Not Martha
Pumpkin Pie Martini – South Jersey Times
Pumpkin Pie Martini – Grin and Bake It
Pumpkin Martini – San Francisco Chronicle
The Pumpkin Martini – Haunted Bay
Kiran's Pumpkin Martini – Almost Veggies
Pumpkin Spice Latte Martini – Erin's Food Files
Spiced Pumpkin Martini – Belvedere Vodka
Pumpkin Spice Martini – AllRecipes
Pumpkin Margarita
You don't have to stop drinking the classic Mexican drink because summer is over. Check out these four recipes to make your margarita seasonally appropriate:
Smashing Pumpkin Margarita – doo-dah!
Pumpkin Margarita – Rachel Wilkerson
Pumpkin Margarita – Martha Stewart
Cocktail of the Week: Pumpkin Margarita – Intoxicology 101
Pumpkin Margarita Recipe – Margarita Texas
Pumpkin Spice Cocktail
Pumpkin Spice Cocktail – Long Island Pulse
Corzo Pumpkin Spice Cocktail – People
Pumpkin Spice Cocktail – YumSugar
Pumpkin Spice Cocktail Recipe – MOMfia
Pumpkin Cider Cocktail – Food Mayhem
Pumpkin Caipirinha
Pumpkin Caipirinha Cocktail – FitSugar
A Taste of Brazil for Thanksgiving – Drinks for the House
Pumpkin Caipirinha Recipe – The Daily Meal
Pumpkin Rum
Hot Pumpkin Buttered Rum – theKitchn
Pumpkin Punch with Cinnamon-Infused Rum – Serious Eats
Pumpkin Shots
Here are a few pumpkin shot recipes to keep your Halloween party going or end Thanksgiving dinner in style.
Pumpkin Pie Vodka Shot – Sweetology
Pumpkin Pie Shot – Boozeworthy
Pumpkin Pie Shots – 1 Fine Cookie
Flaming Pumpkin Pie Shot – Drink Nation
Pumpkin Pie Shot – Midnight Shots
Here's a video so that you can get the full flaming pumpkin shot effect:
You can also find recipes for pumpkin pie jello shots at Better Recipes, Tasting Table or Skinny Mom.
Want an alternative to the classic pumpkin pie shot? Try the Pumpkin Cheesecake Shot from Single Minded Women and Pumpkin Pudding Shots from Wine Girl. Also consider the Smashing Pumpkin Shot from Food.com or I'm Not Obsessed, and the Cherry Pumpkin Shot from Spirit Drinks.
You didn't find enough drink recipes? Try our Halloween drinks.