Halloween Drinks and Cocktails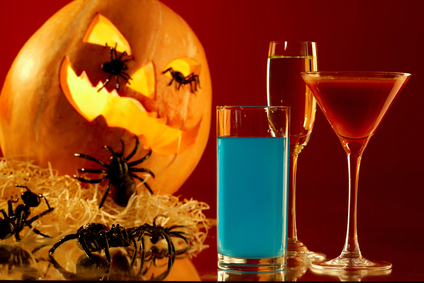 There are hundreds of different Halloween drinks online. So if you are planning a Halloween party, you should serve up some spooky Halloween cocktails or kid friendly Halloween drinks rather than the ordinary assortment of party drinks.
This is probably the largest collection of links to Halloween drink recipes on the internet. We hope that you find a few favorites to serve at your Halloween party. You may also want to see our list of pumpkin cocktails as well.
Halloween Cocktails
9 Ultra-Creative Halloween Cocktails – Hostesss with the Mostess
Top 10 Halloween Cocktails – Endless Simmer
Halloween Cocktails and Drink Recipes – Martha Stewart
Spooktacular Halloween Cocktails and Drinks – Esquire
Halloween Drink & Punch Recipes – Better Homes and Gardens
Four Hauntingly Cool Halloween Cocktails – Glam
Throw a Halloween Cocktail Party – Oprah
Cocktails for your Halloween Party – Cooking Channel
Halloween Drinks – What to Drink
Halloween Cocktails – Instructables
Halloween Cocktails: Witches' Brews – Williams-Sonoma
Spooky Halloween Cocktails – Good Morning America
Creating Spooky Alcoholic Drinks – Divine Dinner Party
Halloween – Creepy Cocktail Recipes – Food Network
Halloween-inspired cocktails – South Jersey Times
Recipes for Halloween-worthy Drinks – Washington Post
12 Candy-Themed Cocktails – Drink of the Week
Top 10 Halloween Party Drinks – DIY Reviews
Haunting Halloween Cocktails – About.com Cocktails
Halloween Drinks – Drink of the Week
10 Halloween Cocktail Recipes – Canadian Living
Halloween Sangria – The Spokesman-Review
Halloween Cocktails – Creepy Bubble Fun! – Dabbled
13 Halloween Drink Recipes to Scare Up Good Times – Wise Bread
Spooky Sips: 8 Halloween Cocktails and Drink Recipes – Delish
7 Great Pumpkin Cocktail Recipes for Halloween – Serious Eats
Vampire Kiss Martini – Cooking with Sugar
Halloween Drinks – Ask Men
Halloween Drink Recipes – Food.com
Halloween Cocktail Recipes – Cocktail Enthusiast.
Halloween Drinks – Mr. Booze
Halloween Drink Recipes – Marie Claire
Halloween Cocktail Experiments – Not Martha
10 Halloween Cocktail Recipes – Happy Hour Magazine
Sinfully Sweet Treats – Nightclub.com
Halloween Cocktail Recipes – Bourbon Blog
Halloween Drink Roundup – One Pretty Thing
Halloween Cocktails Needn't Be Frightful – Wall Street Journal
Spooky Halloween Spirits – Martha Stewart
Halloween Liquor Recipes – Yummly
Halloween Cocktail Recipes – Sun Orchard
Killer Cocktails from Cockspur Rum – Lushworthy
13 Haunting Halloween Cocktails for your Party – Today's Drinker
Goth and Horror Cocktails for Halloween – Dark Side of the Net
Our Picks for Haunting Halloween Cocktails
10 Halloween Cocktails – Food Republic
Scary-But_Sweet Halloween Cocktails – Campus Talk Magazine
Scary Good Spirits & Drinks – Drink Spirits
Spice up a Costume Party with Spook-tacular Cocktails – Toronto Sun
Halloween Cocktails – Cocktail Times
Halloween Vodka Cocktail – Miss A
Spicy, Delicious Halloween Cocktails – Betty Confidential
Halloween Cocktails 2011 – Cocktail Hacker
The Creepiest of Drinks: Top Five Halloween Cocktails – SF Weekly
6 Spook-tacular Halloween Cocktails – YumSugar
Halloween Cocktail Roundup – Dump Your Frump
22 Easy-to-Make Spooktacular Halloween Cocktails – Hollywood Life
Bloody Halloween Cocktails and Shots – Mystery Fanfare
Halloween Cocktails – Food & Wine
Get a Chill with Halloween Party Drinks – LAist
Frozen Pumpkin Mudslides – Cupcake Project
Planning Your Halloween Party Drinks – Every Shade in Between
Halloween Shots and Shooters
If you want to spice up your Halloween party, consider making one of these Halloween shots for your guests:
10 Horrific Halloween Shots – Phoenix New Times
Candy for Adults – That's the Spirit!
Conjuring Up Halloween Shots – The Intoxicologist
Halloween Jello Shots
The classic college party drink, the jello shot, will also make its appearance at Halloween parties around the country. Here are links to a variety of different recipes for your Halloween jello shots:
Halloween Jell-O Shots – My Science Project
Halloween BITES: Creepy Jigglers/Shooters – Hostess with the Mostess
Halloween Jello Shots – Food.com
Top 10 Halloween Jello Shots – DIY Reviews
Fat & Happy: Halloween Jello Shots – Gozamos
Halloween Jello Shots – Kitchen Daily
Non Alcoholic Halloween Drinks
You can compile a massive list of alcoholic drinks from the links above. But you don't have to drink alcohol to enjoy a Halloween themed drink. There are plenty of Halloween drinks for kids, designated drivers and adults who don't drink. Here are a few:
Halloween Drinks – Kraft
Kids' Halloween Drinks – Spoonful
Kid Friendly Halloween Drinks – Celebrations
Fizzy Pumpkin Halloween Party Drinks – Homes.com
Eerie Kid Friendly Halloween Drinks – Home Seasons
Non-Alcoholic Halloween Party Drinks – Woman Tribune
Drinks for the Kiddies – Countess Blood
Fabulous Non-Alcoholic Halloween Punch and Drink Recipes
Non-Alcoholic Halloween Drinks – Angela Harris on HubPages
Ghoulish Drink – Woman's Day
Kids' Halloween Drinks – Disney Family Fun
Additional Information
Don't forget to make some Halloween ice and these Halloween Drink Labels for kids and adults from Centsational Girl
Science guru Steve Spangler shows you how to make your drink glow in the dark: