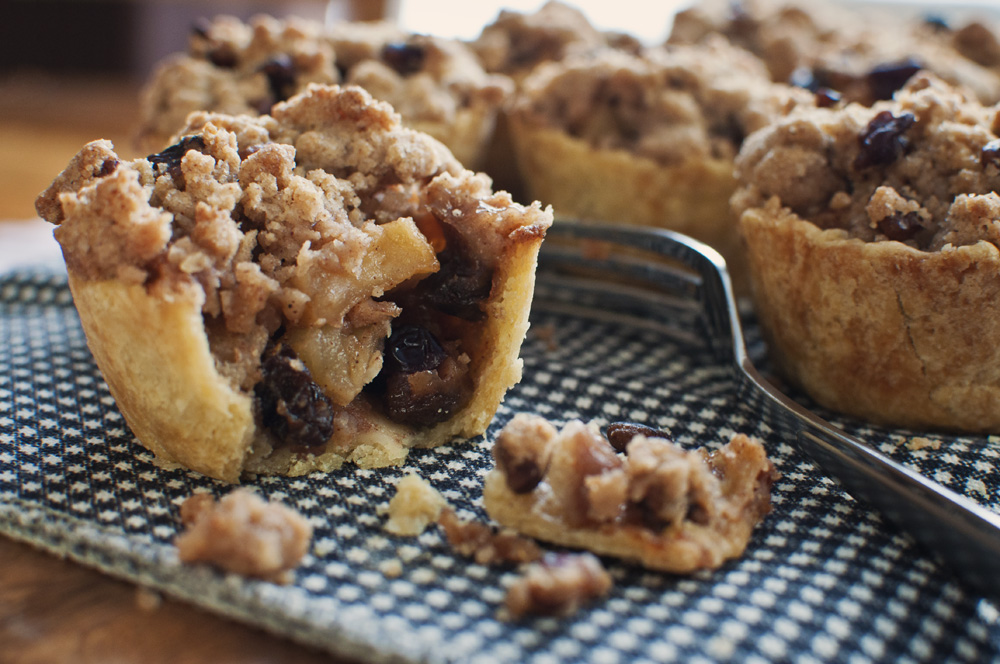 "If you wish to make an apple pie from scratch, you must first invent the universe." –Carl Sagan
I've long held the suspicion that apples were invented so that humans could make them into pie. I mean, if Carl Sagan thinks so, I must be on the right track, right? Luckily, the universe has already been invented, so there's only one thing left to do.
I don't have to tell you that fall is the perfect time for making apple pie, what with the bounty of fresh apples – their sweet-tart scent filling the brisk air. Pie is just a natural vehicle for enjoying all those Honeycrisps, Mutsus, Pink Ladies, Galas, and Granny Smiths.
But as much as a fresh apple pie is enjoyable to eat, it can be intimidating to make and even trickier to serve. My solution? Miniature pies, baked in a muffin tin.
With press-in crusts and a simple crumb topping, these cupcake-sized desserts don't require any special rolling, weaving, or fluting skills to create impressive little treats. Sturdy and self-contained, these pies offer a satisfying (but reasonable) portion that can be held in your hand – no jars, plates, or utensils required! Which makes them the perfect thing to share with friends on a crisp autumn hike, while inhaling the sharp smell of a distant wood-burning fire, listening to the sound of leaves crunching beneath your feet — and struggling to think of anything better in the whole universe.
Mini Apple Pies with Crumb Topping
(Prep: approx. 1 hour :: Bake: 25–30 minutes || Makes 12 mini pies :: Serves 1–12)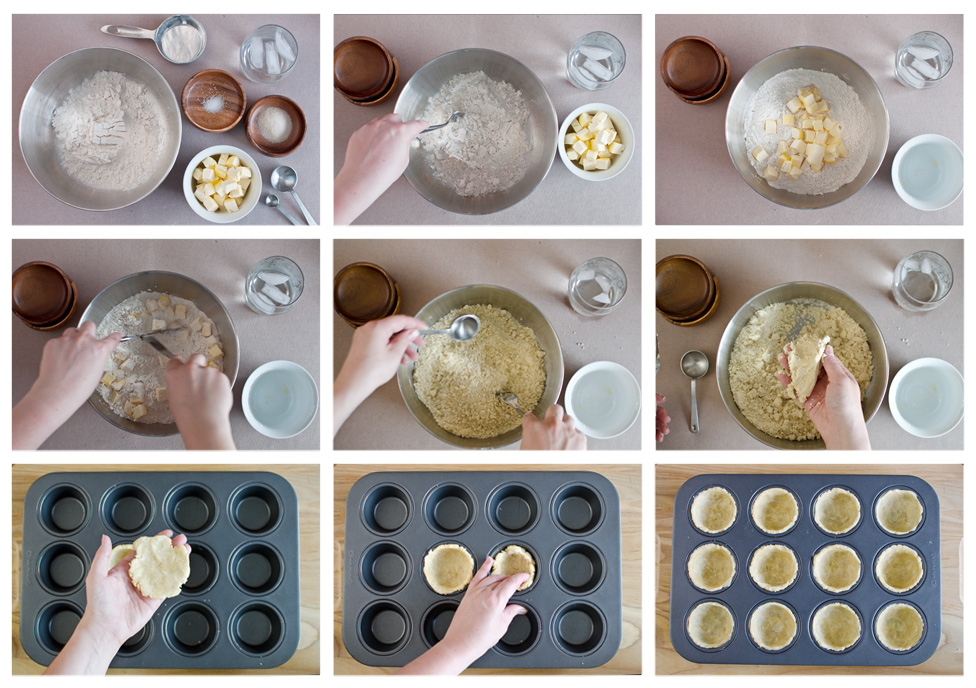 For the crust:
1 1/2 cups all-purpose flour
1 Tbsp sugar (granulated or raw cane sugar)
1/4 tsp salt
10 Tbsp cold butter, cut into 1/2-inch pieces
3 Tbsp ice water

To make the crust:
1. Combine flour, sugar, and salt in medium bowl; blend well.
2. Add butter and cut into mixture (with two knives crisscrossed, a dough blender, a food processor with dough blade, or your fingers) until mixture resembles coarse crumbs.
3. Add ice water, one tablespoon at a time and tossing with a fork after each addition, until dough just begins to come together.
4. Press dough together and divide into twelve pieces.
5. Take one piece of dough, form it into a ball and flatten it between your hands until it is about 1/2 inch thick. Center the flattened dough over a muffin cup — use a nonstick pan to ensure pies will be easy to remove after baking. Gently press the dough into the bottom of the cup, spreading it up along the sides with your fingers. (Take care not to stretch the dough or make it too thin — the thickness should be somewhere between 1/8 and 1/4 inch.) To make removing the pies easier, make sure the dough extends about 1/8 inch above the top of the cup. Repeat for each muffin cup.
6. Cover with plastic wrap and refrigerate for at least 30 minutes.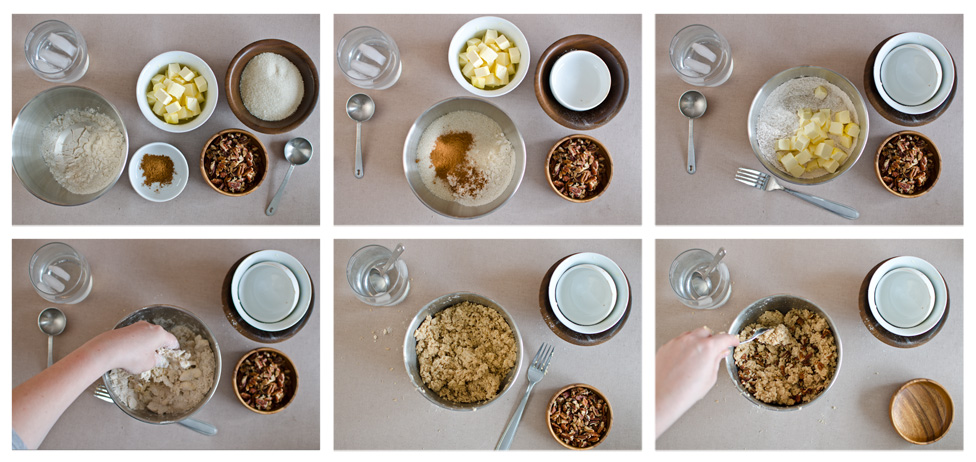 For the crumb topping:
1 cup all-purpose flour
1/2 cup sugar (granulated or raw cane sugar)
1 tsp cinnamon
6 Tbsp cold butter, cut into 1/2-inch pieces
1 Tbsp ice water
1/2 cup chopped pecans (optional)

To make the crumb topping:
1. Combine flour, sugar, and cinnamon in a small bowl; blend well.
2. Add butter and blend with fingers until mixture resembles coarse meal.
3. Add ice water and toss with a fork to form a crumbly mixture.
4. Add pecans and toss until evenly distributed throughout mixture.
5. Cover with plastic wrap and refrigerate for at least 20 minutes.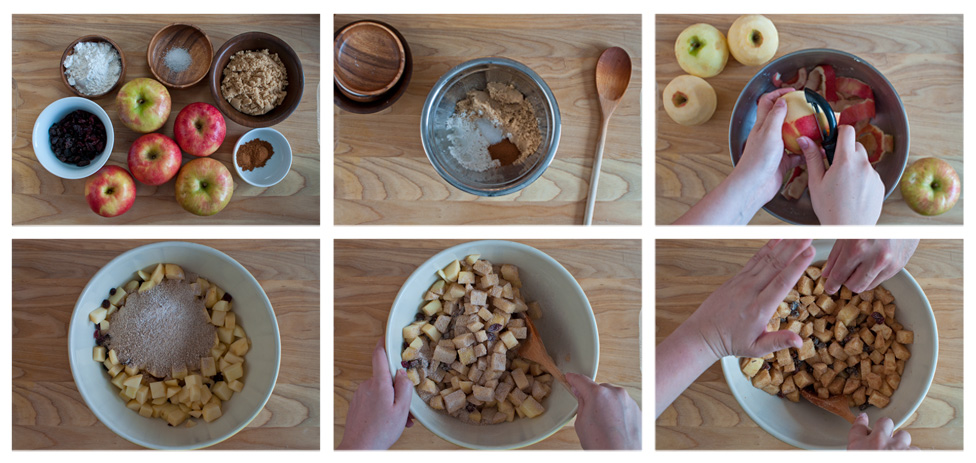 For the filling:
5 medium apples
1/2 cup packed light brown sugar
1/4 cup all-purpose flour
1 tsp cinnamon
1/2 tsp salt
1/4 cup raisins (optional)
1/4 cup dried cranberries (optional)

To make the filling:
1. In a small bowl, combine brown sugar, flour, cinnamon, and salt.
2. Peel and core apples. Slice thin and cut into half-inch pieces. Place in a large mixing bowl.
3. Add sugar mixture, raisins, and dried cranberries to apples. Toss until apples are evenly coated. Deflect sneaky husbands as necessary.
1. Spoon apple mixture into crust, filling each crust to the top.
2. Generously sprinkle crumb mixture on top of each pie.
3. Bake for 25–30 minutes, until apples are bubbly and crumb begins to brown. Cool on a wire rack.
4. To remove pies from the pan, gently twist each pie until it releases from the sides of the cup and spins freely. Carefully lift each pie out of the pan. (Alternatively, after loosening the pies, hold a tea towel-lined cookie sheet over the pan and carefully flip the pan and cookie sheet over, so that the pies fall out onto the towel-lined cookie sheet.)