The Boston Calling Music Festival is a three day city wide celebration held at City Hall Plaza in downtown Boston. This years event combines with the annual Sam Adams Oktoberfest to give us a huge event on September 5-7, 2014. Boston Calling has always been one of the best music festivals in the country. This years entertainment includes Lorde, The National, Nas x The Roots, and many more bands.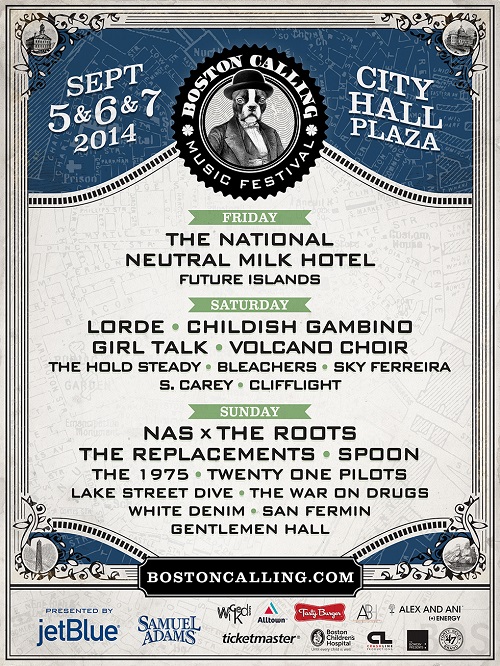 Tickets for Boston Calling come in a wide variety of prices and packages. For example the one day Friday pass is $50. The Saturday or Sunday one day passes are $75. There are also one day and three day VIP passes.
Promoters recommend you bring sunscreen, hats, sunglasses, driver's license, comfortable shoes, a small camera, and possibly food. You can not bring a backpack, spray guns or bottles, laser pens, glow sticks, metal cans, canteens, pet, bicycles, umbrellas, candy, chairs, or other metal type objects.
Sam Adams Oktoberfest
You can wear a costume including Oktoberfest type lederhosen and dirndl. This is part of Samuel Adams 30th anniversary celebration. They will have German sausages, lawn games, pretzels, a beer stein hosting competition, great selection of beers, and an Oktoberfest style beer tent.
Boston Calling
The music event is one big party. In past years the audience consisted of all ages. Children under the age of 10 are free. With the addition of Oktoberfest there will be large parts of the event off limits to those under the age of 21. They feature two live stages, lots of food booths, restrooms, souvenirs, and contests as part of the music event. Note the music ends at 11:00 pm.
Featured Entertainers:
Lorde: A New Zealand pop star
The National: Indie rock group
The Replacements: A legendary rock band
Nas x The Roots: Jimmy Fallon's in house band on Tonight.
Childish Gambina: Rapper
Sky Ferriera: singer
Neutral Milk Hotel: alternative rock
Check out the preview video of rock groups playing at Boston Calling.
The primary sponsors for this huge event include JetBlue, Samuel Adams, Capital One, Xfinity, Tasty Burger, ticketmaster, Boston Children's Hospital, and more local sponsors.
Funtober continues to inform you about Fun Things To Do This Fall. This is day 81 on our Countdown to Halloween. Follow our blog series at Funtober.