Universal opens their new maze AVP: Alien vs. Predator at Halloween Horror Nights on September 19th
The Halloween Horror Nights attraction AVP: Alien vs. Predator is featured at both the Universal Orlando Resort and Universal Studios Hollywood. Universal Orlando has announced complete details on their website. The Universal Studios Hollywood HHN site has only preliminary details.
The Alien movie and the Predator movie are two of my all time favorite movies. This is the 35th anniversary year for Alien. The combined movie AVP is now 10 years old. The new maze AVP is expected to be one of the industry's most advanced frights. Featured as a giant maze guests are put in the middle of this epic battle for survival. Hunter and prey are both in America with you in the middle of the action.
Universal went right to the source in a collaboration with Twentieth Century Fox. Even the original character designers were hired and supplied the molds used to make the original masks. It is as close as possible to the alien encounters depicted in the movies.
Since the movie predates many of you it featured Sigourney Weaver as Ripley who was part of a commercial expedition for mining where the explorers bring a creature back on board their ship. The creature grows inside a crew member until it explodes on the scene. Ripley is the only survivor who makes it back to earth. Even better was Alien 2 in which Ripley escorts a group of marines back to the planet to see what went wrong with their mining operation. This sequel is better than the original with a complete explanation about the aliens. Sigourney Weaver became a cult action figure for her action scenes in Alien. The younger generation probably remembers her from the movie Avatar.
Predator was Arnold Schwarzenegger's blockbuster movie released in 1987. Many including myself consider this his best work. The villain in Predator stalks the rainforest in South America hunting for a group of US military specialists. Arnold is the only one who makes it our alive. In Predator 2, Danny Glover is a police officer who searches for a killer. The Predator has come to Los Angeles to hunt.
Both Predator and Alien feature all star casts who make both movies memorable. Interesting to note that Bill Paxton had a major acting roll in both the sequels. Now to be completely honest, I never saw the sequel AVP 10 years ago. The characters were both so spectacular I did not want to see either alien or predator lose to each other. I never wanted to see King Kong and Godzilla fight each other for the same reasons.
Universal continues to release information on new and returning attractions for Halloween Horror Nights. Funtober believes Orlando and Hollywood are two of the most popular haunted attractions in the country.
Dracula Untold Comes To Halloween Horror Nights This Fall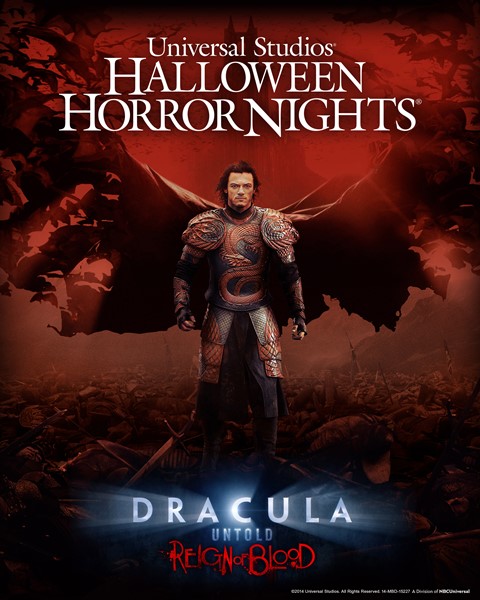 Vlad Tepes was the 13th century ruler who later inspired Bram Stoker's Dracula character. Universal brings the untold story of Dracula to Halloween Horror Nights as a unique haunted house. Dracula Untold: Reign of Blood will highlight the Transylvania story of this blood thirsty tyrant. View the video below about the Dracula.
While dates and tickets have not yet been released for Hollywood the Orlando Resort will be open for Halloween Horror Nights on:
Dates Halloween Horror Nights are open in 2014:
September 19, 20, 25, 26, 27, 28
October 2, 3, 4, 5, 9, 10, 11, 12, 15, 16, 17, 18, 19, 22, 23, 24, 25, 26, 29, 30, 31
November 1
We continue to update our information about Halloween Horror Nights. Read our earlier article "Universal Makes News With New Halloween Attractions". Continue following the Funtober Blog as we countdown to Halloween with our Fun Things To Do.