Universal Orlando was in the news this week with big announcements about their fall event Halloween Horror Nights. The most popular haunted house attraction in the country with 360,109 Facebook "likes" was also the top haunted house on last year's Funtober Top 100 Haunted House list. The big news was that the Syfy channel and Universal will bring the popular horror show "Face Off" as a terrifying new street experience. This is day 105 as we countdown to Halloween.
Last year the entire park was themed after AMC's The Walking Dead television series with lots of zombies roaming the park. This year The Walking Dead will return as the largest maze in Halloween Horror Nights history. Roaming the park will be street creatures based on characters designed by the special effects artists from Face Off.
Another update just in with the addition of the scarezone The Purge: Anarchy. Based on the hit Universal Picture blockbuster movie The Purge, the realistic scarezone should provide lots of fright. If you aren't familiar with the movie the premise is that the government "purges" the population one a year to keep the crime rate below 1%. Five people are at the mercy of the crowds on this night and how far will they go to survive. What are you willing to do?
Update: Read our 8-9-2014 update "Universal Opens AVP Alien vs Predator Maze Sept 19th".
Halloween Horror Nights #HHN24 brings you 8 terrifying haunted houses, multiple scary street experiences, and outrageous live Halloween shows. This experience is meant for adults. Take the kids to Disney if you want mild. Try Universal if you want screams. Many popular rides are open at night including Transformers: The Ride 3D, Hollywood Ride Ride Rockit, Revenge of the Mummy, Men in Black Alien Attack, The Simpsons Ride, and Despicable Me Minion Mayhem.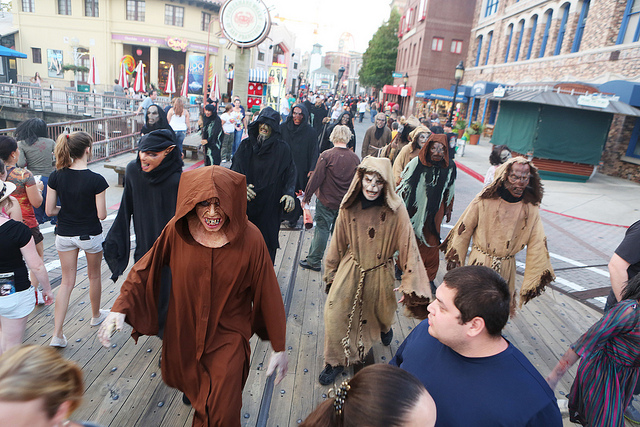 The announcement applies only to Universal Orlando as news about Universal Hollywood has not yet been announced.
Also in case you missed it, Universal also is teaming up this year with filmmaker Robert Rodrigues and El Rey Network's From Dusk Till Dawn television series. Construction has been underway for months on an all new attraction with lots of rumors flying about as to the theme. From Dusk Till Dawn is the menacing new haunted house which brings new meaning to fear at a biker bar.
Hard to believe this haunt attraction just keeps getting bigger and better each year. Now open for 28 nights as a separate Universal event with a separate from daytime attraction ticket needed. The new Harry Potter attraction Diagon Alley opened in July but will not be part of Halloween Horror Nights.
Single night admission tickets are $95.99. You can add on to a regular daytime park ticket for $41.99 from Sunday through Thursday. Friday add on tickets are $56.99. Saturday add on tickets are $72.99. You do not have to use the add on ticket the same night as your daytime ticket. There are lots of packages, VIP, express options available so be sure and look around. What ever you do, buy your tickets well in advance.
Dates Halloween Horror Nights are open in 2014:
September 19, 20, 25, 26, 27, 28
October 2, 3, 4, 5, 9, 10, 11, 12, 15, 16, 17, 18, 19, 22, 23, 24, 25, 26, 29, 30, 31
November 1
Continue following the Funtober Blog as we countdown to Halloween with our Fun Things To Do.