Lilly Deane is someone who loves to have fun and says that one of the ways she does this is by organizing kids parties. By sharing kiddie party tips at
Madfun
and in blogs like Funtober. She aims to help parents be able to organize one on their own. In this post, she will be giving you some Halloween kid's party ideas.
When the calendar turns to September, people now start to think of the more fun holidays about to be celebrated in the coming months. For adults, celebrating may begin earlier with Oktoberfest along the way. But for kids, Halloween is the time when the holidays begin, put on their favorite costumes, play scary
games with friends
, and visit the neighbors to ask for some treats. Want to know how to make this day even more special for your own kids? Why not throw a big party?
Here are some ideas you can try.
Kiddie Halloween Party Ideas
1. The Bat Cave.
Halloween is often associated with the color black. But still, kids would usually want their party to follow a superhero theme. And who else is more popular at donning a black outfit than Batman? Since painting the whole house is out of the question, what you can do is just give it a cave feel with the use of bat wall décor just like this one from
chengand3kids.blogspot.com
.
2. Crawling Spiders.
And if your kids are not so much into black but still want to have that superhero Halloween party theme, Spidey has the webs that you could use as a party décor idea. You can weave your own spider webs with the use of white strings or simply purchase ready-made ensembles just like the ones below as seen in
College Magazine.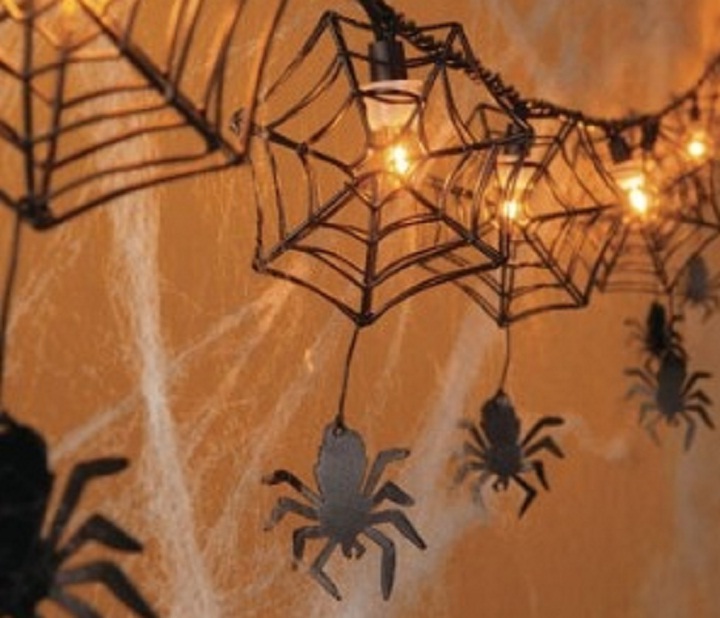 3. Purple Glamour.
If your kids are girls, pink is out of the question even when this is going to be an exclusive indoor party with their girlfriends for the Halloween. Choose purple instead and combine this with black. This one from
enterny.com
screams spooky royalty!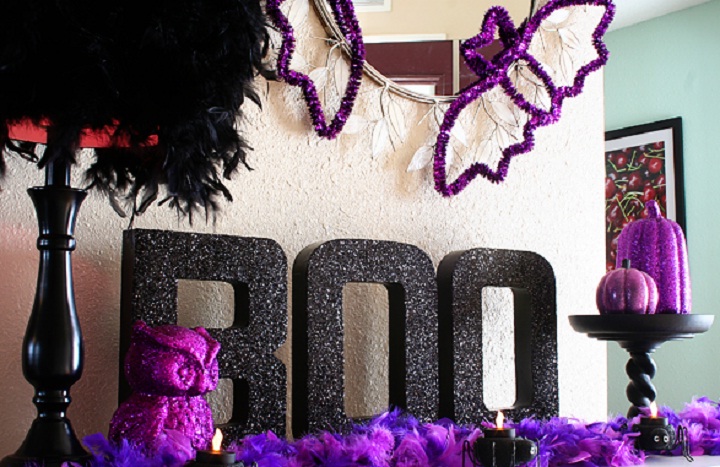 4. Cinderella in Black.
One of the most popular princesses to ever grace the big screen is Cinderella. For Halloween, instead of going for Disney's blue dress theme, why not get into the Halloween spirit and turn the pumpkin into black like this one from
The Dressing Room
.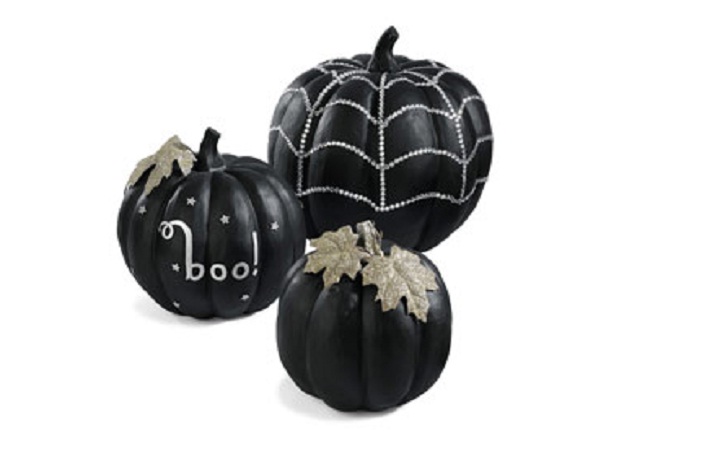 5. Scary Photo Adventure.
Aside from the décor, you should also have some fun kids activities to keep them from getting unruly. Picture taking is one way to do this. Instead of the usual photo booth, what you can do is provide your own backdrop with
carved pumpkins
like this one from
Kidsomania
and hold a scary photo contest.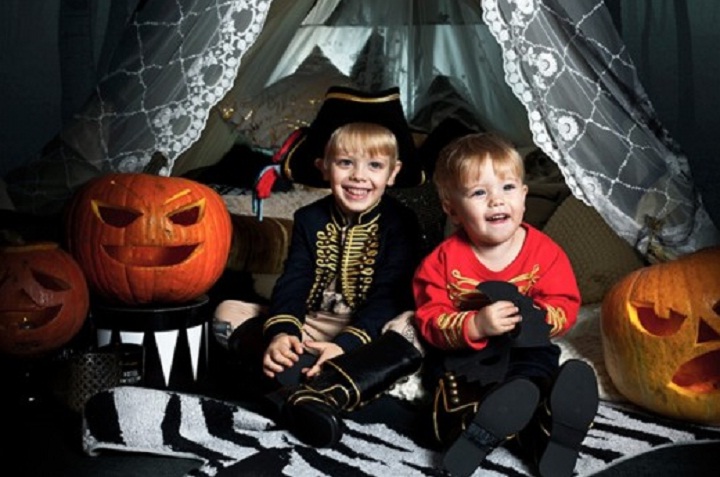 6. Let the Dark Glow.
Money should not keep your kids from missing out of the celebration. One cheap way to decorate for the season is with the use of glow sticks.
SheKnows
showed these plastic cups which had glow sticks in them.
7. Feast for a Monster.
For dinner or snack, you can serve gross food inspired by mutilated human body parts. Just find some food recipes for kids online that follows this theme. The ones below are lady fingers made from bread sticks, featured in
Living Locurto
.
8. The Mardi Gras Ball.
Let the kids experience being a prince or princess for a night with a masked Halloween party. Sponsoring their cute masks should be easy since you can easily buy these from
Aliexpress
for as low as one dollar. Some sellers even offer free shipping.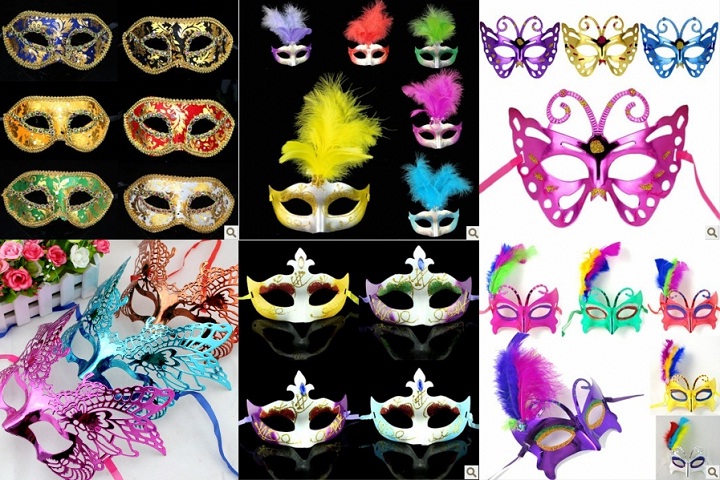 9. Christmas Prelude.
Since December is not that far from November anyway, use Halloween as an early celebration for Christmas. You can make this possible by fusing the two holidays together with your decorations. This wreath in
Designs by Vanessa
is evidently Halloween with its extensive use of black tulle. But notice how it's evidently Christmassy with its details of green, orange and yellow that pop out from the morbid color.
10. Owl on the Prowl.
Crows are all-time favorite decors during Halloween. But you can also use owls as an alternative. They have mysteriously big eyes that seem to follow you anywhere. Have these perched on your porch's railings like this one from
HGTV
.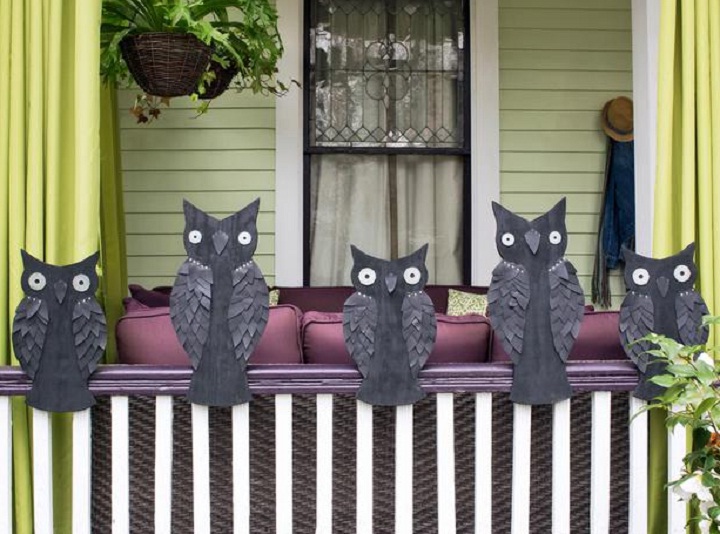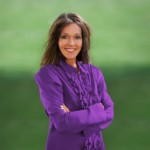 About Lilly Deane:
I am one of the content curators at
Madfun
and other kids websites. Aside from writing, I also spend most of my time with my young family. I also love to paint, cook and organize kiddie parties.
Let's all thank our Guest Author Lilly Deane. Funtober continues to bring you talented guest writers such as Lilly who are experts in their respective fields. Thanks for reading our
blog as we countdown to Halloween
. There are 48 days left to Halloween.