Here are some of the top amusement parks in the country with Halloween events. Our number one attraction is Universal's Halloween Horror Nights in Orlando. They continue to pour money into this fall attraction with scary scenes from the Walking Dead, Predator, Alien and so many more.
However you don't have to do to Disney, Universal, or Florida to take advantage of these extra special events. All across America there are Six Flags, Cedar Fair, and popular local parks with terrific Halloween activities. Some have great rides while others go all out on music and fun. Most makeover their park for the Halloween season. Some like Universal go all out for a really scary event meant only for adults. Others have scare free zones ideal for children.
If you are looking for an hour of fun try your local haunted house. If you are looking for an entire evening of fun then these just might do the trick. They cost more but it is hard to beat the entertainment value.
Amusement Parks By State With Our Favorite Halloween Events.
California
Great America's Halloween Haunt – 4701 Great America Parkway, Santa Clara, CA 95054
The amusement park Great America operates a Halloween haunt on Friday, Saturday, and Sunday beginning September 26th. The haunt runs from 7 pm to midnight. The regular park is open Saturday and Sunday in October from 10 am to 5:30 pm. There are several days and nights that are family friendly including Snoopy's Trick or Treating. Check website advance ticket prices.
Dates Open 2014:
September 26, 27
October 3, 4, 10, 11, 17, 18, 25, 31
November 1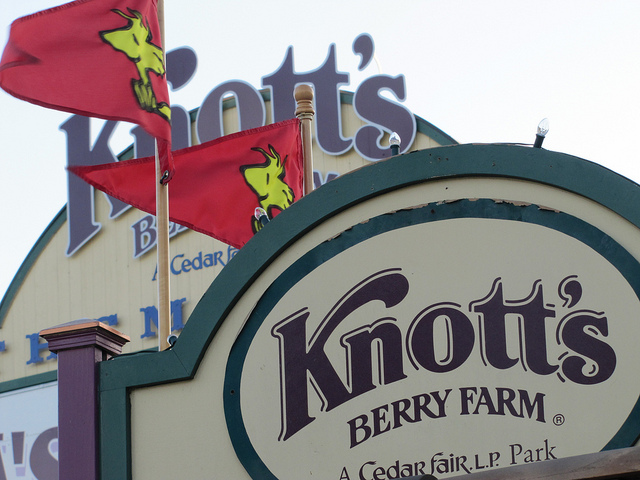 Knott's Scary Farm – 8039 Beach Blvd., Buena Park, California
Now part of Cedar Fair this Halloween event continues its forty year history of quality family entertainment. The Scary Farm in the month of October generates so much activity it is responsible for nearly half the annual revenue for the whole park. The theme is Nowhere to Hide and once you are inside the park the mazes, shows, rides, actors, and haunts really bring the scares to you. It features 14 mazes and six Halloween shows. It is one of the largest Halloween events in the country. Read our article on the Funtober blog about Knott's Scary Farm.
Dates Open 2014:
September 25, 26, 27
October 2, 3, 4, 5, 9, 10, 11, 12, 16, 17, 18, 19, 22, 23, 24, 25, 26, 29, 30, 31
November 1
Halloween Time At Disneyland – Anaheim, California
Disney has an actual event called Halloween Time that runs daily from September 12th through October 31st, 2014. The park has been converted into a not scary but beautifully displayed Halloween theme. You get all the Disney rides both day and night except for the 13 nights that are reserved for Mickey's Halloween Party. Both are lots of fun for the kids and adults alike. We have written a tips article about Halloween Time , a Guide to Mickey's Not So Scary Halloween Party, and we have another article comparing the Mickey's Party in California with that party in Orlando. Check them out for lots of information.
Dates Open 2014:
September 12, 13, 14, 15, 16, 17, 18, 19, 20, 21, 22, 23, 24, 25, 26, 27, 28, 29, 30
October 1-31
Mickey's Halloween Party – A themed event at Disneyland during Halloween Time.
Dates Open 2014:
September 26, 30
October 3, 6, 8, 10, 14, 17, 20, 22, 24, 27, 29, 31
Halloween Horror Nights at Universal Studios Hollywood – 100 Universal City Plaza, Universal City, California
Once again Universal Studios runs the Halloween Horror Nights attractions now in its 14th year. Explore some of the haunted houses and attractions in the theme park. Tickets online for Horror Nights and park admission are as low as $69. Don't miss attractions Walking Dead, Evil Dead, Insidious, Black Sabbath, El Cucuy, or Universal Monsters. Daytime park admission is separate. Night time hours are generally 7 pm until 2 am. Funtober names Halloween Horror Nights Hollywood the #1 Haunted House in California.
Colorado
Elitch Gardens Fright Fest – 2000 Elitch Circle, Denver, Colorado 80204
Elitch Fright Fest consists of four haunted houses located on the grounds of the Elitch Gardens theme park. Elitch is family by day and fright by night. It is open every Friday, Saturday, and Sunday nights in October. The park has a science lab that works with radioactive materials. Test creatures have escaped and are roaming the grounds. Save money on Elitch Gardens tickets and buy online for around $34. The attractions include Ghouls motel, Scream it out, Trick or Treat trail, Vulture, Hay Maze, Hurl, The Awakening, and Freak Show. They also have three very scary attractions called Flesh Factory, Terror Chamber, and Séance for a separate Fright pass for $15 per person.
Dates Open 2014:
October 3, 4, 5, 10, 11, 12, 17, 18, 19, 24, 25, 26, 31
November 1, 2
Connecticut
The Haunted Graveyard at Lake Compounce – 822 Lake Ave, Bristol, CT 06010
The Haunted Graveyard is a full entertainment experience at the amusement park Lake Compounce. It has been open for 13 years. The Haunted Graveyard runs Friday and Saturday nights from dusk to midnight every weekend in October and until 10:00 pm on Sunday nights. The attraction is open on Friday, Saturday, and Sunday from October 4th through October 27th. The ticket price to the haunted house is $22.99. Lake Compounce has a full assortment of amusement rides. The ticket price is $22.99. You can get a combo ticket for both the rides and haunted house for $29.99. Military and group discounts are available. There are 17 dark rides during this event. Also expect to find werewolves, spiders, vampires, witches, demons, and the Grim Reaper among the many attractions at the Haunted Graveyard. The assortment of attractions includes Reapers Realm, Cemetery, Slaughter House, Cornfield, Bat Cave, Zombie Forest, Jungle, Mayan Temple, Dungeon, Fear of Death, and The Mist.
Dates Open 2014:
October 3, 4, 5, 10, 11, 12, 17, 18, 19, 24, 25, 26, 31
November 1
Florida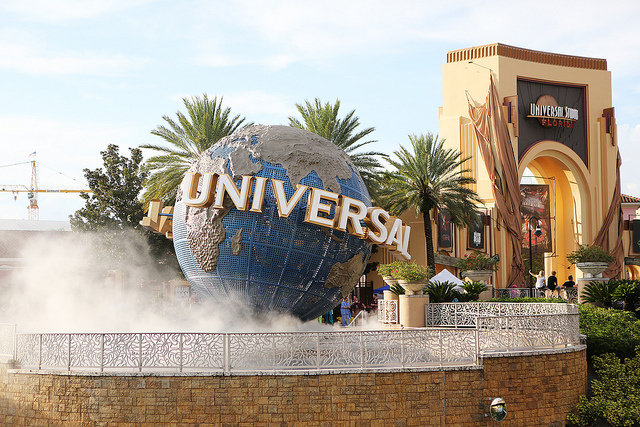 Halloween Horror Nights at Universal Orlando, 6000 Universal Blvd., Orlando, FL
Universal Orlando operates their Halloween attraction for a record 28 nights in 2014. The attraction opens on September 19th. Ticket prices are as low as $41.99 with a day time ticket purchase or $95.99 for a single night purchase. We recommend you explore and buy your tickets online. Many types of park discounts are available in the area. Don't miss any of the 8 haunted houses including The Cabin in the Woods, Evil Dead, or Resident Evil. Funtober names Halloween Horror Nights the #1 Haunted House in Florida.
Dates Open 2014:
September 19, 20, 25, 26, 27, 28
October 2, 3, 4, 5, 9, 10, 11, 12, 15, 16, 17, 18, 19, 22, 23, 24, 25, 26, 29, 30, 31
November 1
Howl-O-Scream at Busch Gardens – 3000 E. Busch Blvd., Tampa, Florida
Another Florida theme park favorite is Busch Gardens Tampa. They have run this Halloween event for over 14 years. HowlOScream runs every Thursday, Friday, and Saturday nights beginning September 26th. The times are 7:30 pm until 1 am. Event is always a fan favorite for both locals and tourists. Tickets start at $45 and go up to $65 based on the date. Check their website for the full range of prices, discounts, and online options. Busch Gardens has a full range of scream attractions including The Basement, Death Water Bayou, Circus of Superstition, Blood Asylum, Dead Fall, Zombie Mortuary, The Experiment, and Ultimate Gamble.
Dates Open in 2014:
September 26, 27
October 2, 3, 4, 9, 10, 11, 16, 17, 18, 19, 23, 24, 25, 30, 31
November 1
Mickey's Not So Scary Halloween Party – Disney World, Orlando, Florida
Disney World operates a night time Halloween experience called Mickey's Not So Scary Halloween Party. It is a separate hard ticket priced between $58 to $77 dollars. It features the Hallpy HallowWishes Firesworks and two Mickey's Boo-to-You Halloween Parades each night. This is one of the best non-scary events in the world. You can find all the popular Disney characters in the park on these nights. Trick or Treat your way around the park. Lots of rides, fun, entertainment, and of course the Haunted Mansion. The entire park is decorated for Halloween.
Dates Open in 2014:
September 1, 9, 12, 14, 16, 19, 21, 23, 26, 28
October 2, 3, 5, 9, 10, 13, 16, 17, 19, 23, 24, 26, 28, 30, 31
Georgia
Six Flags Fright Fest – 275 Riverside Parkway, Austell, Ga 30168.
Fright Fest is one of the largest haunted attractions in the country. They convert Six Flags into a full Halloween haunt with lots of scare attractions and entertainment. Entertainment includes Dr. Fright's Dead Man's Party, and Grouchy Griswold Insult Comic. Fearful Frights include Dr. Fright's Frightorium, Freak Show, Monster Graveyard, Hidden Horror, ZX-1, Cemetery of the Undead, Asylum, The Last Ride and many more. Also many of Six Flags great rides have been re-themed and operating during Fright Fest. Save money and buy your tickets online.
Dates Open in 2014:
September 27, 28
October 4, 5, 11, 12, 18, 19, 24, 25, 26, 31
November 1, 2
Illinois
Six Flags Fright Fest – Gurnee, IL
Great America is one of the Six Flags theme parks located in Gurnee, Illinois about half way between Chicago and Milwaukee. Each October the park re-opens on Friday, Saturday, and Sunday as the ultimate Halloween attraction Fright Fest. It has 5 haunted houses, mazes, shows, midway, food, and lots and lots of rides. They have renamed some of their roller coasters with Halloween themes but others are just too great to change. So if you are into thrills both the haunted houses and roller coasters will put a scare into you. Spend the day, get there early, and bring lots of money. Great America really makes the park a Halloween attractions and has lots of employee-actors dressed to surprise and scare you. Take your entire family, friends, and that special date. Good times will be had by all. Recommended Reading: 5 Travel Tips Six Flags Fright Fest Illinois.
Dates Open 2014:
September 27, 28
October 3, 4, 5, 10, 11, 12, 13, 17, 18, 19, 24, 25, 26, 30, 31
November 1, 2
Indiana
Happy Halloween Weekends – Holiday World Theme Park – Santa Claus, IN
Did I mention they open the park at 11AM on Saturday and Sunday from September 20 – October 26, 2014 for their Happy Halloween Weekends theme. Holiday World is decorated for Halloween and includes two amazing corn mazes, hayrides, a 3D Theater presentation, Halloween candy, pumpkins, a Mummy's Treasure Maze, and stage shows including Graveyard Smash. During Saturday and Sunday afternoons they feature a costume dance party hosted by Kitty Claws. On Saturday nights they close at 8 pm with a Halloween themed laser light show. Since they are open Saturday's past sundown, they also feature coaster rides in the dark. Halloween ticket prices online (in advance) are $24.95. This may be one of the best Halloween party values around the country.
Dates Open in 2014:
September 20, 21, 27, 28
October 4, 5, 11, 12, 18, 19, 25, 26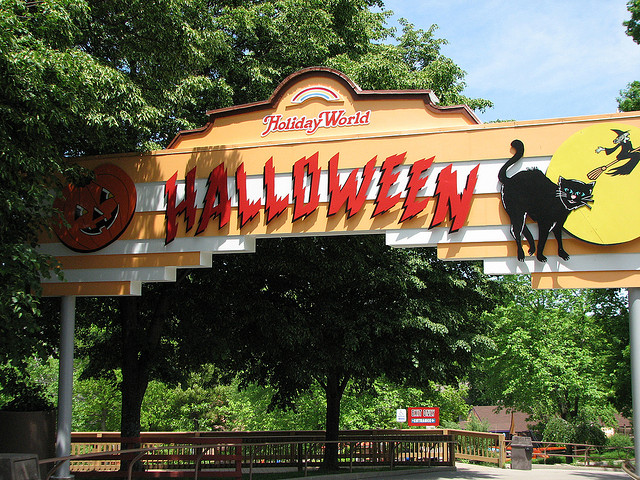 Maryland
Fright Fest at Six Flags America – 13710 Central Avenue, Bowie/ Mitchellville, MD
Fright Fest is the weekend Halloween event at Six Flags. Ticket prices vary but generally are around $34.99 for admission without the haunted houses or $46.99 with the haunted houses . As you might expect in a park this size there are multiple entertainment options. Entertainment includes Blood Moon stunt terror, theater or Magic, and Dead Man's Party. There are many haunt attractions such as Voodoo Curse, Necroville, Spider Outbreak, Haunting of Hall Manor, Twisted Fair Tales, and many more. Most of the fantastic rides have been re-themed for this event. It is open September 28-29, October 5-6, 12-13, 18-20, and 25-27.
Dates Open in 2014:
September 27, 28
October 4, 5, 11, 12, 17, 18, 19, 24, 25, 26, 31
November 1, 2
Missouri
Worlds of Fun Halloween Haunt – 4545 Worlds of Fun Avenue, Kansas City, MO 64161
The Halloween Haunt at Worlds of Fun is beginning Friday, September 13th. Tickets options include the full park. Check their website for advance purchase discounts. World of Fun Haunt transforms into a horror filled nightmare on weekends. It features terrifying creatures and spooky thrill rides that will haunt your dreams. This is a Cedar Fair park so you know it must be good.
Dates Open in 2014:
September 13, 14, 20, 21, 26, 27, 28
October 3, 4, 5, 10, 11, 12, 17, 18, 19, 24, 25, 26, 31
November 1, 2
Fright Fest at Six Flags St. Louis – 4900 Six Flags, St. Louis Railroad, Eureka, MO 63069
Fright Fest opens October 3rd. Buy your tickets online for $44.99 without the haunted houses or $59.99 with the haunted houses. You save $15 from at the door prices. As with all Six Flags this is their Halloween haunt and entertainment event for October. While a little on the expensive side with multiple haunted houses and exciting thrill rides it will be something you will remember the rest of your life. Lots of entertainment value and fun at Fright Fest. The entertainment includes Deadman's Party, Love at Frist Fright, Final Freakout, VooDoo Comedy Hypnosis Show, and Freak Out Circus. Their frights include Insanity Alley, Zombieville, Zombie Paintball Apocalypse, The Slaughter House, Sinister Clowns, and Blind Fury. Many of their rides have been re-themed for Halloween.
Dates Open in 2014:
October 3-5, 10-12, 17-19, 24-26, 31
November 1, 2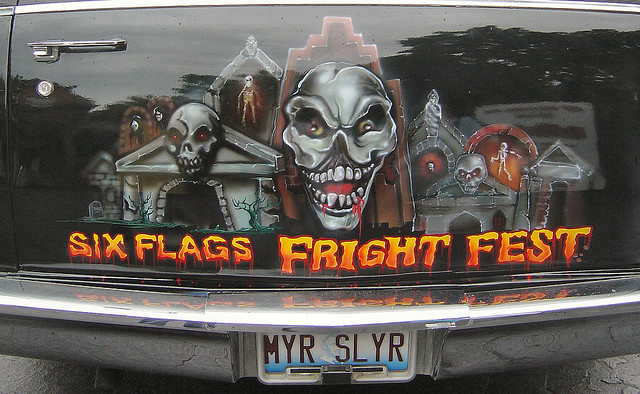 New Jersey
Fright Fest at Six Flags Great Adventure
North Caroliina
Scarowinds Halloween Haunt – 14523 Carowinds Blvd., Charlotte, NC 28273
Scarowinds is the scare attraction at the popular theme park Carowinds. A Cedar Fair attraction so you can expect lots of exciting rides, midway entertainment, a clean park and did I mention lots of family type scares. In 2014, it starts on Friday, September 12th. The park is open from 7 pm to midnight. Ticket prices vary greatly from $26.99 to $40.00 for basic tickets online. Save money online. Check their website for discounts. This is a full entertainment park so come early and stay late.
Dates Open in 2014:
September 12, 13, 19, 20, 26, 27
October 3, 4, 5, 10, 11, 12, 17, 18, 19, 24, 25, 26, 31
November 1
Ohio
Halloween Haunt at King's Island – 6300 Kings Island Drive, Mason, Ohio 45040
Kings Island Haunt takes over the theme park on Friday and Saturday nights from September 19th through November 2nd. The Friday times are 6 pm to 1 am. Most Saturday times are 11 am to 1 am. Caution since zombies, psychotic clowns, and twisted souls take over the park it is too intense for children under the age of 13 at night. Enjoy the park rides, featured haunts, mazes, and shocks. New attractions coming for 2014. If you have a Gold Pass season ticket you get in for free.
Dates Open in 2014:
September 19, 20, 21, 26, 27, 28
October 3, 4, 5, 10, 11, 12, 17, 18, 19, 24, 25, 26, 31
November 1, 2
Cedar Point's Hallo Weekends at Cedar Point, One Cedar Point Drive, Sandusky, Ohio 44870
Hallow Weekends has run for 18 years of monster fear. Cedar Point operates 10 haunted houses that are free with the park ride admission. Hallo Weekends begins September 12th. The hours are Friday night from 6 pm to midnight. Saturday runs from 11 am to midnight. Sunday's start at 11 am and finishes at 8 pm. Check the website for a variety of ticket price options and discounts.
Dates Open in 2014:
September 12, 13, 14, 19, 20, 21, 26, 27, 28
October 3, 4, 5, 10, 11, 12, 17, 18, 19, 24, 25, 26, 31
November 1, 2
Pennsylvania
Phantom Fright Nights at Kennywood Theme Park (Near Pittsburgh)
Now celebrating over 13 terrifying years, Kennywood will once again operate Phantom Fright Nights. The weekend attraction is open every Friday and Saturday. This attraction is open from 7 pm until 1 am. Tickets are $32.99 plus a $1 amusement tax. Save $3 with online tickets. They advertise intense spectacles of sheer terror with Biofear, Voodoo Bayou, Mortem Manor, Villa of the Vampires, and many more attractions.
Dates Open in 2014:
September 26, 27
October 3, 4, 10, 11, 12, 17, 18, 24, 25, 31
November 1
Photo Credits:
Knotts Scary Farm www.flickr.com {Park Thoughts}
Six Flags Fright Fest www.flickr.com {Jim Trottler}