5 Travel Tips Six Flags Fright Fest Illinois
Six Flags Fright Fest is one of the 97 listings of haunted houses in Illinois on Funtober. Great America is one of the Six Flags theme parks located in Gurnee, Illinois about half way between Chicago and Milwaukee. Each October the park re-opens on Friday, Saturday, and Sunday as the ultimate Halloween attraction Fright Fest.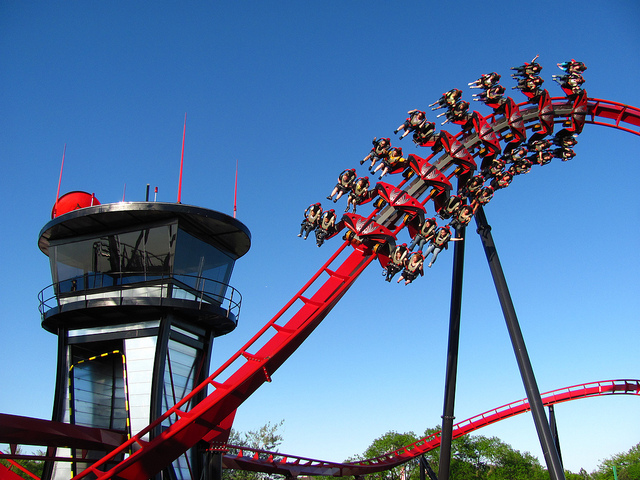 What to Expect at Six Flags Fright Fest
Great America is a full entertainment theme park made for the entire family. You can expect rides, a halloween theme, multiple haunted houses, park rules, and lots and lots of people. It is October so expect dramatic weather and temperature changes. The park will stay open during rainstorms however certain rides may be closed.
Cloudy, cool, or even wet weather will keep the crowds down which might make for a better experience at Six Flags. Remember the last time you went to a theme park and the lines were two hours for the good rides. Fright Fest has those types of lines so be prepared.
If you are looking for the absolute scariest haunted houses then Fright Fest might not be for you. There are other haunted houses on the Funtober directory that will provide a better scare for your money. If you are looking to spend two hours do not go to Six Flags.
If you want dollar value and generally complain about prices do not go to Great America. The prices will bother you.
Great America has something for everybody but expect to spend some time planning your trip to really enjoy this attraction.
See my tips below or return to the Funtober home page.
Six Flags Fright Fest Tip #1: Bring lots of Money
It will cost you lots of money to visit Six Flags Fright Fest. Expect to pay $22 for parking. Expect to pay $9 for a hamburger or slice of pizza and another $4 for bottled water. You can not bring a cooler or drinks into the park. Plan ahead.
There are food options near the park so plan on eating before you go into Six Flags.
The ticket prices for adult admission is $61.99 at the gate. Save some money by ordering the tickets at the Six Flags website. The saving is $20 per ticket. If there is a chance your group might becoming back during the next summer then look at the season pass. It is a good value.
Now here is the kicker. The price does not include admission into the Fright Fest group of haunted houses. They are an extra charge. In the past they cost $10 for each haunted house. In 2012, you could get a $20 ticket for admission to them all. I am not sure at this point what the extra cost will be for 2013.
So if you buy a couple of burgers, get a picture and postcard, buy a souvenier then with tickets, parking, and maybe a Flash Pass you are into some serious entertainment bucks. The Flash Pass is their VIP line pass. On a busy day it will save you time but it does cost $50 and up.
Six Flags Fright Fest Tip #2: Go when it is slow.
Do not go on a warm Saturday in October. Six Flags is usually a busy place. On a Saturday you just might run into another 100,000 people who think Fright Fest would be alot of Halloween fun.
The park is open weekends in October.
Friday: 5pm to 11 pm
Saturday: 11am to 11pm
Sunday: 11am to 9pm
I highly recommend going early in the month and getting to the park early. Plan ahead as it might take you a half hour to park, and another half hour to walk in, get tickets, and pass through security. Then you will have to wait in lines.
A cool, overcast day might just be the best time to go.
Six Flags Fright Fest Tip #3: Buy the haunted house tickets.
Fright Fest has good haunted houses. There are five attractions that open mid afternoon. Some for kids, some for adults, and some for the more adventureous. They are not the scariest in Illinois but as a collection they are good.
Masouleam of Terror
Massacre Medical Center
The Dead Line
Manslaughter Manor
Wicked Woods
So you get a train ride, walking woods tour, traditional haunted house, zombies, torture and terror, and the blood in the medical center. These houses are a good scare, lots of fun, and a good variety all in one location.
Six Flags Fright Fest Tip #4: Hit the entertainment venues:
These attractions are entertaining and well worth visiting. Depending on what you like they just might be the highlight of your trip.
Mistress of Mesmerism
Love at First Fright
Fright Club (techno bar-adult)
Dead Mans Party
Six Flags Great America Tip #5: Roller Coaster Rides Everywhere
Six Flags is an amusement theme park. In October it transforms into a wonderful Halloween themed attraction. Even the biggest roller coasters and rides get a name change.
King Chaos transforms into Dying Trapeze
American Eagle becomes the Black Widow
Orleans Place becomes the Bayou du Vaudou
Yankee Harbour changes to Port Dread
Mardi Gras becomes The Last Stop Burn'Em and Buried Circus.
The biggest rides at the park are still:
Dark Knight Roller Coaster
Superman
Batman
Raging Bull
You will find the longest lines at these rides with some taking up to 3 hours to get through. My recommendation is hit the entertainment, haunted houses, and lesser attractions before getting in lines for the coaster rides.
Park Rules at Six Flags Fright Fest:
The park is serious about security. Do not try to bring food or coolers into the park. Drunken or rowdy behavior is not tolerated. On most days Halloween costumes are not permitted for safety reasons.
Take your cell phone but wear something with a zipper so the phone can be safely secured in a pocket. I recommend not trying to carry a purse or bag. Usually you can not take a carryon onto the rides. You can purchase a locker to secure your carryons at each ride. This becomes an extra expense and the lockers are only available for two hour periods. Many times people are still in lines when their lockers are timed out and pop open.
Enjoy your time at Six Flags Fright Fest in Illinois
You can not do it all so do not become upset that you didn't get to all the rides because of the long lines. Plan the day you go and choose a day likely to have less visitors. After all it is October and most of us who live within two hours are used to October cool weather. Dress appropriately, avoid the crowd and you will have a really entertaining experience.
Great America really makes the park a Halloween attractions and has lots of employee-actors dressed to surprise and scare you. Take your entire family, friends, and that special date. Good times will be had by all.
Read Best Chicago Haunted Houses In Illinois.
Links to other Six Flag them parks around the country.
Six Flags Great Adventure and Safari