Sacramento Haunted Houses for Halloween 2019
Sacramento haunted houses are some of the best in California.  Spend a fun night out with your spouse, date, or friends.  You will be terrified at these haunted attractions.  For the price of a Giants ticket you can be part of the action as you come face to face with terror.  Most use sound FX, animatronics, great props, Hollywood sets, and actors with makeup beyond belief.  You will be frightened.  Find all the haunted houses, trails, corn mazes, hayrides, and Halloween fun attractions in the Sacramento area.
Featured Listing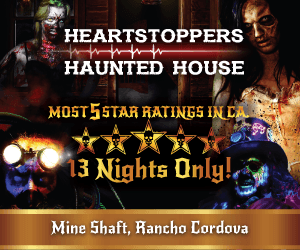 Last Major Update:
More than a few bodies are buried in California's capital city. So it shouldn't surprise you that around Halloween these politicians have recruited their friends to scare the masses.
Callson Manor DireWorld Scarepark - Roseville, CA
Sorry folks.  This haunt will not open in 2018.  They are searching for a new location.
Cemetarium - Citrus Heights, CA
Cemetarium operates the 20,000 square foot haunt that opens October 12th. Psycho Cirucs is their 2nd attraction.  Check their web page for details on which event is happening on the night you want to go.  It has over 100 volunteers working each night. It opens their Full Scare show on Saturdays in October. Attractions include KAUS, Alternative Therapy, Zombie Heights, Hallway of Fear, and the all new Psycho Circus. Doors open at 7 pm. Tickets are for the combo low scare ticket or for the full scare combo ticket. Individual tickets to a single attraction are less. They operate as a low scary family facility on select nights. They open for full scare on Saturdays.
Fear Overload - San Leandro, CA
The fun begins September 28th.  The three haunts at Fear Overload are Static Noise, The Plastic Surgeon, plus Live Horror Entertainment.  A high shock attraction with horrifying scenes about San Francisco's grisliest serial killer. You Psychotic takes you into a labyrinth experience through the paranormal. Are you next? Costumes can be worn but leave the face paint and mask at home. Tickets start at $25.99-30.99.  Doors are open at 7:00 pm until 12:00 am on most Friday and Saturday nights or 10:00 pm on other nights. Caution this is a very scary haunt with some of these for very mature audiences only. They are open nearly every day in October.  Runs most nights from September 28th through November 3rd.  Check their webpage for schedule.
Fright Planet - Sacramento, CA
Caution as we are concerned this popular haunt will not open in 2018.  Their phone is disconnected and their web pages and Facebook page have not been updated.
Heartstoppers Haunted House - Rancho Cordova, CA
Sacramento's longest running haunted attraction brings the fright to the area beginning September 29th.  Open Friday and Saturday nights in October plus some added dates.  All attractions are redesigned and updated with Asylum taking over the top floor as the insane asylum.  Deadlands is our outdoor attraction new for this year.  It features a walking dead type theme set in an old West town.  Underlands features an all new 3D haunt with a terrifying walking trail in search for Alice.  Enjoy lots of carnival food, amusement rides, games and souvenirs for hours of fun.  Free roaming zombies and nightmarish creatures add excitement around each corner.  Of course admission is just $25 for entry into all the haunted attractions.  Fast pass and annual pass options are available.  Check website for dates and complete details.
Slipknot's Ultimate Terror Scream Park - Sacramento, CA
The attraction opens September 28th.  Named one of the best in the nation, this Scream Park is produced by the twisted minds of the international metal band Slipknot. Three outrageous haunted attraction plus live horror entertainment. Attractions are Prepare For Hell, Clown's Playhouse, and Skin Ticket. Parking is free. General Admission is $25-30. Yes be afraid, you should be very afraid.  Open most nights in October.
Zombieland / Corbett's House of Horror - Roseville, CA
Corbetts presents Fear Farm which is open every Friday and Saturday in October plus the 28th and 31st.  They have a haunted corn maze, zombie paintball shoot, and carn evil type circus.  Admission starts at $12.
State By State List of Halloween Haunted Houses
San Francisco Haunted Houses
Haunted Houses in California
Los Angeles Haunted Houses
Las Vegas Haunted Houses
San Diego Haunted Houses
Portland Haunted Houses
Seattle Haunted Houses
Haunted House Videos
Check out the TOP 100 HAUNTED HOUSES FOR HALLOWEEN 2018 and our list of the Top 100 Haunted Houses 2017 in America.  Is your favorite haunted attraction on the top 10 and top 100 state list?
You may also be interested in our article on Haunted Houses and Horror Movies | History of Fear.
Add Your Feedback!
Have you been to one of these haunts? Future readers would be interested in hearing what you thought. Did you have fun? Was it worth the price? Would you suggest it to visitors here? Any tips to maximize your experience? I'll gladly publish what you send me and give you an over the Internet hug.
If you are the owner or employee of a house in this directory, or one we missed and need to add, we would love to have more information about your place, including the url, photos, dates/times/hours etc. Use the contact form on our advertising page to get in touch and we'll follow up if we still need your response to any of these questions.