Haunted Houses in West Virginia for Halloween 2017
Find our complete list of 2017 Halloween haunted houses in West Virginia at Funtober.  We list the most popular local haunted attractions including haunted trails, haunted corn mazes, haunted houses, scream parks, and more Halloween fun.  Find the dates, hours, locations and ticket prices for Halloween attractions in your area.  West Virginia has some remarkable haunts with lots of zombies, vampires, witches, and monsters roaming these scream parks.  Expect to find Hollywood type set designs, live actors, air blasters, animatronics, and creepy costumes.
Do you know the only state to secede from a confederate state and join the Union during the Civil War? That's right. That's what West Virginia did. You would think the ghosts at the haunted houses in West Virginia would be happier considering they were on the victorious side.  We have separate attraction links and listings for haunted houses USA,  haunted corn mazes, haunted trails, haunted zombie paintball, haunted forests, haunted hayrides, and ghost tours.
Last Update:
[fsb-social-bar facebook="true" twitter="true"]
Haunted House Owner? Advertise Here.
Do you run a haunted house in the United States? More than 150,000 people came to Funtober last year looking for a haunted attraction to attend in September or October. We can help increase attendance at your business or event through a sponsored listing, coupon giveaway, cross-promotion or other creative marketing initiative. Special deals for nonprofits. Please see our advertising page or contact us for more information.
Funtober also has a list of the most liked haunted houses listed on Facebook by fans.  Check out America's Best Top 100 Haunted Houses which comes complete with profiles and videos of each attraction.
Best Haunted Houses in Charleston, Wheeling, Morgantown, Huntington
Fright Nights - Daniels, WV

Greyskull Manor - Clarksburg, WV
A local charity haunt supporting the WVU Children's Hospital. What evil lurks behind the walls of Greyskull Manor? New location and dates for this year have not yet been announced.
Haunted Barn - Charleston, WV
Open since 2006, The Haunted Barn starts their season on September 30th. This haunted house features live actors and lots of animatronic scares. The venue features a 10,000 square foot haunt plus another 10,000 event area. Oh yeah at this place the actors can grab you. This haunt is open from 7:00 pm until 12:00 am on Friday and Saturday or 10:00 pm on other nights. Tickets are $10 for Silent Sanitarium and $10 for Hillbilly Horror.
Haunted Hill - Beckley, WV

Haunted School of Terror - Weirton, WV
All new for 2016 especially The Barn attraction. Meet the Boogeyman, Hallowed Jack and more of their friends. Open Friday and Saturday nights beginning September 30th. Tickets are $15.
Haunted Trail - Cottageville, WV
Located at the Jackson County Junior Fairgrounds is this terror filled half mile walk meant only for adults. Tickets are $5 for the trail. Also available is a $3 not so scary horse drawn wagon ride. Attractions are open on Friday and Saturday from 8 pm until 11 pm.
Shocka-Con Horror Convention - Charleston, WV
Located at the Beni Kedem Shrine Center (also runs The Haunted Barn) comes this Horror and SciFi convention held on September 30 – October 2, 2016. It's a haunt, a con, a concert and so much more. They also have a costume contest with prizes.
The Apollo Civic Haunted Theatre - Martinsburg, WV
experience put on by the Apollo Civic Theater. They operate four fun haunts in this historic theater. The Haunted Theater is a haunted house with plenty of live actors, professional make up artists, chainsaws, and enough blood and gore to scare you almost to death. It is open from 7:00 pm to 11:00 pm. Paranormal Investigation looks for ghost activity in this haunted place. Tickets on sale now. Donations are accepted. It includes a lighted tour of the haunted theater attraction. Finally comes theRocky Horror Picture Show. Seating is limited to the first 526 people. A fun event for all. The Apollo Civic Theatre dates back to 1914 and continuously has events all year. Many famous actors have graced it stage including Will Rogers, Robert Duvall, Jeff Daniels, and Jeff Bridges. It opens October 7th and runs Friday and Saturday nights.
The Asylum presents Malice - Weston, WV
The Asylum presents the Hysteria every Sunday, Wednesday, Thursday, Friday, and Saturday in October. Starts September 30th, 2016. Tickets are $25 per person but check their web page for a big discount at GoMart. Do you recognize the address? It is the home of the former Trans-Allegheny Lunatic Asylum. A real asylum now popular with locals for real ghost tours, heritage tours, overnight paranormal events, parties and lots of activities every day. Hysteria opens at dark and runs until midnight on Friday and Saturday or until 10 pm on other nights. The building is a living monument to the history of mental illness. It was the largest hand carved building in North America and home to thousands of patients. The haunted houses takes over the facility each October at dusk for a terrifying haunted house event. The story is that Doctor Cerebus ran sadistic experiments clouding the veil between the living and dead. Once a reputable hospital is now home to undesirable souls. You can tour the facility during the day or come back at dusk when the dead come out to play.
The House of the Setting Sun and the Haunted Barn - Green Springs, WV
This annual haunt is put on by the organization Community Involvement For Kids. A non profit all volunteer haunt providing lots of local fun each year.
West Virginia Penitentiary Dungeon of Horrors - Moundsville, WV
Dungeon of Horrors is located inside the former West Virginia Penitentiary. Open Friday and Saturday nights beginning September 30th plus some more added nights in October. Tickets for the haunted house vary from $20 the first two weekends up to more on Halloween night. The prison once housed up to 2000 prisoners with many deaths and accidents. Over 90 prisoners were executed by the state at this prison. Ghosts are rumored to haunt this place. Now this facility is home to daily tours, overnight ghost tours, parties, festivals, a zombie walk, and in October the Dungeon of Horrors haunted house. Call 304 845 6200 for event details.
State By State List of Halloween Haunted Houses
Other Options
It may be faster to get to a haunted attraction in another state. So add these potential options to the list of West Virginia haunted houses.
Haunted Houses in Kentucky
Haunted Houses in Maryland
Haunted Houses in Ohio
Haunted Houses in Pennsylvania
Haunted Houses in Virginia
Also consider attending a Halloween convention such as Shocka-Con  or the National Haunters Convention in Philadelphia.
Find other fall fun things to do in West Virginia in October:
Oktoberfest in West Virginia
West Virginia Festivals
West Virginia Corn Mazes
West Virginia Ghost Tours
Pumpkin Patches in West Virginia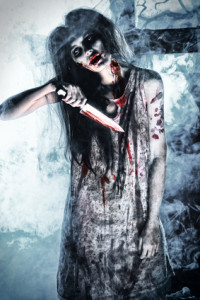 Improve This Page
Have you been to one of these haunted houses? Future readers would be interested in hearing what you thought. Did you have a great experience? Was it worth the money? Would you recommend it to visitors here? Any tips to maximize the experience? I'll gladly publish what you send me and give you a great big hug.
If you are the owner or employee of a haunted house on this list, or one I missed and need to add, I would love to have more information about the haunted house, photos, dates/times/hours for 2017, etc. Use the contact form to get in touch and I'll tell you where to email your answers to these questions.