New York Haunted Houses for Halloween 2016
Locate all the best 2016 Halloween haunted houses in New York at Funtober.  If you are looking for scary fun then we have the dates, hours, and locations for all the haunted houses, haunted trails, scream parks, haunted corn mazes and more fun to terrify you.  Get your friends together for a night out at a local New York haunted house.
Expect to be frightened with great animatronics, Hollywood set designs, live actors, air blasters and scary costumes.  Whether you are in New York City or Buffalo we can get you to a haunt your family will love.  Find some local ghost, vampires, goblins, zombies, creatures and maybe a Freddy or Jason or two roaming around your countryside.  We have separate attraction links and listings for haunted houses USA,  haunted corn mazes, haunted trails, haunted zombie paintball, haunted forests, haunted hayrides, and ghost tours.
NYC Haunted HousesBuffalo Haunted HousesSyracuse Haunted Houses
Last Update:
[fsb-social-bar facebook="true" twitter="true"]
Haunted House Owner? Advertise Here.
Do you run a haunted house in the United States? More than 150,000 people came to Funtober last year looking for a haunted attraction to attend in September or October. We can help increase attendance at your business or event through a sponsored listing, coupon giveaway, cross-promotion or other creative marketing initiative. Special deals for nonprofits. Please see our advertising page or contact us for more information.
Funtober also lists the best haunted houses in the country and we have their YouTube video also.  Check out our America's Best Top 100 Haunted Houses in 2013 (with videos).
Bayville Scream Park - Bayville, NY
The Bayville Scream Park delivers with 5 haunted attractions and numerous midway type activities. It sponsors both daytime activities and the scream park at night. The midway has fast food, pizza, and burger vendors. It serves beer and wine. It has an arcade full of carnival games. Having a birthday then Bayville is the place to have a party. The times on Friday and Saturday are from 6 pm until 1 am. All other nights are from 6 pm to 10 pm or 11 pm.. Bayville also has kids not so scary times on the weekends from 11 am to 6 pm. Bayville Scream Park features 5 haunted attractions. Attraction runs Friday, Saturday, and Sunday nights from September 23rd through November 6th plus nearly every night in October. Ticket prices vary greatly by number of attractions and combination packages. Please check their web page for full details.
Blood Manor - New York, NY
Blood Manor is a 5000 square foot haunted house consisting of themed room, dark corridors, and a 3D labyrinth all in famed New York City. It takes about 25 minutes and $35 plus service charge to go through Blood Manor. When done why not dine at Hannibal's Kitchen. Some of the themed rooms are Graveyard of the Doomed, Vestibule of the Undead, Rue Morgue, Frozen Alive, Laser Spectacular, and 3D Labyrinth. Blood Manor opens September 30th. Open most Thursday, Friday, Saturday, and Sunday nights plus some other dates. It is open 7:30 pm until 2:00 am or 1:00 am on Friday and Saturday nights. Check their webpage for other opening and closing dates. Some new attractions include The Crypt, Thunderdome, The Wake, Mayhem, Maggot Invasion, and Hannibal's Hell. They promise shorter lines in 2016. They also have a new "Touch Me Thursday" promotion for a real scary adventure if you want.
Cayo Industrial Horror Attraction - Utica, NY
Attraction theme is based on their Warehouse of Horror Realm attractions. This is a series of walk through horror mazes that will test your sanity. Enjoy between 6:30 pm and 10:30 pm. Tickets are $10 for a single attraction or $30 for the 4 attraction combo ticket. Open Friday, Saturday and Sunday nights starting September 30th.
Chamber of Horrors NY - Hauppauge, NY
Chamber of Horrors is located inside Matt Guillano's Play Like A Pro. This is where fear lives. Lots of mayhem roaming the parking lot. Join Miss Fortune and her cast of crazies. Tickets are $25. Doors open for all nights at 7 pm. Open Friday and Saturday nights starting September 23rd plus most Sunday nights and days near Halloween. Check their web page for details.
Darkness Rising - Massapequa, NY
Haunt attraction appears to be permanently closed.
Dead End Dummy Coney Island - New York, NY
Coney Island's signature Halloween show each year. Usually runs the final week of October. Also check out Coney Island's annual Halloween at the S-scarium at the New York Aquarium. There is also an annual Children's Halloween parade on the Saturday before Halloween. Their special Sideshows By The Seashore runs Friday, Satuday, and Sunday from October 10th through November 2nd. Tickets are $15.
Demon Acres - Hannibal, NY
Hayride tickets are $12 per person. The Haunted House ticket is $14. Their hayride is really good. They have a combo with both attractions for just $25. They run from 7:00 pm until 11:00 pm. Open every Friday and Saturday nights starting September 30th.
Double M Haunted Hayrides - Ballston Spa, NY
Now operating for over 13 years the Double M has terrified thousands. This years attractions are Haunted Hayrides, The Stockyard, Darkwoods Academy, Last Inn, Clown Carnevil, and Schadenfreude Circus. More than enough zombies, demented souls, clowns, and creatures to keep you awake at nights. Opening night is September 24th. Attraction is open Friday and Saturday night for every weekend in October. Also open most Thursday and Sunday nights. There are discounts available. You must reserve a time for this attraction by calling 518-884-9122. Parking is free.
Final Fear - Blasdell, NY

Frankenstein's Fortress - Stanfordville, NY

FrightWorld Scream Park - Tonawanda, NY
New location for 2016 in Youngman Plaza and the former BJ's. Now in its 14th year Fright World has 5 haunted houses full of many demons from the unknown. Every year the haunts are updated and new ones added. The haunts updated are Grindhouse, Phobiaz, Condemned, and Eerie State Asylum. A ticket to get into all five attractions has a $28 price. There is an onsite FrightWorld Café that was also remodeled. Open for the season September 23rd. During October the park is open until 12:30 am on Friday and Saturday nights. Also during October you can visit any Thursday or Sunday night until 10 pm. FrightWorld appears to have lots of fun and frights. The Grindhouse takes you deep into the bayou to meet the creatures inhabiting an old cabin in the muck. Phobiaz puts you face to face with your deepest fears and illusions. The Condemned brings to face to face with a deranged and disfigured family in farm animal masks. All attractions are indoors and are not affected by rain or weather.
Haunted Empire at Bradley Farms - Elmira, NY
Check out the House of Lost Souls, Trail of Terror, The Black Hole, and Monster Paint Ball attractions for 2016. Bradley Farms will be open Friday and Saturday. The open hours are 7 pm until 10 pm. A ticket to the 30 room haunted house called House of Lost Souls is $12. They have a concession stand, pumpkin patch, Halloween displays, photo stations, live radio broadcasts, video games, and paintball.
Headless Horseman Hayrides & Haunted House - Ulster Park, NY
Headless Horseman has been creating nightmares for over 21 years. This is a popular attraction having been featured on the weather channel and the Today Show. Doors open at 7:00 pm. Get your timed tickets online to save money and time. Attraction has a one mile long haunted hayride, a labyrinth style corn maze, a side show, line actors, 4 food venues, 4 gift shops, and 6 amazing haunted houses. It takes between 2 to 3 hours to see all the attractions. Admission into the midway is free. The Ride and 8 Attraction Tickets are a total of $39.95. This attraction opens on September 17th and 24th and runs Friday, Saturday, and Sunday nights from September 30th all through October until November 5th.
House of Horrors & Haunted Catacombs - Cheektowagg, NY
House of Horrors is a 30,000 square foot haunt attraction located in the Union Conserve Square. It is advertised as "Buffalo's Biggest, Baddest, and Best Haunted House." Believe the advertisement or not they do have lots of monsters running around. They feature six haunts named The Infected, Hellhouse, Where Evil Dwells, Mark the Beast, The Last Ride and Killer Theater. Also they run a Freakshow each night. Tickets are $25 for 5 houses or $32 for all 6 attractions. House of Horrors opens September 30th. The attraction starts are 6:30 pm and runs until 12:00 am on Friday and Saturday or until 10:00 pm on all other nights. Open Friday, Saturday, and Sunday nights starting September 30th. Check their web page for additional dates.
Kevin McCurdy's Haunted Mansion - Poughkeepsie, NY
Attraction is open from 7 pm to 11 pm on Friday and Saturday or 9:30 pm on other nights. Ticket prices are $28 online. You will love this attraction which has been operating locally for over 38 years. They feature the Haunted Mansion, Fright Trail, and London After Midnight. All for the one ticket price. Open Friday, Saturday, and Sunday nights starting September 30th.
Kingsbury Cemetery Haunted House - Painted Post, NY
The owners have been haunting since 2000. The main attractions are O'Dells Coffin Works and Behind the Walls. The place has hidden passages with hundreds of rats featured. Not all the bodies in the coffin's are dead. Tickets online are $11 for a single attraction or $18 for both. Open Friday and Saturday nights starting September 23rd. They are nightly from 7:00 pm until 10:00 pm for ticket sales but stay open until the last person goes through the attractions.
Nightmare Manor - Rochester, NY
It runs Thursday, Friday, Saturday, and Sunday nights from September 30th through Halloween. Doors open at 7:30 pm. Tickets are $20 on Friday and Saturday nights or discounted on other nights. Attraction is a 1/4 mile walk-thru of new again for 2016 scenes. Don't miss the "Undead Zone" or "The Sinister Sewers" attractions. Get your picture taken in the scare chair.
Nightmares Fear Factory - Niagara Falls, NY
Fear Factory is located directly across from Casino Niagara. Tickets are $12.95. Expect to get found by lots of Zombie's at Fear Factory. This Niagara Falls tourist attraction is open every day all year generally from 11:00 am to 11:00 pm or 2:00 am.
Pure Terror Screampark - Monroe, NY
Tickets are $45 online to go through all five of their huge new haunted attractions with over 2 miles of frights. . Also explore Trail of Terror, Phobia Haunted House, Terror in the Dark Haunted House, Sanitarium Terror, and House of the Dead. They have 11 attractions. Attractions open September 24th. It is open Friday, Saturday and Sunday nights. Ticket booth opens at 6 pm. Doors close at 11 pm on Friday and Saturday, 10:30 pm on Sunday, or 9:30 pm other nights. Expect it to be very scary. Beyond the limits of fear.
Screamwood Forest - Pennellville, NY
Tickets are $7. Hours are 8 pm until 11 pm. They also have a Friendly Frights for kids that runs for 90 minutes before their adult haunt. Save $2 and come in costume. Open Friday and Saturday starting October 21st.
Swamp Road Terror - Central Square, NY

Tagsylvania - Big Flats, NY
The main attractions for Tagsylvania are Jerkus Circus, Psycho Swamp, and Lecter's Lair. The ticket prices are $10-13 for each attraction. They have a combo price of $30 for all three. This place opens Friday and Saturday starting September 30th. Doors are open from 7 pm to 11 pm.
The Barn of Terror - Lake Katrine, NY
There is a haunted barn and a terrifying corn maze attraction. Admission tickets are $33. Attraction is open every Friday, Saturday, and Sunday night in October starting September 30th. The hours are from 7 pm until around 11 pm.
The Forest of Fear - Tuxedo Park, NY
Screaming is only the beginning at The Forest of Fear. Attraction open Friday, Saturday, and Sunday nights starting October 7th. It is open Saturday night until 1 am, Friday's until midnight, and Sunday nights until 11 pm. Doors open at 7 pm. Tickets available for the combo into Blind Panic and The Slaughterhouse. Other prices range from $20-30 online.
The Haunt at Rocky Ledge - North White Plains, NY
Two haunted houses, a wooded trail, and walk through the haunted corn field at The Haunt at Rocky Ledge. It takes about 25 minutes to complete the cornfield scare with a six person group. Parking is free. There is a concession stand at the end of the attraction. If you can still eat. The attraction opens Friday, Saturday, and Sunday beginning October 7th. Friday nights are open from 8 pm until 11 pm. Saturdays are open from 7 pm until 11 pm. Sundays run from 7 pm until 10 pm. Admission is $24.
The Haunted Mansion of Melville - Melville, NY
Schmitts Family Farm hosts both daytime and night time fun. Tickets are $22 for the Haunted Mansion attraction, $12 for the Haunted Corn Maze and $5 for The Experiment. A combo ticket for all attractions costs $32. It opens at 7 pm and closes at 12 am on Friday and Saturday nights or 11 pm on other nights. The season starts September 30th. They are advertised as the largest haunted mansion on Long Island.
The Last Ride - Hastings, NY
Attraction features a Haunted Hayride and Haunted House. Tickets are $12 for the hayride and $10 for the house with a combo ticket priced at $22. They are open Friday, Saturday, and Sunday from September 30th through October 31st. Doors are open from 7 pm until midnight on Friday and Saturday or 10 pm on Sunday.
The Trail of Terror - Fulton, NY
They feature an Outdoor Trail, Halls of Teror, and Séance Room. Open Friday and Saturday nights starting September 30th. The attractions are priced at $12 or combo ticket for $20.
This Is Real Nightmare Killers - New York, NY
Horror Show is one of New York's most horrifying haunted houses. Ticket are $100 or less online. Times vary greatly with either a 6 pm or 7 pm opening time and closing times from 10 pm to 1 am. Check their website. This is their 12th year but each year the attraction is all new. The producers are Timothy Haskell who was the creator of Nightmare and Steve Kopelman who produces with Rob Zombie his Great American Nightmare attractions. Horror Show runs most nights Wednesday through Sunday in October.
Wicked Woodstock - Woodstock, NY
Wicked Woodstock is a Halloween event for the whole family. A benefit for the Woodstock Byrdcliffe Guild, it includes afternoon activities for the kids (including the Art Bus – artbus.org), contests, food and then a haunted house in White Pines, the former home of Ralph and Jane Whitehead. Kids $5; adults (for haunted house $10). Suggested age of 14 and older for haunted house tour. Two Saturdays:10/22 and 10/29 3-5:30 for kids and, 5:30-8pm for adults.
State By State List of Halloween Haunted Houses
Other Attractions
There's lots of haunted houses in New York. So you probably don't need to leave the state to find a good one. But if you did, you would visit one of these five options:
Haunted Houses in Connecticut
Haunted Houses in Massachusetts
Haunted Houses in New Jersey
Haunted Houses in Pennsylvania
Haunted Houses in Vermont
Haunted Houses in Michigan
Find other fun things to do in New York in October:
Oktoberfest in New York
New York Festivals
New York Corn Mazes
New York Ghost Tours
New York Pumpkin Patches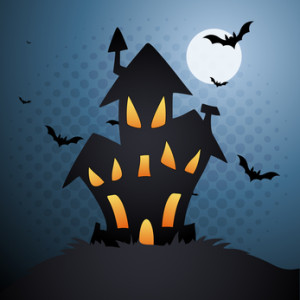 Improve This Page
Have you experienced one of these haunted houses? Future visitors would be interested in hearing what you thought. Did you have a good time? Was it worth the price? Would you recommend it to our readers? Any suggestions to maximize your experience? I'll gladly publish what you send me and give you an over the internet hug.
If you are the owner or employee of a haunted house on this list, or one I missed and need to add, I would love to have more information about the haunted house, photos, dates/times/hours for 2016, etc. Use the contact form to get in touch and I'll tell you where to email your answers to these questions.