Haunted Houses in New York for Halloween 2022
Locate all the best 2022 Halloween haunted houses in New York at Funtober. If you are looking for scary fun then we have a directory of haunted houses with the dates, hours, and locations for all the haunted houses, haunted trails, scream parks, haunted houses near me, haunted corn mazes and more Halloween fun to terrify you. Get your friends together for a night out at a local New York haunted house. Expect to be frightened with great animatronics, Hollywood set designs, live actors with unbelievable makeup, air blasters and scary costumes. Whether you are in New York City or upstate, we can get you to a haunt your family will love.
NYC Haunted HousesBuffalo Haunted HousesSyracuse Haunted Houses
Last Major Update:
Andover Haunted House - Andover, NY
This old mansion has four floors of absolute terror.  They start in early October run every Friday and Saturday nights in October.  This is a charity haunt benefiting the local community.
Bane Haunted House - New York, NY
Opens this year in early October.  Bane advertises "Bringing Nightmares to Life". It is most Wednesday through Sunday nights in October.  Doors open at 7 pm. There is free parking. They play on every one of your fears; claustrophobic, separation anxiety, clowns, and more. This year Bane is even more interactive than ever with a brand new entrance and a terrifying exit! Get ready for the scare of your life!  Bane has over 28000 Facebook likes.
Barton Orchards Rotten Core Manor - Poughquag, NY
Sorry folks but the haunted house is closed this season due to the virus issues.  Barton Orchards has a haunted house that is usually open from September through October. The haunted house is nicknamed the "Rotten Core Manor." If you dare to wander through the Rotten Core Manor, then you are sure to have a good scream! The Rotten Core Manor haunted house is a walking activity. Throughout the walk, you will encounter darkness, animation effects, and much more!  This is a 175 acre working family farm, Tree Top Adventures course and offsite bakery. Hudson Valley's Premier dog friendly PYO with Food, Tap Room, Dog Park, Live Music, Fun Park, Petting Zoo, Corn Maze, Haunted House and much more!
Bayville Scream Park - Bayville, NY
Their thrilling adventure begins in early October.  The Bayville Scream Park delivers with 6 haunted attractions and numerous midway type activities. It sponsors both daytime activities for kids and the scream park at night. The midway has fast food, pizza, and burger vendors. It serves beer and wine. It has an arcade full of carnival games. Having a birthday then Bayville is the place to have a party. The times on Friday and Saturday are from 6 pm until 1 am. All other nights are from 6 pm to 10 pm or 11 pm.. Bayville also has kids not so scary times on the weekends from 11 am to 6 pm. Bayville Scream Park features run Friday and Saturday nights in September and nearly every night in October.  Ticket prices vary greatly by number of attractions and combination packages. Please check their web page for full details on prices and schedule.  This is one of the most popular haunt attractions in the country.  Bayville has over 28,000 Facebook likes.
Blood Manor - New York, NY
Opening night is in early October.  Blood Manor is a 5000 square foot haunted house consisting of themed room, dark corridors, and a 3D labyrinth all in famed New York City.  All new entrance and scenes for shorter lines.  It takes about 25 minutes and $35 plus service charge to go through Blood Manor. When done why not dine at Hannibal's Kitchen. Open every Thursday, Friday, Saturday, and Sunday nights plus some other dates. It is open 7:30 pm until 2:00 am or 1:00 am on Friday and Saturday nights. Check their webpage for other opening and closing dates. Some new attractions include The Crypt, Thunderdome, The Wake, Mayhem, Maggot Invasion, and Hannibal's Hell. Blood Manor has over 24000 Facebook likes.
Cayo Industrial Horror Attraction - Rome, NY
Attraction theme is based on their Warehouse of Horror Realm attractions.  Returning to their  location and theme for this fall.  They are at 530 Harbor Way, Rome, NY.
Chamber of Hell NY - Hauppauge, NY
Horrors begin with opening night in late September.  Chamber of Hell is located inside Matt Guillano's Play Like A Pro. This is where fear lives. Lots of mayhem roaming the parking lot. Join Miss Fortune and her cast of crazies.  Doors open for all nights at 7 pm. Open every Friday, Saturday and Sunday nights in October plus more nights near Halloween. Check their web page for details.
CMC Haunted House - Cicero, NY
Now 2 trails in 2020! You will have a hair-raising experience with this production. Tour through the two barns of terrifying tunnels and turns. This year's house has been amp'd up with all new audio and visual features. All of your favorite fears and phobias crawling in every corner….Clowns Spiders, Rats, Snakes, Michael Myers, Freddie Krueger, Nuns, Psych Ward Inmates, Witches … and much more! While you are at the Haunted House, be sure to enjoy some of the other features we offer for your entertainment pleasure such as food/snacks, Photo Opportunities, get in the hearse, and enjoy an outdoor movie by the bonfire. $13 for 1 trail, $20 for 2 trails, or $25 for RIP tickets.
Darkness Rising - Copiague, NY
Darkness Rising tickets are $25.  They run every Friday, Saturday, and Sunday nights in October.  Your group will journey through a cursed Village.  People are either dead or missing.  As you search for survivors something seems disturbingly clear.  There is evil in the darkness.  Get read for new scares, special effects and more at their new Copiague location.
Demon Acres - Hannibal, NY
Demon Acres starts their season the first Friday night in October.  Individual tickets are $8-12 per person.  Both the haunted house and hayride are really good. They run from 7:00 pm until 11:00 pm. Open every Friday and Saturday nights in October.
Double M Haunted Hayrides - Ballston Spa, NY
They are taking lots of safety precaution because of the virus include changing their hayride to a drive thru haunt.  Their haunted hayrides begin opening night in late September.  Now operating for over 25 years the Double M has terrified thousands. This years attractions are Haunted Hayrides, The Stockyard, Darkwoods Academy, Last Inn, Clown Carnevil, and Schadenfreude Circus. More than enough zombies, demented souls, clowns, and creatures to keep you awake at nights.  Attraction is open most Friday, Saturday, and Sunday nights in October plus a couple added dates.  See their web page for details.  There are online discounts available. You must reserve a time for this attraction online or call 518-884-9122. Parking is free.
Forest O'Fears - Ossining, NY
The Haunting At Cedar Lane is held annually in Ossining, New York.  They are open the last two weekends before Halloween. The Forest O'Fears was created in 2014 by a stay-at-home Mom looking to create something fun and unique within the community that everyone could enjoy. Halloween is one of her favorite holidays so she came up with the idea of a haunted attraction. Cedar Lane Park became the ideal setting for the event. It is set back in the woods and its many parts provide a great setting for a haunting!
Frightfest at Six Flags Great Escape - Queensbury, NY
Sorry folks but because of the virus this park is temporarily closed.  It is now doubtful they will be open for Halloween.  Six Flags is always fun and during Halloween season their Fright Fest special event is one of the best around.  It is open on Saturday and Sunday nights.  The park is decked out for night time Halloween fun with various rides, scare zones, haunted attractions and live entertainment.
Frightmare Farms Haunted Scream Park - Palermo, NY
Frightmare Farms has a single attraction ticket for $17 or all 3 attractions for $30.  They run every weekend on Friday and Saturday nights in October.  Frightmare Farms Haunted Scream Park is the product of a passionate group of Halloween enthusiasts with a desire to build an experience in Central New York like no other! The Scream Park comes alive every October with a bigger and better show each year!
Frightworld, America's Scream Park - Amherst, NY
Although visiting Nevada would be a great trip, visiting Frightworld, America's Screampark in Buffalo, NY may give you more entertainment.  Buffalo's #1 Haunted Attraction is back with its all NEW attraction: "STORM, AREA 51": "In a concealed area deep in the deserts of Nevada, sits a conspiracy ridden government base, "Area 51". Despite what was told to the public, you know there is more to the story.  As you travel along "Extraterrestrial Highway" and make your way up to the borders surrounding this base, you come upon an unsecured entrance. Now's your chance to Storm Area 51. Frightworld doesn't just stop at that. The creative minds behind the event have designed 4 other uniquely themed haunted attractions with Hollywood style sets and actors; Grindhouse, Eerie State Asylum, Nightstalkers Reloaded and Eeriepalooza.  This nationally acclaimed event is celebrating its 18th year anniversary with its largest expansion yet. Located in a former Walmart, 2055 Niagara Falls Boulevard, Amherst, NY 14228, Frightworld amps up its event to prepare for the attendance and publicity from local and national coverage. 
Grims Mortuary - Red Hook, NY
Grims Mortuary is open Friday, Saturday, and Sunday nights in October.  Tickets are $15.  A seasonal Haunted House located on Pitcher Lane in Red Hook, NY. We are open weekends in October. Grims offers a custom scare.  e only admit groups of 6 or less through at a time so you can control your level of scare.
Headless Horseman Hayrides & Haunted House - Ulster Park, NY
The hayride attractions starts running in early October.  Headless Horseman has been creating nightmares for over 24 years. This is a popular attraction having been featured on the weather channel and the Today Show. Doors open at 7:00 pm. Get your timed tickets online to save money and time. This year we will be replacing our hayride and haunted houses with a Drive-Thru Haunted Experience and a Walk Thru Corn Maze!  Also hass a side show, line actors, 4 food venues, 4 gift shops, and 6 amazing haunted houses. It takes between 2 to 3 hours to see all the attractions. Admission into the midway is free. The Ride and 8 Attraction Tickets are a total of around $41.95 online. Save money and buy your tickets online.  This attraction runs every Friday, Saturday, and Sunday nights in October.  See web page for additional dates.   Headless Horseman has over 67000 Facebook likes.
Kevin McCurdy's Haunted Mansion - Poughkeepsie, NY
Opening in early October.  Attraction is open from 7 pm to 11 pm on Friday and Saturday or 9:30 pm on other nights. You will love this attraction which has been operating locally for over 44 years. They feature the Haunted Mansion, Fright Trail, and London After Midnight. All for the one ticket price. They are developing lots of new attraction to meet safety virus issues.
Lockport Haunted Cave Lantern Tour - Lockport, NY
Head outside and underground for an 70-minute guided walking lantern tour. Your tour guide will lead you by lantern light along the dark waters of the Erie Canal, telling you folklore, tales and hair raising stories as you prepare to enter the forbidden tunnels and caves under Lockport. Tours are 1 hr and 10 minutes and depart from the Cave Office at 5 Gooding St. in Downtown Lockport. Ample free parking is available. Cave tours and other activities are available year round but the haunted cave tour only happens for the last few weeks of October each year, so don't delay – get your tickets now!
Nightmare Manor - Rochester, NY
It opens in late September and runs Thursday, Friday, Saturday, and Sunday nights in October. Doors open at 7:30 pm. Tickets are available on Friday and Saturday nights or discounted on other nights. Attraction is a 1/4 mile walk-thru. Don't miss the "Undead Zone" or "The Sinister Sewers" attractions. Get your picture taken in the scare chair.
Nightmares Fear Factory - Niagara Falls, NY
This attraction is open every day with weather permitting.  It is at the top of Clifton Hill as part of the popular Niagara Falls tourist attractions.  Fear Factory is located directly across from Casino Niagara. Tickets are $13.95-14.95. Expect to get found by lots of Zombie's at Fear Factory. This Niagara Falls tourist attraction is open generally from 11:00 am to 11:00 pm or 2:00 am. Nightmares Fear Factory has over 41000 Facebook likes.  They have had over 100,000 people chicken out so they are probably an extreme haunted house.
Nightmares Liberty Ridge Farms - Schaghticoke, NY
The night time scare begins in late September and runs most Friday and Saturday nights in October.  Tickets are $29.95 at the gate buy they generally have online flash sales.  The attractions include 2 haunted houses, a haunted corn maze, a fence maze, an underworld tunnel, a Psychic Sideshow, trolley ride, and haunted trail.  Lots of fun.  The farm during the day has over 100 acres of fall fun.  Discover the 11 acre corn maze, pumpkin patch, cider, donuts, live show entertainment and plenty of space for family fun.
Phantom PhrightNights at Bradley Farms - Elmira, NY
Phantom PhrighNights will not open this fall due to concerns over the virus.  They hope to see everyone next year.  Some of the other Bradley Farm activities will take place.  Lots of scary fun with plenty of zombies, a haunted manor, and hayride trail of terror.
Pure Terror Screampark - Monroe, NY
Attraction opens in early October.  Tickets available to go through all five of their huge new haunted attractions with over 2 miles of frights. . Also explore Trail of Terror, Phobia Haunted House, Terror in the Dark Haunted House, Sanitarium Terror, and House of the Dead. They have 11 attractions. It is open Friday, Saturday and Sunday nights in October plus a couple Thursday nights. Ticket booth opens at 6 pm. Doors close at 11 pm on Friday and Saturday, 10:30 pm on Sunday, or 9:30 pm other nights. Expect it to be very scary. Beyond the limits of fear.  Pure Terror has over 29000 Facebook likes.
Restless Souls - Huntington Station, NY
Restless Souls is open the last three weekends in October.  Experience four horrifying haunted attractions, along with Nightly Entertainment and a Phantom Plaza Midway, you get so much value for your ticket price, it's scary.  The Haunted Attractions utilize a time-tested combination of Interactive and Up-Close Actors, Hollywood-Quality Props and Audio-Animatronics, Elaborate Sets and Controlled Lighting and Audio Design to ensure your time with our creatures is as immersive and realistic as can be.
Scared by the Sound - Rye, NY
Sorry folks but Scared by the Sound will not open this fall due to the virus concerns.  Since opening in 2000', Scared by the Sound has delivered on its promise to provide terrifying fun to countless guests seeking their annual Halloween Season Haunted House experience. This year will be no exception!  Still located within the shuttered Playland Amusement Park and next to the abandoned rides, you'll find a 12,000 sf enclosed haunted House and outdoor cemetery loaded with a terrifying cast of characters eagerly awaiting your arrival.  Tickets are $20.
Tagsylvania - Big Flats, NY
The fun begins this year in early October.  The main attractions for Tagsylvania are Jerkus Circus, Psycho Swamp, and Lecter's Lair.  This place opens every Friday, Saturday and Sunday nights in October. Doors are open from 7 pm to 11 pm.  Individual or combo priced tickets available.
Terror Field Stabbin Cabin - Clyde, NY
Sorry folks but Terror Field will not open this fall due to the current virus issue.  They hope to see everyone next fall.  This is what I would call an extreme haunted house. Terror Field Productions, LLC will be opening the Stabbin' Cabin as a Haunted Attraction this October. This Attraction has Extreme Graphics, Strong Language, mature content and is Hand On in your Face. Mature Audience is Advised!  This High Intensity Haunted Attraction is Hands on! You may get touched and grabbed.  Attractions include Blackout Sunday and School on Elm Street.
The Barn of Terror - Lake Katrine, NY
The season at the haunted barn begins in early October.  There is a haunted barn and a terrifying corn maze attraction. Admission tickets are $33-35. Attraction is open every Friday, Saturday, and Sunday night in October. The hours are from 7 pm until around 11 pm.
The Gravesend Inn at Voorhees Theatre - Brooklyn, NY
Sorry folks but the theater will not open this fall.  They hope to see everyone in 2021.  Voorhees Theatre has a live haunted hotel.  Tickets are $10.  The Gravesend Inn is produced by Theatreworks, City Tech's resident theatrical troupe, with design, construction and operating support provided by students and faculty of the College's nationally unique Entertainment Technology Department, this theme-park-quality Halloween attraction has been thrilling children and adults alike since 2000.
The Haunt at Rocky Ledge - North White Plains, NY
This haunt is open every Friday, Saturday, and Sunday nights in October. Two haunted houses, a wooded trail, and walk through the haunted corn field at The Haunt at Rocky Ledge. It takes about 25 minutes to complete the cornfield scare with a six person group. Parking is free. There is a concession stand at the end of the attraction. If you can still eat. Friday nights are open from 8 pm until 11 pm. Saturdays are open from 7 pm until 11 pm. Sundays run from 7 pm until 10 pm.
The Haunted Mansion of Melville - Melville, NY
The fun this season begins in early October.  Schmitts Family Farm hosts both daytime and night time fun. Tickets are for the Haunted Mansion attraction and the Haunted Corn Maze.  Also experience The Experiment. A combo ticket for all attractions is available. It opens at 7 pm and closes at 12 am on Friday and Saturday nights or 11 pm on other nights.  It runs most Thursday, Friday, Saturday, and Sunday nights in October.  They are advertised as the largest haunted mansion on Long Island.
The Last Ride - Hastings, NY
The season begins the last Friday in September.  Attraction features a Haunted Hayride and Haunted House. They are open every Friday, Saturday, and Sunday nights in October. Doors are open from 7 pm until midnight on Friday and Saturday or 10 pm on Sunday.
The Trail of Terror - Fulton, NY
The terror begins with opening night in late September.  They feature an Outdoor Trail, Halls of Terror, and Séance Room. Open Friday and Saturday nights in October plus some additional Sunday nights.
There's lots of haunted houses in New York, so you probably don't need to leave the state to find a good one. But if you did, you would probably visit one of these neighboring states: Connecticut, Massachusetts, New Jersey, Pennsylvania, Vermont, and Michigan.
Find other fun things to do in New York in October:
Oktoberfest in New York
New York Festivals
New York Corn Mazes
New York Ghost Tours
New York Pumpkin Patches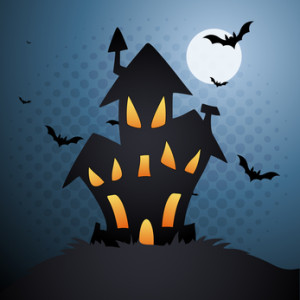 You may also be interested in our article on Haunted Houses and Horror Movies | History of Fear.
Add Your Feedback!
Have you been to one of these haunts? Future readers would be interested in hearing what you thought. Did you have fun? Was it worth the price? Would you suggest it to visitors here? Any tips to maximize your experience? I'll gladly publish what you send me and give you an over-the-Internet hug.
If you are the owner or employee of a house in this directory, or one we missed and need to add, we would love to have more information about your place, including the url, photos, dates/times/hours etc. Use the contact form on our advertising page to get in touch and we'll follow up if we still need your response to any of these questions.
Check out Black Friday ads, Cyber Monday ads, and holiday sale prices from top retailers this Christmas season.