Haunted Houses in Oklahoma for Halloween 2018
Each October both commercial and charity haunted houses in Oklahoma open at Halloween to provide you with local scary entertainment.  This year 2018 will again bring you some of the best haunted hayrides, haunted houses, haunted trails and more thrilling entertainment.  Find all your local Halloween fun here at Funtober with our listing of haunted houses in Oklahoma.  Expect to see vampires, witches, walking dead zombies, and monsters of all kinds roaming your local haunt.  You can expects to scream at the Hollywood type design sets, live actors, air blasters, and horrific costumes.
Oklahoma City Haunted HousesTulsa Haunted Houses
Last Major Update:
Haunted House Owner? Advertise Here.
Do you run a haunted house in the United States? More than 500,000 people came to Funtober looking for a haunted attraction in October.  Please see our advertising page or contact us for more information.
We have separate attraction links and listings for haunted houses USA,  haunted corn mazes, haunted trails, haunted zombie paintball, haunted forests, haunted hayrides, and ghost tours.
Scary Haunted Houses in Oklahoma
Frontier City Fright Fest - Oklahoma City, OK
Fright Fest opens for the season on September 30th.  Frontier City is back with its spook-tacular event Fright Fest. It runs Friday, Saturday and Sunday nights in October. The park is open all day but at night from 6 pm to 11 pm Fright Fest brings out the ghouls and goblins. Purchase online in advance for additional discounts.
Frozen Morgue Ghosts of the Midway - Inola, OK
Back at the same location for 2017 at the Moores Flying M Ranch in Inola. This year they feature Ghosts of the Midway, carnival games, a new Escape Room, and over 700 acres of dark and terrifying woods. Haunt opens in October.
Haunted Maize - Chickasha, OK
Harvest of Fear attraction starts on September 29th.  Reding Farm has the largest corn maize in Oklahoma. They also operate a Haunted Maize and Haunted Hayride every Friday and Saturday night in October. Tickets are $30 for the combo package. Tickets include both the haunted maize and a haunted hayride experience. The hayride can be purchased separately for $15 if you do not want to walk. Doors open from dusk until 10 pm.
Nefandous by Killing Frost Productions - Dewey, OK
Nefandous opens new on September 30th.  This is the re-themed haunt replacing last years Road Signs Borrowed haunt.  Same location again at the Washington County Fairgrounds Arena.  All new characters this year.  Tickets still just $15. Attraction runs Friday and Saturday nights in October.
Nightmare in the Country Scream Park - Woodward, OK
The attractions open for the season on September 30th.  Tickets for an all access are $30.  Individual attractions can be purchased separately.  Doors open at 8 pm. Weekends the attraction closes at 11 pm or midnight. Attraction is located one mile west and one mile north of the Woodward Airport entrance. It takes about 30-45 minutes to walk through the half mile long trail attraction. It runs Friday and Saturday nights.  Caution, please arrive early as they shut down exactly at closing time whether or not you have finished your walk.
Psycho Path Haunt - Sperry, OK
Haunt opens the season on October 6th.  Psycho Path is open every Friday and Saturday night in October plus a couple Thursday nights.  Suggest you try to avoid the dark spirited demon beasts. Tickets are $20 each for the Dark Ride,Shadow Box, or Cage Maze. A combo ticket includes all three for just $40.  Doors open at 7 pm and close at 11 pm on Friday and Saturday or 10 pm on other nights.
The 13th Ward Haunted Attraction - Broken Arrow, OK
Expect to beg for mercy at this haunt that makes grown men cry. A 30,000 square foot attraction themed as a rehabilitation facility. It runs Friday and Saturday nights in October plus some additional dates. See web page for full details.
The Castle Halloween Festival - Muskogee, OK
Attraction opens on September 29th.  The Castle of Muskogee is a full entertainment haunt attraction. The Castle park is open for rides and entertainment. The Fright Haunted Castle is open 6 pm to 10 pm each Friday and Saturday in October.  A $30 Fright combo pass gets you into the cemetery maze Casa Morte, haunted house Domas Horrificus, haunted woods Field of Blood, and the Ultimate Maze. You can start in the Halloween Village for free and also buy individual attraction tickets. Parking is Free.  They have a range of family friendly mild haunts to absolutely terrifying attractions.
The Hex House Westside Grim - Tulsa, OK
"Tulsa's most terrifying haunted attraction" features two haunt attractions. Go through the Adult Dark Ride or The Adult Shadow Box. Get both attraction with a combo pass. The Hex House is open from 7:30 pm to 11 pm. Attraction runs every Friday and Saturday night starting late September through October plus additional dates.
The Sanctuary - Oklahoma City, OK
This popular attraction opens up on September 29th.  The Sanctuary is Oklahoma's newest and largest haunted house. The story is build around an institution following World War II. A German Doctor Hammond is hired who later imprisons the owner and conducts horrible Nazi like experiments on the patients. The attraction is much like a live horror movie. Being new, the owners of The Sanctuary use some of the latest Hollywood styled set designs and themes. Experience their state of the art special effects this year. Ticket are only $20. The show starts every Friday and Saturday night. Doors open at 8 pm and close at 12 am.
Trail of Fear - Lawton, OK
Gates open at 7 pm. There are four haunt attractions. Trail of Fear is now in its 20th year of operation. Expect to be terrified. Tickets prices vary for The Experiment, Doll Creek, Cirque de Monte, or the Crispy Family Carnival. Get the All Park pass for savings. Trail of Fear is open Friday and Saturday nights in  October. New this year is the Halloween Midway.  A carnival with games, paintball, inflatables, etc. Also Ghost Cart Racing, Pirate Ship Museum, Magic, Boo House Concessions, and Pumpkin Junction family fun area. Note information for the Noble, Lawton, and Luther Trail of Fear varies. Please check each individual web page for details.
Trail of Fear - Noble, OK
This Oklahoma City attraction is similar to their Lawton location. It is open Friday and Saturday nights in October. A general admission ticket for includes the Hackensaw Haunted Hill and Magic Guild. Ticket booth is open nightly from 6:30 pm until 10 pm. Gates open at 7 pm.
State By State List of Halloween Haunted Houses
Everything's bigger in Texas. So if you live near the border, consider making a run to a haunted house to the south. Or, if you are unsatisfied with the selection of haunted houses near you, consider these other options.
Haunted Houses in Arkansas
Haunted Houses in Colorado
Haunted Houses in Kansas
Haunted Houses in Missouri
Haunted Houses in New Mexico
Haunted Houses in Texas
Find other fun things to do in Oklahoma in October:
Oktoberfest in Oklahoma
Oklahoma Festivals
Oklahoma Corn Mazes
Oklahoma Ghost Tours
Pumpkin Patches in Oklahoma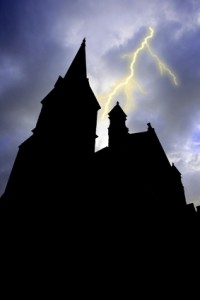 Did We Miss Something for 2018?
Have you experienced one of these haunted houses? I would be interested in hearing what you thought. Did you have a good time? Was it worth the money? Would you recommend it to your friends? Any suggestions to maximize your experience? I'll gladly publish what you send me and give you a super dooper hug.
If you are the owner or employee of a haunted house in this directory, or one I missed and need to add, I would love to have more information about the haunted house, photos, dates/times/hours for 2018, etc. Use the contact form to get in touch and I'll tell you where to email your answers to these questions.