Haunted Houses in Oklahoma for Halloween 2022
Each October, both commercial and charity haunted houses in Oklahoma open at Halloween to provide you with local scary entertainment. This year, Funtober will again bring you information on some of the best 2022 haunted hayrides, haunted houses, haunted trails, haunted corn mazes, haunted house near me, and other thrilling Halloween entertainment. Expect to see vampires, witches, walking dead zombies, and monsters of all kinds roaming your local haunt.  You can expects to scream at the Hollywood type design sets, live actors, air blasters, and horrific costumes.
Oklahoma City Haunted HousesTulsa Haunted Houses
Last Major Update:
Frontier City Fright Fest - Oklahoma City, OK
Fright Fest is a Six Flags event that opens for the season in late September.  Frontier City is back with its spook-tacular event Fright Fest. It runs Friday, Saturday and Sunday nights in October. The park is open all day but at night from 6 pm to 11 pm Fright Fest brings out the ghouls and goblins. Purchase online in advance for additional discounts. During this year's Fright Fest, the Frontier City gates will open to a petrifying post-apocalyptic world where guests will encounter terrors at every turn as soon as darkness falls. Radioactive mutants, zombies, and monsters emerge nightly for the Festival of Fright Parade at 6:30p before heading to their dead-end at one of the seven horrifying haunted attractions.  Check their web page before attending as the virus may impact their open dates.
Frozen Morgue Ghosts of the Midway - Inola, OK
Back again at the Moores Flying M Ranch in Inola. This year they feature WarWagon Paintball, Year of the Wolf haunt, carnival games, a new Dark Side of the Moon Escape Room, and over 700 acres of dark and terrifying woods. Haunt runs Friday and Saturday nights the last 3 weekends in October.
Guthrie Haunts Scaregrounds - Guthrie, OK
Open every Friday and Saturday night starting the second weekend in September and running through early November.  Guthrie Haunts is now considered a Super Haunt Covering over 30,000 sq feet of indoor and outdoor scares! We would love to invite all of Oklahoma City, Edmond and Guthrie to the best and most frightening Halloween Haunted House to hit the area in 30 years.. Its on Hwy 77 just passed the Cimmeron Bridge.  New attraction is Insomnia.
House of Thorn by Killing Frost Productions - Dewey, OK
House of Thorn opens new in early October.  This is the re-themed haunt. Same location again at the Washington County Fairgrounds Arena.  Great characters this year.  Tickets just $20. Attraction runs every Friday and Saturday nights in October.
Nightmare in the Country Scream Park - Woodward, OK
Sadly the owners of Nightmare have announced they will not open this Halloween season given the current virus situation in the local market.  We applaud Nightmare for putting their visitors safety first.  They expect to return next year.   Tickets for an all access are $30.  Individual attractions can be purchased separately.  Doors open at 8 pm. Weekends the attraction closes at 11 pm or midnight. Attraction is located one mile west and one mile north of the Woodward Airport entrance. It takes about 30-45 minutes to walk through the half mile long trail attraction.   Caution, please arrive early as they shut down exactly at closing time whether or not you have finished your walk.
Nightmare Warehouse - Enid, OK
The Nightmare continues every Thursday, Friday, and Saturday nights starting in early October.  Tickets are $15.  Are you ready for the Halloween adventure that only comes once a year? What might that be you ask? Candy and Trick-or-Treating? Decorating that spooky yard? While both of those are great options and loads of fun! Nothing beats a good old fashioned trip to the local haunted houses! Well the Nightmare Warehouse is Enid Oklahoma's Ultimate haunted warehouse! Over 20 minutes of frightening adventure awaits you and friends! What once was the old Goldspot Dairy has now been transformed into an amazingly detailed haunt. Hand built sets around every corner including live actors as well as some of the newest animatronics in the Haunt industry today! We are locally owned and operated and do this for the pure fun of Halloween! So this season come take a trip through the Nightmare Warehouse!
Noble Scaregrounds - Noble, OK
Scaregrounds opens in early October and runs Friday and Saturday nights.  Come, brave soul and walk the darkened paths of Noble Scaregrounds' Sweet Nightmares. Beware, for terror lurks around every corner. Festering evil watches, waits, and will come at you from every angle. The creatures, monsters, and madmen of Noble Scaregrounds have been locked away for the better part of 2 years waiting to frighten, to terrify, to horrify. After all that time, they are ALL remarkably hungry to FEED UPON YOUR DEEPEST FEARS!
Psycho Path Haunt - Sperry, OK
Haunt opens this season on 9/30/22.  Psycho Path is open every Friday and Saturday night in October. Suggest you try to avoid the dark spirited demon beasts. Tickets are $25-40 each on their website, for the Dark Ride, Shadow Box, or a combo ticket. This is their 18th season of dishing up scares to Tulsa county.
The Castle Halloween Festival - Muskogee, OK
Attraction opens in early October.  The Castle of Muskogee is a full entertainment haunt attraction. The Castle park is open for rides and entertainment. The Fright Haunted Castle is open 6 pm to 10 pm each Friday and Saturday in October.  A $35 Fright combo pass gets you into the cemetery maze Casa Morte, haunted house Domas Horrificus, haunted woods Field of Blood, and the Ultimate Maze. You can start in the Halloween Village for free and also buy individual attraction tickets. Parking is Free.  They have a range of family friendly mild haunts to absolutely terrifying attractions.
The Hex House Westside Grim - Tulsa, OK
Opens for the season early October.  "Tulsa's most terrifying haunted attraction" features two haunt attractions. Go through the Westside Grim or Rise of the Living Dead. Get both attraction with a combo pass. The Hex House is open from 7:30 pm to 11 pm. Attraction runs every Friday and Saturday night through October plus additional dates.  See web page for details.  Regular combo ticket is $25. A popular haunt with over 35000 Facebook likes.  Note you should expect to be "touched" at this haunt.  It is an extreme haunted attraction so it is not for kids.
The Nightmare - Tulsa, OK
THE NIGHTMARE is open every Friday and Saturday starting in early October.  Tickets are $15.  It has become a Tulsa tradition that remains unparalleled and unmatched. It is a graphic walk-through presentation of real-life, modern-day struggles challenging our world today. These struggles, without the price Jesus paid on the cross, leave many lost and without hope in the world.
The Sanctuary - Oklahoma City, OK
This popular attraction opens up in late September.  They have a new location at 7650 W Reno Avenue, Oklahoma City, OK 73127.  The Sanctuary is Oklahoma's newest and largest haunted house. The story is built around an institution following World War II. A German Doctor Hammond is hired who later imprisons the owner and conducts horrible Nazi like experiments on the patients. The attraction is much like a live horror movie. Being new, the owners of The Sanctuary use some of the latest Hollywood styled set designs and themes. Experience their state of the art special effects this year. Ticket are only $25. The show starts every Friday and Saturday night. Doors open at 8 pm and close at 12 am.
Trail of Fear - Lawton, OK
Gates open at 7 pm. There are four haunt attractions. Trail of Fear is now in its 22nd year of operation. Expect to be terrified. Tickets prices vary for The Experiment, Doll Creek, Cirque de Monte, or the Crispy Family Carnival. Get the All Park pass for savings. Trail of Fear is open Friday and Saturday nights starting around the middle of October. New this year is the Halloween Midway.  A carnival with games, paintball, inflatables, etc. Also Ghost Cart Racing, Pirate Ship Museum, Magic, Boo House Concessions, and Pumpkin Junction family fun area.  Also they feature a Halloween festival in October.  Note information for the Lawton, and Luther Trail of Fear varies. Please check each individual web page for details.
Everything's bigger in Texas. So if you live near the border, consider making a run to a haunted house to the south. Or, if you are unsatisfied with the selection of haunted houses near you, consider these other options: Arkansas, Colorado, Kansas, Missouri, New Mexico, and Texas.
Find other fun things to do in Oklahoma in October: Oktoberfest in Oklahoma Oklahoma Festivals Oklahoma Corn Mazes Oklahoma Ghost Tours Pumpkin Patches in Oklahoma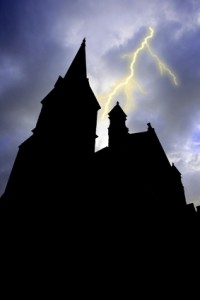 You may also be interested in our article on Haunted Houses and Horror Movies | History of Fear.
Add Your Feedback!
Have you been to one of these haunts? Future readers would be interested in hearing what you thought. Did you have fun? Was it worth the price? Would you suggest it to visitors here? Any tips to maximize your experience? I'll gladly publish what you send me and give you an over-the-Internet hug.
If you are the owner or employee of a house in this directory, or one we missed and need to add, we would love to have more information about your place, including the url, photos, dates/times/hours etc. Use the contact form on our advertising page to get in touch and we'll follow up if we still need your response to any of these questions.
Check out Black Friday ads, Cyber Monday ads, and holiday sale prices from top retailers this Christmas season.